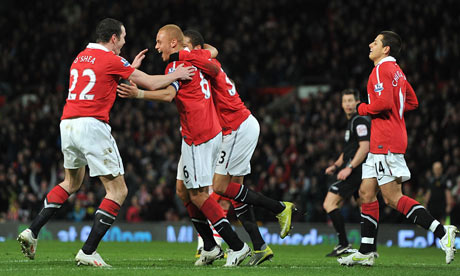 AUTHOR: – Doron
Van der Sar, Neville, Hargreaves, and Scholes have all departed; now further money has been taken off the wage bill with the sale of O'Shea and Brown to Sunderland for an undisclosed fee.
O'Shea and Brown leave having made a combined 755 appearances in which they've scored a total of 20 goals. It leaves United with something of a hole in terms of back-up in either fullback position. With Phil Jones having already signed for the club, there are no issues in the centre of defence for depth and he can cover in front of the back four too. Smalling has shown he's an able back-up right back as has Evans in the left back area. However it seems a lot will be riding on Fabio and Rafael being able to stay injury free next year.
Brown departs after 14 seasons in the first team and 362 appearances. He scored 5 goals with one coming this year against Crawley Town in the FA Cup. This was a frustrating season for Wes – 15 appearances of which 10 were starts and he only started 4 league games. He didn't qualify for a league winners medal and reportedly had a couple of bust-ups with Fergie over the past 12 months. He is a product of United's academy and is something of a fan favourite – his song is often sung home and away. Brown has been frozen out though due to the rise of the Da Silva twins, Evans and Smalling. His best season was arguably in 2007/08 when United were European and league champions; he played a pivotal role at right back and assisted Ronaldo's goal in the Champions League final.
O'Shea is another home-grown player and having made 32 appearances this season has taken his total tally to 393. It was only the second season in eight that he's failed to score but he does have 15 goals to his name for United. His most famous goal came in March 2007 – with United down to 10 men he scored a last minute winner in front of The Kop to send fans and players alike delirious. Two years earlier he scored his best goal, a delicate chip late on at Highbury to seal off a 4-2 win over Arsenal. Maybe his most important goal though was in April 2009 in the first leg of a Champions League semi final against Arsenal – his goal at Old Trafford gave United the lead heading into the second leg. O'Shea has always gotten games due to his versatility – he's able to play across the back four and in midfield too. He's even played in goal for United away at Spurs. Rather infamously, he's considered to be a clumsy player not known for his skill but he did once nutmeg Figo!
Wes told Sunderland's TV station today:
"It's been alright [making the decision] maybe because I'm older. It was disappointing not to have played as much as I could at Manchester United over the last couple of seasons so just to know that I'll be back in, playing, I'm focusing on that really and looking forward to it. Last season, I couldn't get into the team and that was frustrating but that's football and you move on. Sunderland is a big club and Steve Bruce was a big factor coming into it. That's what it came down to really. When I was younger, I used to watch Steve and I've known him a bit as well so it was fine. I know a couple of lads who have been here and they say it's a wonderful club and I thought this was the place for me to come."
On signing him, Steve Bruce said:
"We are delighted to welcome a player of Wes' ability, experience and character to the club. He has been a fantastic professional for Manchester United through the years and not only will he strengthen our defensive options, he will also bring with him a winning mentality and level of maturity which can only be positive for the players around him."
Meanwhile Sir Alex Ferguson had only glowing words for the departing Brown:
"Wes has been a great asset to the club during the most successful period in its history. He was a product of the youth system and marked himself out from an early age as one of his generation's most natural defenders. In his time with us, he certainly became a favourite with the fans for his no-nonsense approach to the game and his infectious personality. It's always the hardest of decisions to let loyal servants go. But life moves on and, unquestionably, Wes will get the chance to make a real contribution to Steve Bruce's Sunderland and I'm delighted to be passing him into such good hands. Everyone connected with United wishes him a long and happy stay at Sunderland."
Having signed after Wes, O'Shea also spoke to SAFC TV:
"Once I'd heard reports about the club and the people here, the ambitions and what the manager was all about it was the only place I was going to come to. I had to wait a few weeks for the birth of my child, that's why it seems protracted. It wasn't really, it was fairly straightforward. Leaving United was one of those things, I was there for 13 fantastic years but this is a new exciting challenge and hopefully we can have good times with Sunderland like I had with Manchester United."
Bruce was delighted to sign O'Shea:
"John has been a solid, consistent part of Manchester United's squad for well over a decade which goes to show the fantastic pedigree of player we have signed. He is a wonderful professional both on and off the field and his wealth of experience and versatility will be great attributes for us. I'm delighted with the players we've been able to secure ahead of the new season."
Fergie also had a warm parting message for John:
"John has been an outstanding servant to the club, since he broke into the first team almost a decade ago. His versatility, calmness under pressure and his commitment to the cause at United means that fans will remember him with great affection. John has won so many medals – and has deserved every one of them. He epitomises our club's approach as a team. After so many years of service to United, I'm pleased that John has found a career opportunity which will deliver the number of games he deserves. We wish John every success in his new life. Steve Bruce is a manager that knows how to blend youth and experience and I'm sure he has John earmarked for a senior role in trying to take Sunderland on from their finish last season."
The experience that these two players will leave behind is irreplaceable, they've been wonderful servants and here are some of their best moments:
O'Shea nutmegs Figo:
O'Shea scores a chip at Highbury::
O'Shea as a goalkeeper:
O'Shea last minute winner at Anfield:
O'Shea scores vs. Arsenal in the Champions League semi-final:
Classic O'Shea skill:
A typical O'Shea shot:
Wes Brown scores vs. Liverpool:
Wes Brown compilation:
He's big, he's bad, he's Wesley Brown:
We wish the best of luck to Wes and John.
AUTHOR: – Doron