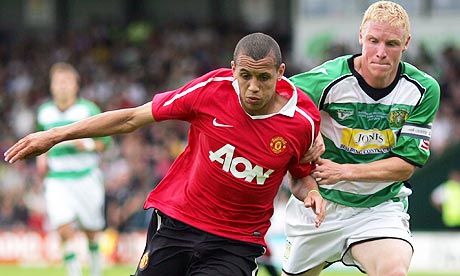 AUTHOR: – Doron
Monday may be a significant day for the club's 2011/12 preparations as the first team jet off to America to start their pre-season tour. However, just under 8 miles from Old Trafford, at Curzon Ashton FC, the Reserves will also kick-start their pre-season campaign.
So far this summer has been one of transition for Man United. The first team have lost various old experienced heads and the squad has a fresh, youthful look to it. The Reserve team has also undergone it's own regeneration and there is the potential for this season to be as exciting as it's ever been at that level.
It was a source of frustration for myself and others when the attendances were read out at Reserve games last season. Not one home league game at Reserve level had 1000 in attendance – 855 people vs. Man City was the highest at Moss Lane. It's both disappointing and embarrassing given how important football is to people in Manchester and fans of United. Tickets are rarely expensive and whilst Moss Lane may not be the most hospitable ground, there's the potential to be watching future stars.
It's all the more disappointing given that Arsenal, Blackburn Rovers, Chelsea, Everton, Liverpool, Man City, Newcastle United, Sunderland, West Ham and Wolves all had at least one game where over 1000 people turned up. Of course it could be worse – only Bolton, Man City, Man United and Wigan didn't play any home games behind closed doors; however the club's lack of desire to advertise the games extensively or offer free tickets to local schools regularly seems a shame.
This though could all be about to change. Beyond the first team, the club is most definitely buzzing. Last season the U18s won the FA Youth Cup, hard to do at the best of times let alone when expectations were as high as they were. The majority of that successful team are now progressing along to the Reserves for this season. Many have played for the Reserves before but now they're too old for the Academy (Blackett, Van Velzen, Lawrence and a few others will remain as part of the Academy for another year).
Given the exciting football played by that FAYC winning team and the calibre of some of the players, it seems feasible and hopefully likely that fans will start to attend the Reserves more this year. The opportunity to watch Ravel Morrison, Paul Pogba, William Keane, Tom Thorpe and co. should be a huge draw.
To make space for them all though there has been some regeneration at that level too. C Evans, Stewart, Dudgeon, Ajose, Chester, Devlin and Eikrem have all left permanently since this time last year whilst Bebe, King (barring any further injury complications), Wootton, Tunnicliffe and De Laet have all left on loan with others such as Drinkwater, Norwood, James, Gill, R Brown and Brady all potentially to get loans too. Then there's the fit again Petrucci, a one prodigious talent whose short career has been blighted by injury so far – he's certainly one who could entertain those who choose to turn up.
Such an exciting blend of talent hasn't been seen at Reserve level for some time. It all kicks off on Monday evening at Curzon Ashton and there are a further nine pre-season fixtures to attend if you can't make that one:
Monday 11 July (19:30) – Curzon Ashton (A) Tameside Stadium
Sunday 17 July (15:00) – Shrewsbury (A) Greenhous Meadow
Wednesday 20 July (19:45) – Fleetwood Town (A) Highbury Stadium
Sunday 24 July (15:00) – Spartans (A) Ainsile Park
Monday 25 July (19:00) – Ayr United (A) Somerset Park
Wednesday 27 July (19:30) – Tranmere (A) Prenton Park
Monday 1 August (19:45) – Morecambe (A) Globe Arena
Monday 8 August (19:45) – Llanelli (A) Parc y Scarlets
Wednesday 10 August (19:30) – Bangor City (A) Farrar Road
Sunday 14 August (TBC) – New Mills (A)
Once the season starts, this blog will try to offer a weekly round-up piece covering what's going on in the Reserves and the Academy as well as introducing some of the players. For those who've missed the transfer movements so far this summer at this level, here's what has happened:
C Evans sold to Hull City
J Dudgeon sold to Hull City
N Ajose sold to Peterborough United
C Devlin released
Bebe loaned to Besiktas
R De Laet loaned to Norwich City
S Wootton loaned to Peterborough United
R Tunnicliffe loaned to Peterborough United
J King loaned to Borussia Mönchengladbach (on hold until the outcome of minor surgery)
Whilst games below the first team remain accessible they're worth attending – not just to watch the talent, but to meet like-minded fans, have a drink, maybe meet the players after and get close to the action. Winning the FA Youth Cup was a big deal and now it's time to see if these kids, a lot of whom are Mancunian, can progress further in the Reserves and maybe beyond.
AUTHOR: – Doron