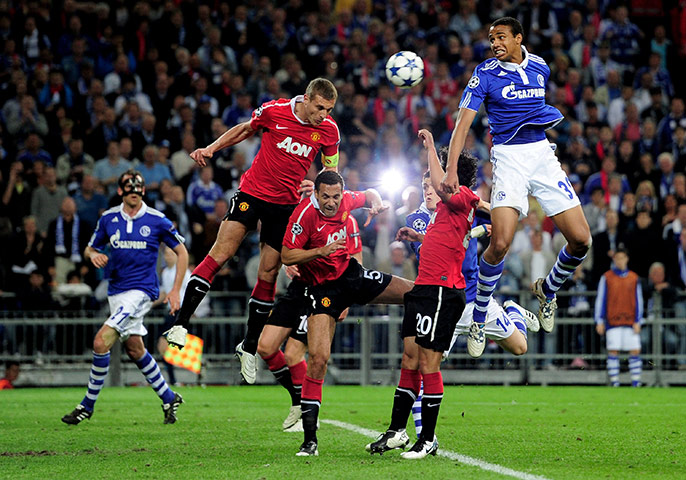 AUTHOR: – Stretford-end and Doron
Manchester United edged closer to Wembley with a comfortable 2-0 win over semi-final newcomers Schalke 04. Goals from Ryan Giggs and Wayne Rooney sealed an easy win for the three times European Cup winners, with Schalke 04 offering little in terms of an attacking threat. Bayern Munich bound Manuel Neuer was superb for 'The Miners', keeping United out in the first half with some exceptional saves. Javier Hernandez again showed why he is keeping Dimitar Berbatov out of the starting line up, whilst Michael Carrick waltzed around the midfield effortlessly, picking passing out at ease. Here we discuss the talking points of the match and welcome both sets of fans to contribute to the events.
Talking Points
Manuel Neuer
As mentioned in the introduction, Neuer was superb in goal tonight for Schalke and reminded United fans of what could have been next season. There a re strong rumours that the German number one will join Bayern Munich in the summer, whilst Edwin van der Sar will call time on his successful Old Trafford career. Neuer made superb saves from Giggs, Hernandez and Park to keep his side in the game first half and I was extremely impressed with the way he spread himself and didn't go to ground until absolutely necessary. Ryan Giggs has faced the best keepers in the world in his two decades of professional football and his chance has to go down as a great save rather than a miss by the Welshman. We weren't so forgiving for his glaring miss against Newcastle United last week!
The screenshot below highlights the saves made by Neuer throughout the match, with the majority of them coming in the first half:
Click on images to enlarge
Michael Carrick and Ryan Giggs
As Ferguson did against Chelsea in the last round, United lined up with Ryan Giggs in the centre of the park supported by deep lying playmaker Michael Carrick. Both players performed exceptionally tonight, with Carrick breaking up play and spreading the ball around like he was in a testimonial game. Using the ball to switch play or to find space is second nature to Carrick, but what is key to his game is that he has movement in front of him – which of course was in abundance tonight The ageless Ryan Giggs was again impressive, gliding across the turf like a twenty three year old to notch his first goal in Europe this season, following a superb reverse pass from Wayne Rooney.
Carrick was singled out in our Talking Points blog against Marseille in February, following his negative performance. However, it should be mentioned that there was a lot more versatility in the side tonight than against the French Champions two months ago. Since Carrick signed a new contract at the start of the month he has put in some impressive performance, with the Wembley Semi Final against City an exception. He was excellent against Chelsea at the Bridge, breaking up play – much as he did tonight, whilst finding his centre midfield partner to setup the opening goal for Wayne Rooney. He may not have scored a goal this season, but his deep lying role has highlighted his importance in games where it is key to retain possession.
Carrick's impressive passing display can be see in this screenshot below. The diagram highlights his wide range of passing, from short and tidy to cross field:
Antonio Valencia Ace in the pack?
Yes, you may have already read Bricki's excellent piece on Valencia being the Ace in the title race, but I wanted to extend that further to the Champions League as well. Valencia is a constant threat to any fullback and can nullify any attacking intent as he did to Ashley Cole against Chelsea. Tonight, he was constantly hugging the touchline and looking to get into one on one situations to take on his marker. His acceleration is exceptional and is a valuable asset in finding that little bit of space before delivering a cross. Giggs was wasteful in front of goal after a cross from Valencia that caught out three Schalke defenders. Of course, we must not forget his defensive qualities – always tracking back and helping out Rafael, Fabio or John O'shea, which of course can result in a counter attack for United.
The screenshots below highlight his positional discipline to hug that right touch line – which is the opposite of Park's always energetic performance. Both are need for their work rate and defensive considerations (over Nani for example), however they are two totally different players – with Valencia a much more creative outlet:
Another way of comparing the two styles is by looking at where they took up their positions during the game. The heatmap below shows superbly how much of a marauding inside-winger Park is, in comparison to the disciplined Valencia:
Rooney and Chicharito
It was probably Wigan away on the 26th February that planted a seed inside Fergie's head. United won 4-0, Rooney wasn't great but still scored whilst Chicharito got 2. Since then, United have played 13 games and in 9 of them, the pairing has been Rooney and Chicharito (one must remember that Rooney was banned for 2 of those 13 too). If one includes that Wigan game, they've started 10 times together in 2011 and scored 11 goals between them on those occasions – a super return from any front pairing. It's telling, that four of those games have been blockbuster Champions League ties like the Schalke game.
Again they stood out and worked as a pairing. Schalke were unable to deal with Chicharito's movement throughout the game. He regularly found space in between the make-shift centre back pairing of Matip and Metzelder, dragging them even deeper and even further apart. As for Rooney, he had Papadopoulos close to him for a lot of the game… but not close enough. When a Schalke player did get near, a quick body swerve or burst saw him in space again so he could orchestrate yet another telling pass.
The telepathy between great striking partnerships is often talked about. Cole and Yorke were the perfect examples of strikers 'on the same wavelength', instinctively knowing where their partner was. There are most definitely signs of that in United's play now with Rooney and Chicharito. The telling sign may be that the club's top scorer, Berbatov, started 6 of the first 7 games in 2011 (excluding FA Cup ties against lower opposition) but has only made 3 starts since the beginning of March.
The question regularly raised as a result of this pairing is, are we now seeing Rooney in his best position? Playing as a '10' behind a striker, as a link man as opposed to a goalscorer. What Rooney is good at, is remembering to still get in goalscoring positions as seen with his goal, United's second, set up by Chicharito. He's not restricting himself to playing deep, he's remembering that he still has striker's responsibilities. A recent guest post on this blog looks at the long-term possibility of Rooney playing there.
United's CL away record
It would be wrong to not briefly touch upon United's away record in the Champions League this year. If the final is considered to be on neutral ground, then United have completed all of their away games in the competition now. This means that in 540 minutes of away European football, they've not conceded a single goal. It's an incredibly achievement when there have been tough away trips – Valencia, Rangers, Bursaspor, Marseille, Chelsea and Schalke. Edwin is a top goalkeeper, he got a record 50th clean sheet in Europe against Schalke but the defence that has rotated so much this year deserve a huge amount of praise, particularly young Chris Smalling who has stepped up on a few occasions in this tournament.
By way of comparison. In 1998/99 when the Treble was won, United conceded 10 goals in their 6 away games. Even in 2007/08 when the third European Cup was won, United conceded 4 goals in 6 away ties. There is definitely been a change in approach from not just United but teams in Europe in general. There is much more of an emphasis in keeping the opposition out rather than scoring. This is one of the reasons that Spurs were so refreshing in the competition this year – there was a naivety about their set-up in that they just wanted to go and play attacking football regardless of who they were up against. For United however, it's a startling record given the criticism the league form has had this year, at present in Europe, they're a very hard side to score against let alone beat.
Match Conclusion
United went into this first leg of the semi-final against Schalke wary of being the favourites against a side struggling domestically and therefore with their focus very much on Europe. United lined up almost as expected, with Fabio a surprise starter at right back. Schalke were dealt a blow with the news Howedes wasn't going to be fit and therefore had to settle for a make-shift centre back pairing of Matip and Metzelder.
Schalke started on the front foot, Baumjohann made sure Van der Sar got a touch of the ball inside the opening minutes but from then on, United raised the tempo of their passing and coupled with some excellent movement, Schalke could only watch and admire. It quickly turned into a duel of United vs. Neuer as Rooney, Park and Chicharito all forced saves out of the German goalkeeper inside the opening ten minutes. Before half time was up, Neuer had denied Chicharito twice more, Giggs twice and Chicharito had put two further chances wide. United were breathtakingly slick, the half was as one-sided as any semi-final in recent history and it was no surprise that the usually rocking Veltins-Arena was eerily quiet for periods of the game with the home fans even starting to boo on 20 minutes.
The second half started as the first ended. A Giggs free kick was met by Carrick, whose header was tipped over acrobatically by Neuer. A Valencia cross then found it's way through to Giggs at the back post, he sold two defenders a dummy but could only mis-kick his shot wide off his weaker foot. Schalke then had their best spell of the match – five minutes of pressure ended with Ferdinand defending well and Van der Sar making a routine save.
The breakthrough finally came on 67 minutes – Rooney was given far too much space by Schalke and he was able to slip through Giggs whose run hadn't been tracked by anyone. For once Neuer couldn't keep United out, Giggs slotted the ball underneath him and United had an away goal. For Giggs, it was another landmark, he became the competition's oldest ever goalscorer. One away goal became two just 90 seconds later. Valencia lead a breakaway, played the ball inside to Chicharito who attracted the attention of one defender too many leaving Rooney free. Chicharito perfectly found Rooney who finished past Neuer – on this rare occasion the goalkeeper didn't make himself big and it was too easy for Rooney.
With the game over, United made changes: Rooney, Chicharito and Park were all rested with Anderson, Scholes and Nani brought on to see the game out. United could have even made it 3 late on but Evra fired wide. Schalke managed to muster one last effort but like the 4 that had gone before it was from outside the box and comfortable for Edwin to deal with. United completed a near perfect away win in Europe – arguably the only thing missing was better finishing and a bigger margin of victory.
United's next game is away to Arsenal in the league on Sunday 1st May.
AUTHOR: – Stretford-end and Doron