Arsenal vs. Manchester United Match Preview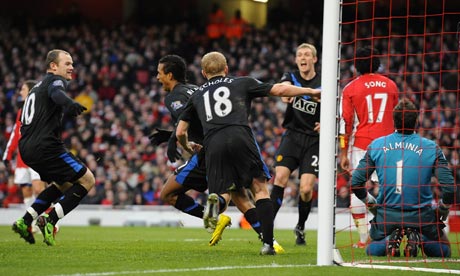 AUTHOR: – Doron
It's incredible how fortune can turn so quickly in football. Just over two months ago Arsenal were battling for four trophies and now there is only league left for them. It's something United must be wary of going into this game – a loss at The Emirates coupled with a potential Chelsea win later today would make the top of the league tighter than most would feel comfortable about. League title ambitions aside, this is a tasty fixture in itself between two of the great clubs of the Premier League era.
What of Arsenal then? Lost in the League Cup final, knocked out of the FA Cup by a youthfully rotated Manchester United side, knocked out of the Champions League by Barcelona and all but out of the race for the league title having been in a strong position. It's been remarkable to watch the capitulation of Arsenal but one must be wary of a very wounded side here. There should of course be little doubt that Champions League football is assured for the Gunners next year but even that remains somewhat in the balance with City and Spurs breathing down their necks. As it is, Arsenal are 3rd on 64 points, a win behind Chelsea and three victories behind United. Last year they ended the league on 75 points, it's a total they really should have surpassed this season but inexplicably that looks unlikely.
Arsenal's style is now a familiarity with football fans (if it isn't then have a read of this or this from Zonal Marking). Confident passing football not with the aim so much of walking it into the net as is often ascribed but rather it's about the combination of entertainment coupled with making a shooting chance as easy as possible for a team-mate. In many ways teams have "wised-up" to this way of playing now. United have learnt that it's ok to let Arsenal have the ball 30-35 yards from goal as they can't hurt you from there. Ferguson has become a master at teaching his team to soak up the Arsenal pressure and play on the break – it's something Arsenal don't like.
There is much to be admired in what Wenger has done and continues to do both on and off the pitch. However the growing faction of "In Arsene We Rust" fans suggests their frustration is coming to a tipping point. Wenger isn't a tactician and that's been shown up of late, he is naive in believing he can go into any fixture the same way and expect to win – it was evident at Old Trafford earlier in the season that Arsenal just didn't have a 'plan b'. The other major grapple is in the transfer market – it seems obvious to the average football fan just what type of player Arsenal need to buy, but then you realise there are so many different opinions that actually it's not so obvious at all. A short while ago I wrote about Wenger's transfer policy, how it's changed over time and how it's inextricably linked to Arsenal's on-field success. My opinion now is that Arsenal have too many players who do the same kind of thing, their squad contains little variation, especially in midfield.
The fact that Chamakh was a 'different' signing actually was positive news. He showed early promise but the tiring nature of the league coupled with no winter break for him has seen it catch up and he will end this season as little more than a good free signing. If this year has taught us anything though it's this… Djourou when fit is an excellent defender; Nasri is certainly one of the best midfielders in Europe; Arsenal could do with Van Persie remaining fit (15 league goals in 21 games is Golden Boot stuff); and finally, in Wilshere they have one of the best young midfielders in the game today. Wilshere deservedly picked up the Young Player of The Year award – yes he has his childish immature moments and often his tackling looks like something out of the Paul Scholes guide of 'how to…' but he's stood up and played as well as anyone in that Arsenal team, particularly when others around him have let their form slip.
Including the Carling Cup final defeat, Arsenal have played 11 games up until now and only managed 2 wins They look a team bereft of a winning mentality giving their opponents the belief that they can score any time. Arsenal's home record is ok but 17 points dropped is simply too many. Their defence at home has been tight – 13 conceded in 17 games but isn't in the best top four in the league and their goals scored at home (31) isn't in the top five. As current league form goes, Arsenal have one win in seven and they are only the 14th most in-form side in the league with a miserly 7 points from the last 18 available. At home it's 12 from the last 18 points available with the draws in a row however Arsenal haven't lost at home in the league since 20th November when their arch-rivals, Spurs completed a wondrous turnaround.
Arsenal have more key men available than they have for long periods this season. Vermaelen made his comeback against United's Reserve side on Thursday evening but this game is too soon for first team involvement. Rosicky is a doubt with an illness whilst Fabianski and Diaby are both ruled out.
United have a losing record at Arsenal in the Premier League – P18 W5 D6 L7. Last year's fixture ended in a 3-1 romp for United, a rare fruitful result for United with goals from Nani, Rooney and Park. Since 2000 United have only managed two away wins at Arsenal though. Earlier this season United won 1-0 at Old Trafford with a goal from Park – the return fixture is much more emphatically in United's favour as is recent form. In all competitions United are unbeaten in 7 against Arsenal with 6 wins amongst those results.
Enough on Arsenal… onto Man United and my predicted line up:
United's absentee list is now actually rather normal. For the first time in months every single defender is fit and available. Missing from the action will though be Hargreaves, Scholes (suspension), Fletcher (played 45 minutes for the Reserves on Thursday) and Lindegaard (only just back in light training).
I've gone for a 4-4-1-1 – Ferguson said in his pre-match press conference that United will be going for the win and not settling for a draw. In front of Edwin I believe three of the back four pick itself – Ferdinand, Vidic and Evra. Ferdinand's latest return has added even more security to United's defence, despite not being as pacey as he once was, all the class still remains. At right back there are a few options. Fabio was excellent at Schalke, and may well have a good chance for a third start in a row. John O'Shea who turns 30 today would be a dependable option but possibly would struggle against Arsenal's pace. I've gone for Rafael – he's fit and probably needs some minutes. He's more experienced than his brother and defensively a little less rash right now hence I've picked him.
The midfield area is key. Arsenal play a 3-man central area and hence United cannot afford to be overrun. I think Carrick will continue in a deeper role with Anderson alongside him. Ferguson ruled Giggs out of contention earlier this week and so I think Park will move into the middle just ahead of Carrick and Anderson – he'll be charged with picking up the deepest Arsenal midfielder or simply sticking to Wilshere. On the wings, Valencia and Nani should provide pace and thrust against the Arsenal fullbacks. The downside to that selection is that it only leaves space for one striker. Chicharito I think may need a mini-break despite outstanding form and I think Rooney has made himself almost undroppable right now. This would see Rooney higher up in more of a 'number 9' role than the deeper one he's flourished in lately. Having Chicharito off the bench may well be a good tactic against tiring legs late on. Berbatov is fit again and he'll also be in contention to start.
United remain top with a lead of 6 points now having played the same number of games as Chelsea. The late winner against Everton last week kept up belief that a 19th title may just be a few games away. Chelsea host Spurs in today's late fixture.
Recent form shows United 2nd in the form league with 13 points taken from a possible 18 in the last six games. At home, United have been almost unstoppable but away from home their form has been heavily criticised this year. Their current away form is the 7th best in the league with 7 points taken from the last 18 available. In fact, United's away record isn't so bad, it's the fourth best in the league and could be better if they weren't the side that had drawn the most number of games away from home. Similarly, United have had no problem finding the net on their travels, with only Chelsea and Arsenal scoring more however their 23 goals conceded is bettered by 4 other teams including Fulham.
In Dimitar Berbatov United have the league's top goalscorer (21 goals) as well as the joint 5th and 7th top scorers (Chicharito with 12 and Rooney with 10), whilst Nani is the league's top assister (18 assists; Rooney is joint 4th with 11). Should John O'Shea start it'll be his 300th for United. There have been a couple of memorable meetings between these two sides in London so do check out the videos at the bottom of the piece.
Arsenal are wounded and morale is low. However there are few better ways to liven up a gloomy mood than by beating United. In many ways Arsenal will feel they have nothing to lose by playing attacking football and I think they'll have a real go at United. The Reds haven't travelled that well this season but are in form and can sense a title. United will be going for a win but in truth a draw will be adequate. Therefore I predict a 1-1 draw.
You can share with us your thoughts ahead of the match and your favourite moments from games away to Arsenal on our forum.
Some of the better league visits to Arsenal (for the first video skip to 1min 42sec):
AUTHOR: – Doron