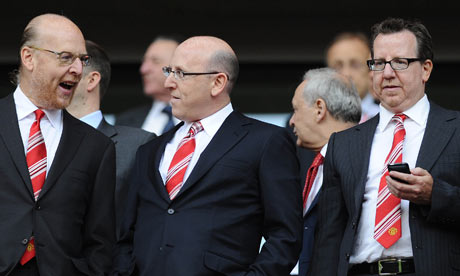 AUTHOR: – Doron
It's been nearly a week since Manchester United released their quarterly financial results. As always when there are figures released, fans ask questions – often these involve quite simply explanations about the debt and rumours in the press. It's no secret that the club's financial situation is very complicated and very secretive. To try and help answer some of the most common queries we've put eleven questions to Andy Green, a United fan who looks at football finance and governance.
NB this isn't about being anti-Glazer or pro-Glazer (should such a thing exist) – just answers to simple questions about the club
1. Who are Red Football Limited and what do they own?
Red Football Limited is a the company set up by the Glazer family in 2005 for the purpose of buying United.
It has two parent companies in the UK (Red Football Joint Venture Ltd and above that Red Football Shareholder Ltd). Above those companies is the new entity Red Football LLC (based in Delaware) which we believe is owned by Red Football Limited Partnership (based in Nevada) which in turn is owned by various Glazer family trusts.
Red Football Limited owns (directly and indirectly) 100% of Manchester United Limited which is the renamed Manchester United plc that was quoted on the stockmarket.
2. How much debt are the club in and who do the club owe money to?
Red Football Limited has £250m of bonds outstanding and US$425m of bonds secured on the club's assets. At today's exchange rate that is £514m of debt. Last week Red Football told us that they had bought £24m of bonds, so that leaves £490m of bond debt. The bonds are owned by a variety of investors around the world.
There is also a mortgage of around £7m secured on the container terminal behind the Stretford End. This is called the "Alderley mortgage".
Until November 2010, there was also £249m of "payment in kind" (PIK) loans owed by Red Football Joint Venture Limited, the parent company of Red Football. They were secured on the shares of Red Football. They were repaid in November 2010, but no explanation of where this £249m came from has been forthcoming. It is likely, although cannot be proved, that new debt was issued (probably in the US) to repay the PIKs.
3. How quickly can the club pay the debt off?
There are various penalty clauses which makes it very expensive to repay the bonds early. The bonds must be repaid in February 2017. Red Football could buy-in bonds (as it has done with the £24m) which has the effect of repaying them early.
4. Is the debt manageable – i.e. can we think of it like a mortgage on a house?
The bond debt and Alderley are manageable although they soak up a high proportion of the club's profits. The bonds cost c. £44m per annum (the exact figure depends on the exchange rate) and the mortgage costs around £400,000 per annum.
These costs have to be paid out off "EBITDA" (effectively cash profits before transfers) of around £100m (last year's number).
5. Has the debt restricted United in the transfer market and is money available for new players?
From 2006-10, the debt has cost a very large amount in interest (£200m) and in banking fees (£79m). During this period the club made EBITDA of £394m, so more than half the club's profits have gone in interest and fees.
It is obviously impossible to say with any certainty whether the need to pay these sums has restricted transfer activity, although it is unlikely they helped!
The club has a very large amount of cash in the bank (£134m). This large balance arose largely from the sale of Ronaldo (£80m) and Aon prepaying £36m of their 4 year sponsorship deal in June 2009. With this large cash pile and the club making more profits each year than it has to pay in interest, there should be a lot of money available for new players.
When the bonds were issued in February 2010, the restrictions on the Glazers receiving dividends that existed under the terms of the previous bank loans were greatly relaxed. The Glazers have the entitlement under the bond terms to take £95m in dividends at any point (rising each year). It was widely believed by financial analysts that this entitlement would be used to get funds to repay the PIKs. This has not happened, the PIKs have been repaid from another, unknown, source. The dividend rights still exist however, and there is a suspicion that the club's low transfer spending is because the cash in the bank will at some point be taken by the Glazers, possibly to repay new debt taken on to repay the PIKs. We just don't know.
6. Can you explain the FFP (Financial Fair Play) rules and how they might affect United?
These rules basically say that a club will only receive a UEFA licence to play in the Champions League or Europa league if losses are restricted to a certain level. The definition of "loss" is an adjustment of a normal accounting loss with certain items excluded from the calculation (spending on youth development and community programmes for example). The first season the rules apply to is 2013/14 when clubs must show that losses in the two previous seasons (2011/12 and 2012/13) don't exceed €45m. This maximum loss (what UEFA call the "acceptable deviation") will then fall in future years.
Unless something goes very badly wrong at United, the club will pass this test without too much trouble. It is clubs like Man City and Chelsea who will find it far harder to comply.
7. Does the club make a profit every year?
There are lots of measures of "profits" and "losses" (like EBITDA which I referred to earlier) which makes answering this question quite difficult! In several of the years since the takeover, Red Football Limited has reported a large loss, but only because of certain accounting charges which are bookkeeping matters only and don't involve any real cash. I would say that on any normal basis, the club is profitable i.e. after interest it makes a profit, albeit not a huge profit.
8. How much would it take for a bidder to buy the club?
See my Guardian article by clicking here. All indications are that the Glazers want £1.5bn+ for the club.
9. Do you think the naming rights to Old Trafford might ever be sold?
I think it's unlikely, not because the owners wouldn't want the money (that's not their way), but mainly because naming rights for existing grounds aren't very attractive. Calling a new ground "The Reebok" or "The Emirates" is fine, but trying to convince people that St James' Park is now "SportDirect.com @ St James' Park Stadium" doesn't work and everybody knows that. Would you start calling OT "The Pepsi Old Trafford"?
10. Could the club push for individual broadcast rights?
There has never been any suggestion that United have tried to push for this. It is hard to do (14 out of 20 PL clubs would have to vote for it) and whilst United would be a clear short-term beneficiary (as Barca and Real have been in Spain), a longer term view would suggest that creating even greater financial inequality in the league could actually reduce the value of media rights after a few years.
11. How realistic are the Qatar rumours – there's surely no smoke without fire – and what dangers could a takeover bring to the club?
I don't think the rumours are true (I can't prove it but people I know who are close to the Qataris say it isn't true). I think at a lower price they could well be interested. Frankly I don't see many dangers from such a takeover if it were to happen. If they cleared the debt, the club would go back to being the richest in the world without any need to use the owners' money. That's not a bad position to be in.
Our thanks to Andy for taking the time to answer these questions. Be sure to keep a regular eye on his blog – The Andersred Blog – and you can also follow him on Twitter.
AUTHOR: – Doron