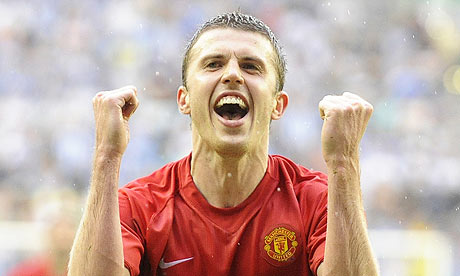 AUTHOR: – Doron
There's been lots of speculation this season about who might leave and who might come in but one man staying is Michael Carrick…
Michael Carrick has signed a new three year deal with the club. He remains a Red until at least 2014.
Speaking to manutd.com Sir Alex Ferguson has said:
"I am delighted Michael has signed a new contract. He has been outstanding since joining us from Tottenham Hotspur in 2006, he is a true professional and it's great he has committed his future to the club"
Carrick said:
"I have thoroughly enjoyed my time at this great club. There is fantastic team spirit within the squad and I'm pleased to have committed my future to United. We are in a very good position at the moment and I am confident this team will be successful for many years to come"
Since signing in the summer of 2006 Carrick has played 218 games for the Reds scoring 17 goals – he's yet to score this season though. This blog has backed Carrick this season and highlighted how key he has been in a changed role – something he often doesn't get credit for.
Just why has Carrick been important this year? Seán O'Sullivan has been providing some stats on Carrick's season on Twitter:
– In Michael Carrick's 15 Premier League starts this year, United have conceded 10 goals. Of the 13 games he didn't start, United have conceded 15 goals.
– In 4 out of his 5 Champions League group stage starts this season, Michael Carrick covered more distance than any other United player.
– Carrick has completed 830 out of 959 attempted passes this season for United – a success rate of 86.5%. This success rate is highest of the season for a Premier League midfielder starting over 50% of his club's games. Scholesy highest otherwise.
– Carrick has the most amount of interceptions for a midfielder in the Premier League, averaging 4.38 a game (Anderson 1.9, Scholes 1.82, Fletch 1.54).
You can discuss Michael Carrick and the implications of his new contract on our forum. Also, check out Michael Carrick's 2010/11 stats.
AUTHOR: – Doron