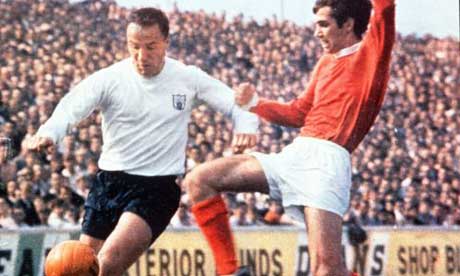 Nobby Stiles, and George Best. Two players who earned the right to be described as Manchester United legends. Two players who, during their careers, cemented their positions as iconic figures in their national team, too.
Stile's European Cup and World Cup winners medals are due to be put up at Convery Auctions in Edinburgh on October 27th. Today, George Best's collection, featuring the stars 1968 European Cup Winners medal, 1968 Football writers award, a BBC lifetime achievement award and the Freedom of Castlereagh in a collection expected to total around £270,000, were put on public display.
Stretford-End.com asks – don't Manchester United have a duty to the preservation of their history and a duty to protect the proud achievements of their players?
With Stiles' collection not expected more than £200,000, the whole shebang would set a collector back less than £500,000. Or, two weeks wages for Yaya Toure. A little closer to home, probably about 3 weeks wages for Rio Ferdinand. Certainly, taking the hit for a month, it should inspire a whip around from the lads down at Carrington one payday. No?
Nobby Stiles MBE is one of only three Englishmen that can say they won the European Cup and World Cup. He was part of the United team post-Munich as he made the "holding role" in midfield his own before it had even really become introduced. Making 392 appearances for United over 11 years, and also winning two league championships in the sixties, Nobby's celebrations after winning the 1966 World Cup are embedded in English football culture, second only in iconic scenes to Bobby Moore's hoisting of the trophy.
Did his contribution end there? No, he was brought back to United by Sir Alex in 1989 as a youth coach until 1993, during which time he helped develop the significant talents of Ryan Giggs and Paul Scholes as well as the other big names from the famous 1992 youth set up.
All this done with typical humility, shying from the spotlight – sound familiar? He lives in a semi-detached house near Old Trafford and broke down in tears as he described his struggle to the Telegraph. "I have had a bit of a bad time", said Nobby, explaining that his sacrifice of these amazing tributes – all he has – is so he can leave some money to his sons. Yes, at the end of the day, it is Nobby's decision, but I believe the club have a duty to help out one of their greatest ever players. It clearly only got to this stage because Nobby is a proud man who wouldn't ask for help; well, at this point, it's not about help. In an era that has seen a talented player (Winston Bogarde, since you ask) sit on the bench to sit out a 3 year contract where he would "earn" millions, sucking the money from the game without giving anything back, we should at least be rewarding those who gave the game so much.
United, and to a lesser extent, the FA, should automatically have bought the medals from Nobby and gave them back to him or at least put them in their respective museums. There is still time to right this wrong. At the other end of the footballing spectrum, away from the awkward, unlikely footballer who infamously had his teeth smashed out in a game and had a smile, that without implants, "terrified opponents", was the first footballing superstar, George Best, "el Beatle".
George – in many people's eyes, the greatest player of all time – passed in 2005 and his family have sadly been forced to put the legendary forward's honours collection up for sale due to financial reasons concerning his estate. Best's achievements barely need describing to anyone who even has a passing interest in Manchester United. The mementoes of these achievements are expected to reach "at least £250,000" when they are sold at Bonham's auction house in Chester on October 20th. A tidy sum, sure, but taking into account long term value?
When you enter the Manchester United museum in Old Trafford you are greeted, before you even go through to the museum itself, by a shrine to Ryan Giggs. My adolescence centred around Giggs as my hero; supporting him is almost as much as supporting the club; it goes hand in hand. Ryan is a multi-millionaire, and in today's game, there is nobody who deserves those riches more and nobody as level headed. In my opinion, he is the game's greatest ever player. There is no escaping from the fact that he is very much blessed because of the era he played in; he, himself, would be the first to admit it.
Because Nobby and George weren't able to play in this era is just an unfortunate consequence of time; however, the club has carried on regardless. Even in terms of the debt it carries, it is still able to justify spending upwards of £7m on a player they could have got for a small percentage of that fee just weeks prior. Want to justify it? Give Nobby a paying gig. The man was part of the club at one of the most famous times in our history, the immediate aftermath of Munich. His stories were enough to fill an autobiography; if he doesn't want to be seen publicly, give him a monthly column in the magazine or have him write for the match programme. Still unconvinced? Then what about the whipround, as mentioned? It's done in all walks of life. Are todays multi millionaires that detached from the sense of unity that actually helped create the clubs identity?
The purchase of George's medals should not really be up for discussion, he could fill an entire wing in United's museum. It would draw visitors by itself.
It's not enough just to appeal for this and hope someone reads it. We need to take action to ensure the history of our club is preserved by those who help make it what it is today. I've blogged before about the fractured relationship that exists between the club and its supporters. The players, and the club, can do something to help the families and those that once represented United with great distinction.
This is why Stretford-End.com have set up another petition to try and draw attention to it. I implore you, the reader and supporter, to not only sign it, but promote it where possible as quickly as possible. Let the clubs representatives know, either by emailing the club, or by notifying United's employees on Twitter of this campaign.
The petition is simply to notify and appeal to the club of the situation in the hope that either the club and/or the players will make a gesture and purchase the medals to either return to the players or to preserve at Old Trafford.
Click here to sign our petition.