You may also find these links interesting: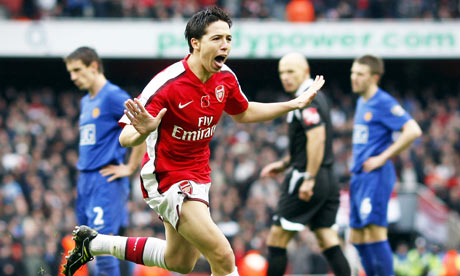 Arsenal 2-1 Manchester United
Manchester United came away with nothing from the Emirates after a fascinating game of football.
Samir Nasri, Arsenal's summer signing from Marseille, scored a brace as United lost the game 2-1, with youngster Rafael Da Silva getting United's goal. Sir Alex Ferguson will be disappointed that United couldn't convert more of the sixteen chances on goal, however will acknowledge, from a pure footballing point of view, the brilliance on show.
United got off to a great start after some nervy defending from Silvestre who played a short backpass to Almunia, who proceeded in picking the ball up. Anderson struck the freekick which deflected into the path of Michael Carrick who narrowly shot wide. Arsenal came forward with two great chances of their own. Clichy crossed for Bentner to head over whilst Nasri also played in a good ball from the left – which was again missed by the Dane.
Anderson was industrious in the midfield, winning the ball deep and bursting forward with sublime dynamism that overshadowed Fabregas. Rooney had a superb chance to make it 1-0 after some good work on the right wing by Ronaldo who cut the ball back for Rooney to blaze the ball over the bar. However, it was Arsenal who scored first with a deflected shot past the kneeling Edwin Van Der Sar. Berbatov's weak header fell to Nasri on the edge of the box and he struck a left footed shot which cannoned over Neville and flew into the back of the net. Nasri had been tormenting Neville all afternoon with his intelligent attacking play.
The second half saw Arsenal double their lead with a superb team goal – which resulted in Nasri getting his second. Fabregas slipped the ball through to Nasri, after a good run from Walcott brought Vidic out of position, and the French international fired the ball past the stranded Van Der Sar. Sir Alex Ferguson would have wanted United to get at Arsenal straight away after the half time interval and the goal would have angered the United manager.
United then began to press and Ronaldo missed a glorious opportunity to make it 2-1 when he volleyed wide of the goal. Ronaldo should have scored and the chance basically summed up United's day. Arsenal played United at their own game with some smooth counter attacking play – which resulted in a number of Arsenal players breaking forward looking for a third.
Carrick was booked for kicking Almunia in the face – which was completely accidental and it was amazing that Howard Webb gave Carrick a yellow card. Webb was quite poor throughout the game and didn't give a freekick to Diaby, who was brought down by Carrick in the first half, or give a penalty against Clichy for handball and lastly Arsenal should have been awarded a penalty for a tug on Nasri's shirt by Vidic.
Da Silva replaced Neville, who had a poor afternoon by his standards. Da Silva injected an attacking presence from the right side and also showed his defensive qualities with a superb tackle on the half way line as Arsenal tried to break. Rooney was also withdrawn for Carlos Tevez, who really should have been given more time on the pitch and possibly at the expense of Berbatov rather than Rooney.
United got a goal back in the dying minutes with a superbly struck chest and volley by the substitute Da Silva. It was a superb goal that gave United hope of salvaging something from the game having seen that there was to be six minutes of injury time due to the Alumnia incident.
United couldn't find that break through and Arsenal won the game 2-1. It was a great game of football to watch and obvious, from a United point of view, the result was disappointing – considering that United now have only one point from a possible nine having played the main title rivals away from Old Trafford. United now lie eight points off Liverpool but United can close that to five if the game in hand is won. United had sixteen shots against Arsenal and dominated possession however came away with nothing. Ferguson has commented on United's inability to convert the vast amount of chances that have fallen to the players – he will look for a better conversion from the game against Stoke City next Saturday.
Source: (Stretford-end)