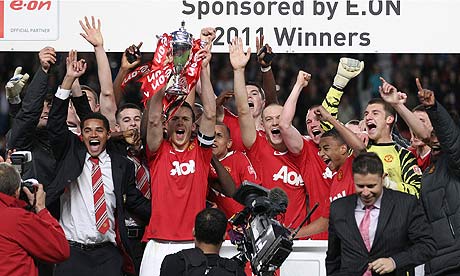 AUTHOR: – Doron
Manchester United continued their summer transfer spree with the signing of Ashley Young today. However, the club are looking to do business beyond the first team too with various targets identified today in Italian paper, La Gazzetta dello Sport.
At Academy (U18) level, the signing of players both from domestic and foreign teams is becoming more of a common practice. Legal loopholes allow clubs to offer contracts to young players before they've signed either professional terms or a pre-contractual agreement. It means that in practice the buying club does not ever have to deal with the parent club of the players – although fees are often privately settled after the player has agreed terms.
United have done this before – Pique, Rossi, Macheda, Petrucci and more recently Pogba and Van Velzen have all joined by this method – all perfectly legal but morally questionable. The nature of the game at Academy level today requires this. Competition is getting more intense beyond the first team and with a new Champions League starting this season at Academy level; interest and pressure will only be raised, forcing teams to take it more seriously.
La Gazzetta dello Sport in Italy today confirmed that United are targeting, and close to signing four or five players from Fiorentina's U16 team. All of them have turned 16 this past season so would feed straight into the clubs Academy as first year scholars.
Two are goalkeepers – Luca Lezzerini who has been capped at U17 level and Pierluigi Gollini who has been capped at U16 level and has attracted interest from both AC Milan and Juventus. Leonardo Capezzi is a midfielder and is considered to be a future star. He has only recently turned 16 and has captained the U16 national side. Capezzi has also played above his age group this year, being capped twice at U17 level. The fourth player is named by his surname – Madrigali; however it is unclear if that refers to either Xavier or Saverio Madrigali who are twins or both of them. Seemingly, both are defenders who can play in midfield and have been capped at U16 level. At present, Fiorentina have an excellent U16 team and will be understandably fuming should all the players leave for Manchester.
These young Italians wouldn't be alone at United. At present Massacci and Fornasier will be moving into the Reserves to join Petrucci and Macheda. The Reserve and Academy fitness coach, Marcello Iaia is also Italian.
Signings at this level for United specifically are no surprise. Most of the successful FAYC winning U18 team will be moving up to the Reserves whilst those promoted from the U16s are predominantly midfielders. It is intriguing to see two goalkeepers on the list though. Sam Johnstone will move up to the Reserves but Joe Coll and Liam Jacob will be only second year scholars in the Academy and Jonny Sutherland is likely to be promoted from the U16s.
It has been suggested that United may send some youth players to Fiorentina on loan as part of the deal. Neither club has confirmed or denied the report so far but the deals seem likely with potentially more to follow this summer.
AUTHOR: – Doron