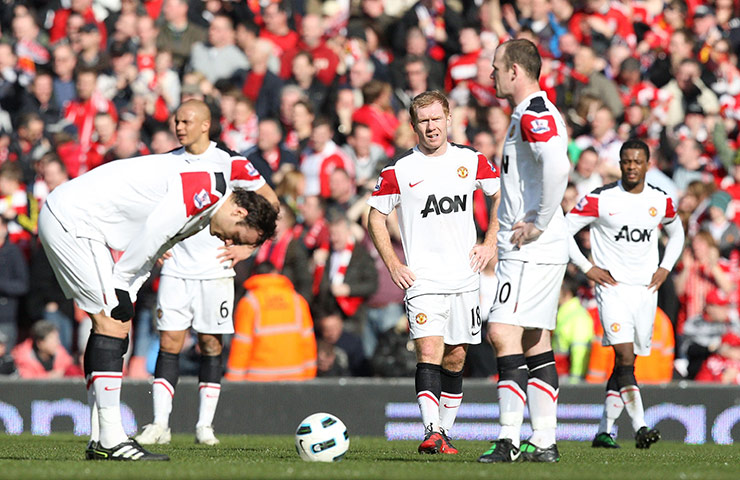 AUTHOR: – Doron
The chance to open up a 6 point lead over Arsenal was squandered as United fell to back-to-back defeats for the first time in nearly two years. Liverpool powered to a 3-1 win and below we'll try to discuss the main talking points.
Talking Points
4-4-2 over 4-5-1?
It came as a huge surprise to me when I saw the team lining up in a 4-4-2 formation. Despite incorrectly predicting the personnel in our match preview I still expected a 4-5-1 system to be used with Giggs inside and Rooney wide left. The beauty of such a system was that it allows for a change to a 4-4-2 without the need for any substitutions – Giggs wide left and Rooney rotates round to be a striker.
The next surprise was to see a flat back four from Liverpool in a change from their usual formation Kenny Dalglish has adopted. Liverpool lined up with Meireles on the right and Maxi on the left, both as narrow wingers. In the middle, Gerrard sat deep with Lucas just ahead of him. Kuyt and Suarez rotated their movement; whilst one held high, the other would go deep to complete a three man central midfield for Liverpool:
Click on images to enlarge
Heatmaps for Suarez and Kuyt
As shown above, Suarez spent 46% off his time when passing the ball away from the final third of the pitch, and Kuyt 48%. By dropping deep, especially in defence it meant that United were overrun in the middle:
Liverpool's 3 men in the middle vs United's 2 men
As shown (above) it left Carrick and Scholes to play against three central plays and two wingers coming narrow, hence both Scholes and Carrick were isolated and as we'd come to discover, both would have poor games. As the game went on it became clear that United were struggling. Liverpool continuously had a man spare – usually the runner, someone coming from deep and arriving into the penalty area. So obvious was this early on that it lead to the commentator on Sky saying after only 13 minutes, "this game is already looking stretched" – quite simply there was too much space for Liverpool around the United midfield.
As soon as Liverpool scored their two quick-fire goals – which despite United enjoy periods of possession – had been looking more likely than any United goal, United had to stick with their 4-4-2 as it is generally the more attacking of the two formations we tend to deploy.
Personally, and no one has to agree if they don't want to, but I feel United started too boldly with a 4-4-2. I'd have preferred caution and sense with a 4-5-1 with the option to revert to the more attacking formation should it be needed. It's not often that Ferguson gets the tactics wrong, and on the rare occasions he does, he usually makes the correct changes to fix it (Blackpool away is a great example). However, today I think he is as responsible as any of the players in slipping below the standard required. After all, we laud the great man when we win so he too is as accountable when we lose, and certainly isn't excused from any criticism.
United unable to get the ball back or forward
For all the possession United had today (562 attempted passes with a success rate of 79% compared to Liverpool's 421 passes at a success rate of 70%) United created very little and used the ball ineffectively. One can argue the point that the tactics restricted the play – with an outnumbered midfield it meant as hard as it was to defend against Liverpool, it was even harder to break them down. United lacked options as players were quickly closed down however this doesn't excuse the poor individual performances and the fact United seemed unable to conjure up anything for the majority of the game that threatened Liverpool:
Nani and Giggs passing
Carrick and Scholes passing
Whilst the two chalkboards above both show how United actually kept the ball well (blue = successful passes), they emphasise how hard it was for our midfield four to play a successful ball into the box. Only 8 times throughout the match did United successfully pass the ball into the Liverpool penalty area (the diagrams show 6 but Rooney played 2 successful balls into the penalty area in the second half when he went to the left wing). By contrast, Liverpool managed this on 15 occasions. As if Liverpool needed help in the box, United assisted two of their goals anyway!
On the three occasions, United nearly did score (before Chicharito's late goal) the delivery into the box was only good from set pieces. Berbatov hit the post with a moment of inspiration – a long range shot with the outside of his boot; Brown had a half-header deflected and cleared off the line whilst the best chance fell to Berbatov who had a header following a flick-on cleared off the line.
Liverpool successfully nullified the threat that United pose and rely on this season – wing play. Only four successful crosses were completed out of 22. It begs the question, do United rely on wingers too much? Wing play has always been associated with the club but this season there appears to be a lot of reliance on our wide players for attacking inspiration. I don't have a problem with this and think it's an easy excuse to make when on one of the rare occasions this season our wingers failed to "gee-up" the team but I do believe it's a point well worthy of discussion.
United's unsuccessful (18) and successful crosses (4)
United's inability to get the ball forward effectively was not helped by an inability to get the ball back. Across the midfield there were failed tackles with 11 attempted and only 2 won:
The only two successful midfield tackles (in blue)
Once again it is possible to point at the tactics and suggest they didn't help in this instance. United's midfielders were outnumbered and the spare man meant it was hard to get a tackle in for fear of leaving someone free. As it was, United often committed themselves and allowed a free runner to get in behind the midfield.
The only positives
In a game where 3 goals were conceded it may seem strange to suggest that the centre backs did well. Missing Vidic, Ferdinand and Evans, the pairing of Brown and Smalling would have appeared susceptible. The pair had never started a game together at centre back and were not helped today. Rafael, for all his promise shown this season, looked like a player who hadn't featured recently, whilst Evra, captain on the day looked unfit and unable to run easily all game. Pressure was therefore on Brown and Smalling to keep Liverpool at bay.
Both centre backs could have done better for the first Liverpool goal however other than that I felt they did well enough. Neither could have predicted Nani inexplicable header towards his own goal that set up Liverpool's second goal and although Smalling played Kuyt onside for the third goal, Edwin should have parried the ball round the post rather than at the feet of Kuyt to smash the ball in.
Smalling once again looked an assured presence on the ball and alongside Brown, the pair won lots of key tackles:
Smalling and Brown tackles
The pair were kept busy all afternoon and the next chalkboard merely emphasises that (unsuccessful clearances count for very little so don't read too much into all the red dots):
Smalling and Brown clearances
In the initial aftermath of the game, it seems like there were very few positives to take but I felt our centre backs did well given the lack of support they had from under-performing team-mates around them.
Bad tackles
Just before half-time the game took a nasty twist. A late, bad, rash and reckless foul on Nani by Carragher infuriated United players. Nani was able to get up, grab the referee to point out the damage before rolling on the floor again and crying. An explanation as to how Nani was able to get up in the first place is simple – adrenaline. Only once the pain hit him did he fall back down again, the initial shock of the tackle was yet to hit him.
The challenge by Carragher was truly awful. Phil Dowd got it wrong by not sending him off, that's straightforward and clear-cut. It seems lucky that the injury to Nani is only a deep gash yet he was unable to take part in any more of the game.
Here's the tackle in case you missed it:
A couple of images of the wound have been put online too, the first was uploaded by The Sun (although one has to question if it's been doctored – what is the white in the wound?):
The second was uploaded by Craig Norwood and is more graphic but clearly the same wound (see the rip at the top of the wound going to the right in both pictures):
The sudden anger that entered into the game lead to another poor challenge just a minute later. This time, Rafael launched into a tackle on Lucas. Rafael got yellow carded by referee Dowd but Maxi escaped caution having fouled Rafael badly in the build-up. Arguably both players were lucky to escape red cards.
You can make your own mind up by re-watching that incident here:
Match Conclusion
A trip to Anfield offered the perfect opportunity to complete a hat-trick of wins this season over arch rivals Liverpool. In the league, three points would have opened a six point gap over Arsenal. However, Liverpool started the game strongly with Luis Suarez looked dangerous. The first close effort of the afternoon came from Berbatov though – 25 yards out he hit a dipping shot with the outside of his boot that had Reina beaten but just clipped the post. Liverpool started to prod more and only solid defending stopped them getting a real sighting of goal.
It was United again though who came close to scoring. A Wes Brown header took a deflection and had to be cleared off the line by Liverpool. The breakthrough came on 34 minutes, Suarez's feet were took quick for Rafael, Carrick and Brown, his shot was saved by van der Sar but Kuyt following up beat Smalling to the ball to tap in from a yard. Only two minutes later the lead was doubled. A Suarez cross was inexplicably headed the wrong way by Nani and Kuyt was able to nod home unchallenged from yards out. The half ended with Nani off injured after a shocking tackle by Carragher who was only shown a yellow card. As tempers flared two more poor tackles followed, Maxi on Rafael and Rafael on Lucas – both offenders were lucky to stay on the pitch but only Rafael was booked.
United started the second half with purpose and had another header cleared off the line, this time it came off Berbatov's head. Van der Sar did well to save an effort from Meireles who was clean through on goal however the veteran keeper was at fault for Liverpool's third goal. Suarez's free kick was parried into the path of the onside Kuyt to tap home for a hat-trick. Edwin will be disappointed not to have turned the ball away from goal and behind for a corner as the free kick wasn't particularly powerful. United did finally score, Chicharito headed home well from a Giggs cross deep in injury time for his 10th league goal from only 14 shots on target. A terrible afternoon was compounded by the club refusing to speak to any media sources including MUTV and banning the players from doing so too.
Aside from the game, Park and Valencia did travel with the playing squad to Anfield, suggesting they are both now close to returns. With Nani injured they may be needed soon as United will look to avoid three defeats in a row when they take on Arsenal at Old Trafford in the FA Cup on Saturday 12th March.
AUTHOR: – Doron