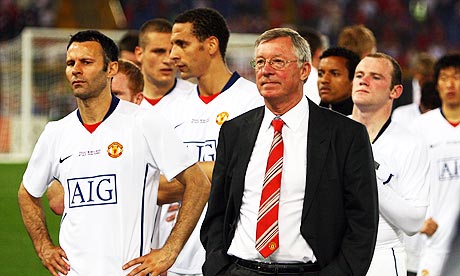 Where are United headed; are our players really that bad compared to Liverpools and Arsenals?
Everyone has said Chelsea are unstoppable and once again waxed lyrical about Arsenal and wrote off United. United have underachieved but are still arguably in a stronger position than this time last year. Yet again, the knives are out, and the idiot fans are in their droves to tell us that these United players have no talent and Liverpool's and Arsenal's are suddenly better. This is a Manchester United crisis that has yet to see us sink to the trophyless days of those two clubs.
Is it that United were so incredibly underrated despite their incredible success in the last few years that we now are panned for only performing a bit better instead of comprehensively better than our rivals in Red?
To recall a recent blog where I was bold to say I'd prefer Anderson to Fabregas; since, I've read laughable comments from rival fans saying the likes of Lucas, Song and even Ramsey are now better. Clearly this is the mischievous imagination of jealous fans over-hyping their own players; even if I could be accused of exactly the same regarding my own opinion re: Anderson / Fabregas, there is a line where you take things too far!
Sir Alex this week called this season's League the toughest in years and there is certainly enough evidence to support it with the likes of Burnley and Birmingham excelling, the influx of money at City and polarisation of Wigan Athletic. And at United we can easily identify the problems that exist – for instance, the departure of Ronaldo has clearly hit the side despite the wonderful form of Valencia. Dimitar Berbatov seems to have redefined what "inconsistency" means while both the fitness of Ferdinand (and the rest) and the unstoppable rumours about Vidic have contributed to the unsettling of a defence that this time last year was breaking records.
The Berbatov issue divides many fans as does the "solution" to whatever the problem is at the club. There is not a clear answer; I'm willing to accept that my 2 year hope for the pacy striker we needed to replace Saha and the midfield foil we need to complement Anderson may still turn out to be the wrong path to continued success.
The primary thing to consider is that the comparisons usually come from other clubs; what Manchester United does, however, is compare itself to the history of Manchester United. A history that has consistently been littered with records being broken and previously unthinkable success. The current dilemma for fans is how can Fergie maintain the high level of success we have become accustomed to? To outsiders to make such a comment appears as if I believe we have a divine right to win things. We don't, of course we don't; however surely as fans we have a right to want our club to remain at the top just as the other 91 English League clubs aspire to be in our position.
The curious thing is that a relative success can get muddied with a degree of excellence and this is often due to the level that the success is achieved or the barometer by which it is judged. As I've said, at United it's generally an internal investigation but the nature of football encourages debate and comparison from rival fans. You would never want it any other way; however this is where the comparisons come in.
Chelsea, just as this season, were battering many teams before Christmas in the last campaign and lauded as possibly the finest team in the League's history yet when United returned to top spot in late winter we were told we'd done so despite not hitting top form. Curiously, most United fans agreed! This is what bemuses me most about the way the media has undoubtedly affected public perception. That we absolutely slaughtered Chelsea 3-0 a year ago has apparently evaporated from public conciousness.
Chelsea's title winning juggernaut seems to be fondly remembered as the last team that deserved to win the league; since then, Arsenal racking up big scores against the Derby's and the Burnley's has seen them labelled the "people's Champions".
If none of this rings true then just think back to the summer with all the Liverpool fans insisting that they were the better team in the league last season. Second is the new first? Certainly you might be forgiven for forgetting United have actually won 5 trophies in the last two seasons, 6 in the last three, while the other three of the top four have won two between them. Both of those FA Cups, to Chelsea.
The teams respective perceptions eventually translates into individual assessments of players. Remember half a decade ago? Keane and Vieira approaching the end of their careers in Manchester and London, a debate would rage on (and still would) about who you would prefer, who was the better player. Look at what Keane inspired United to. The difference he made to the side that was tangible when he wasn't fit or was suspended. And Vieira was a worthy opponent with all the credentials to back it up, a man mountain who on his day could be unstoppable. I'll choose Keane all day long but I can always acknowledge the comparison is always a personal call.
This era's respective comparison, given the nature of squad rotation, could have any number of players. Scholes, Carrick, Anderson, Fletcher, Lampard, Essien, Alonso, Gerrard, Fabregas, all players who you would feel worthy of discussing when naming the top dog over the last 5 or 6 years.. oh wait, what's that? Mention any of the United contingent and you'd be ridiculed?
Well, it's a peculiar one. Of the list I'd say Lampard and Essien are certainly the better out of the opponents and have all the credentials to back it up; the trophy wins and performances against the bigger teams where you can see that Chelsea could dominate an opponents midfield have given them a CV worth boasting about.
At United we surely have a similar boast; an opinion that could be reflected by ours and the Stamford Bridge clubs tussles with each other and Barcelona over the last 24 months. Midfields that essentially neutralised the others in the bigger games but take away key components and the difference is notable; no Essien and Chelsea were carved apart at Old Trafford, no Hargreaves or Fletcher and a United centre with little identity were exposed by Barcelona.
The Catalans are widely thought to have the best midfield in the world but with the margins so fine it is no damning edict that we were overrun but it was a glaring over-reaction that was probably a consequence of the prior underrating of the likes of Fletcher – similarly, it was no forecast of doom that Chelsea were overpowered by Fletcher and Giggs, it was just the removal of a detail. Three midfields that, fully fit, barely give an inch between them. The most recent game between Chelsea and United was a fine example of midfield tactical battles as Anderson was deployed to "reduce" Essien and did a marvellous job. Unspectacular, understated but one of the best midfield performances of the season.
At Liverpool and Arsenal we're told of Gerrard and Fabregas being two of the best in the world. Apparently they'd walk into our team. No doubting their quality; Gerrard has inspirational moments to refer to over his career while Fabregas as emerged as the jewel in the Arsenal crown.
However. And it's a big however. People often refer to the "Phil Neville" pointer as an indicator that a bulging trophy cabinet does not neccessarily reflect the talent of a player. It's a somewhat valid point, but this is often the misguided argument of an idiot fighting a losing debate, as it can levelled by the "Matt Le Tissier" argument; that is, a player who appears hugely talented but no-one could ever know as they never really proved themselves in a successful team or cut the cloth at international level.
Steven Gerrard, I'm sure most people would agree, is widely credited with dragging Liverpool back into two Cup Finals 6 and 5 years ago that they managed to draw and then win on penalties. That was half a decade ago though and one freak of a year that inspired a title push apart there is little else to show for it, aside from the fact that very large question marks are now being asked of him now there is no Xavi Alonso.
Cesc Fabregas is too young to be thrown into the Le Tisser bucket just yet but, he's yet to really prove anything, and, a point I've made before, his form significantly suffers when he does not play in a midfield three where the donkey work is done for him.
This is something I'm sure will get plenty of disagreement but in addition to this I can't remember seeing a significant game between two "heavyweights" of the game played at the top level either domestically or in Europe in the last 5 years that either of those players has dictated. Think back yourself; try and conjure an example. It's all well and good grabbing an inspiring last minute goal against Middlesbrough at the Kop or setting up a couple of goals against Blackburn but I'm talking about either against Chelsea or United when it mattered, or really, anyone else when it really mattered.
Both play in sides that rarely win trophies and usually contest third and fourth place in the league yet are considered, by some, to be better than those that consistently either win trophies or seriously contest them. How can it be so that such a significant factor be dismissed as the "Phil Neville" factor? And while we're on the subject, doesn't that perfectly sum it up? A squad player at United who, while no-one ever pretended to be a world beater in the club, was lambasted because he wasn't by all outside the club, is now the club captain at Everton. Severly underrated; and a sign of the times.
The point being made is that while both Chelsea and United both boast a number of players who can run games or can be considered to be in the elite, they do so because of their recent history of achievement at the highest level. Not because they hammer lowly teams on one off basis' but because they perform consistently and then when it really matters they can turn it on.
Recent history is littered with examples to support this in the bigger games; not to pick on Arsenal but both Chelsea and United have battered them at the Emirates with the midfield battle being key, while in missing Fletcher and not selecting Anderson, United fans had much reason to bemoan the missed opportunity to beat a poor Liverpool side at Anfield.
This is not really to compare but just to highlight a recent example that has been debated on our blog;
I've often used this blog to bemoan the lack of a partner for Anderson and I'll openly admit here that I've cited this as a reason that he is yet to properly truly flourish at the club. It's frustrating because the talent is clearly there.
I leave myself open to accusations of hypocrisy by saying Fabregas and Gerrard are exposed when they don't have midfield partners or support that does their work while saying Anderson needs a partner to define himself; to explain myself, Anderson has already shown he can run games against top level opposition at the tender age of 21 but needs a partner to truly define his role at the club, in so much as does he hold or does he push forward? This is something that the player does not seem to know, especially in the absence of Hargreaves, or as was so clear in Rome last May, in the absence of Fletcher. That being said; as the comparison stands, I can't be convinced that Fabregas could dominate against the same opponents even with a full strength Arsenal midfield supporting him. Can you? And by that token, can it really be held against Anderson?
Paul Scholes has had a magnificent career alongside many different midfield partners and surely needs no justification for this particular argument (it's certain now that Gerrard's career will end far less illustrious than his, while it is unlikely but improbable that Fabregas will reach his heights); and Darren Fletcher dramatically improves the side regardless of who he plays alongside, and indeed, it has long been noted that he actually raises his game for the big occasions, so much so that it is somewhat ironic that his general high level of consistency developed AFTER he was considered first name down for the big games.
Perhaps the midfield is lacking a creative foil for Anderson or the return of Hargreaves to complement him; maybe we need a winger, a striker, a new centre half. But think about it.
We don't need these players to merely compete; we ARE competing. Second in the league despite having some defenders missing at all stages this season, competing despite the lack of a real spark, competing despite losing the best player in the world, competing despite the fact that Berbatov continues to resemble the final piece of a different jigsaw. We want one or two players to maintain a level of excellence that sees ourselves, Barcelona and Chelsea as Europe's "big three".
And when all is said and done failure for these players is finishing second or losing a Cup Final to one of those two, and it is considered failure because of the recent success of the club and the players that have achieved it. They are aware that they are capable and they are disappointed if they don't live up to it.
Failure is elevated to crisis when for the first time in a quarter of a century United are knocked out of the FA Cup by a lower league team, a fate that has occured at every "big" club more than once since the last time it happened to us. This is a crisis that has lead to us questioning the quality of our future talent despite the fact that a team with 7 reserves in it were within a couple of penalty kicks from the final itself last season!!
True crisis will be descending to the underachievement of the likes of messrs Gerrard and Fabregas and their respective clubs even if it was only for the one season and not the half decade that those players have endured. Who would our players be compared to then? Jimmy Bullard? Graham Alexander?
Yes, Manchester United are seemingly at a crossroads. A crossroads between success and, God forbid, not having a shiny pot to celebrate come May. And yes, we don't have any inherent right that entitled continued on the highway that has "success" as it's destination.
Maybe our players are having a season of underachievement; but that's underachievement by our own incredibly high standards. It's still favourably comparable when looking at our rivals in Red from the "big 4".
This level of "failure" is still a success to every other club in the land and would be a significant step up for the likes of Liverpool (as their second place last year showed) and Arsenal, whose players seem to be the ones fans most like to favourably compare to our own; remember that level of perspective when you're reading the next "United in turmoil" piece in the paper, down the pub talking football with the mates or debating with people in internet sites such as this.