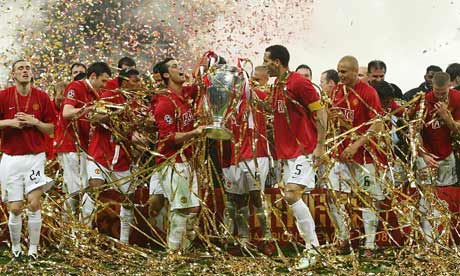 As we approach 2009 there is much to reflect on over the past year – which for me personally has been truly amazing. Having got married and had a superb stag do in Newcastle (not in that order) it was left up to Ryan Giggs and Edwin Van der Sar to make the month of May the best time of my life.
So, still being on a high from this monumental season, I want to take a look back at the moments and people that made this year so special in the history of Manchester United. From the despair of losing 2-1 to Chelsea in late April to the hysteria of beating them in May and even to the last gasp Nemanja Vidic goal against Sunderland recently – its been an amazing year!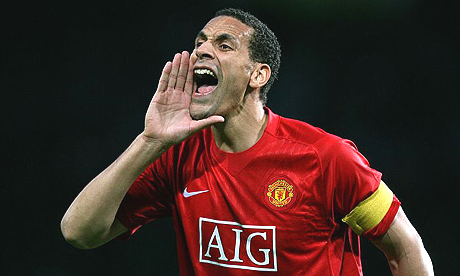 Player of the year – Rio Ferdinand

Most other websites and blogs would give it to Ronaldo hands down and in terms of performance and importance to the side – he does win hands down. However, his immaturity and total disregard for the club in the summer means that I just can't give the award to the lad. I'm sure i'll get criticised immensely for not placing him as my number one man but I just can't after his role in the summer transfer to Real Madrid. Ever since I first set eyes on Ronaldo, I knew the boy had it all – he just now needs to be a tad more humble – which may come in time. However, my player of 2008 at United is Rio Ferdinand.
Ferdinand, in my eyes, in the best defender in Europe from both a physical point of view and also technical point of view. Rio is happy to bring the ball out of defense and join in with play going forward. He is also extremely quick in identifying danger – whereas when he was younger he would have used his pace and strength to cover for the movement of top strikers – he has now added this to his armory.
Ferdinand has found, in Nemanja Vidic, a defender who complements him superbly – although in terms of heading the ball out of danger – Ferdinand has again improved immensely. I always felt that Rio played very well against faster players who where technically gifted rather than against target men such as Drogba or Ferguson. You now feel confident that Rio can marshal any top forward from around Europe and he has come a long way from the 'Rio sign the deal' days.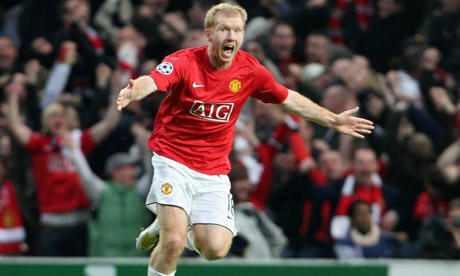 Game of season – Manchester United 1-0 Barcelona
It was written in the stars that United would get to Moscow and having to overcome, quite possibly, the best passing team in Europe, without Wayne Rooney, was a monumental achievement. We witnessed one of the great goals scored at Old Trafford by Paul Scholes and you could hear the spirits of Juventus in 99 quietly diminishing as he struck the shot past Valdes. As we all know Scholes missed the final in 99 and it was so satisfying to see him rocket us to the final and Fergie declare that he was to be the first name on the teamsheet.
It was such a tense night – with the Manchester crowd in full flow and we got to the final after some nerve wracking final minutes. A Barcelona goal would have put us out and destroy the dream of the Double – however thanks to Scholes it just was meant to be that United would make the final!
Other superb performances include that first half in Moscow, the 4-0 drumming of Arsenal, the 6-0 victory over Newcastle United, the 3-0 victory over Liverpool and recently the 2-0 victory over Blackburn Rovers.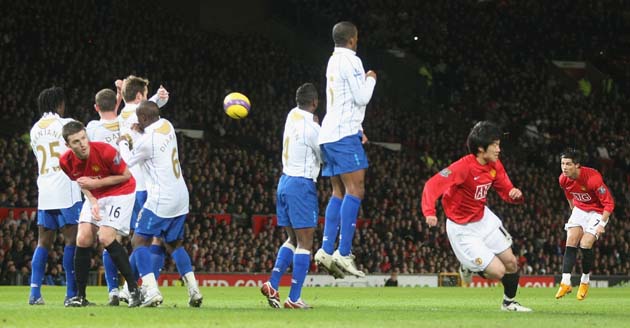 Goal of the season – Ronaldo freekick against Portsmouth
Quite literally, jaw dropping technique used to get the ball over the wall and into the top left hand corner (of David James) of the net. Breathtaking strike, which really cannot be downplayed – this goal deserves all the superlatives it received and will do for a long time. The freekick, I believe, had the same impact on football that the Roberto Carlos freekick had a decade and a half earlier when he scored against France in 1997. Ronaldo proved that he could score goals with his head, left foot, right foot, one on one, outside the box and from set pieces. Glorious goal.
Other goals worth mentioning are the Owen Hargreaves freekick against Arsenal in the 2-1 victory in April, Ronaldo's goal against Roma in Rome, Scholes' goal against Barcelona at Old Trafford and Danny Welbeck at Old Trafford against Stoke City.
Conclusion to an amazing season
So there you have it! Stretford-end.com's pick of 2008 from a quite brilliant year. Noticeable mention for Jonny Evans who has been brilliant this season and I think he will go on to become a top class centre half.
Also a mention for the man of the year – Sir Alex Ferguson – couldn't be anyone else could it? He has shown that he is a true genius that will go down as the greatest manager to have worked in England. He has evolved with the changes demanded by modern day football – a process that nearly every other manager fails with. Sir Alex is a legend of the game and legend of Old Trafford. Remember the crap the media where spouting around 2004/05/06 about that he had 'lost it' and that 'United need to get rid of him to move forward'? Well done Fergie.
Do you agree with our selections? Do you disagree at all? Please state – i'm sure the player of season will rattle some people.
Other than that – have a great New Year and have a great night out tomorrow!