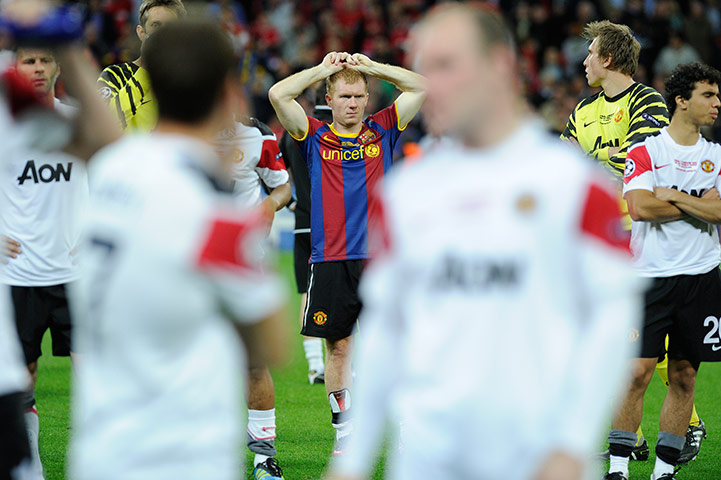 AUTHOR: – Doron
Champions of Europe, it was not to be. United were on the night beaten by arguably one of the greatest eleven (or so) players ever assembled. There's no shame in being the best in England and the second best in Europe. Here we discuss the talking points of the match and welcome both sets of fans to contribute to the events.
Talking Points
Selection and tactics
There were no surprises in the starting XI for United. Indeed it was for a change exactly how we and many other blogs/fans had predicted. Sir Alex boldly chose to play Rooney and Chicharito – on the face of it, one may have presumed that Rooney would play deep, like he did against Arsenal, however he held a high line just behind Chicharito. In the midfield, Valencia was wide right with Park tucking inside on the left and regularly rotating with Giggs.
Arguably the biggest surprise came on the bench, Berbatov was left out of the team altogether. This will now fuel a whole load of new speculation over his future at the club despite him stating recently that he wants to stay at least one more year. Attempting to understand Owen's selection over Berbatov is hard but the only thing I can come up with is that Berbatov is excellent at holding the ball up and his link up play is superb, however he's most commonly found deep. If United needed to bring a striker on then it would almost certainly be to win the game, in which case Owen – someone who generally holds a high line and plays off the last defender – makes some sense. A strange decision nevertheless.
Unlike in Rome, 2009, United didn't play with players out of position and didn't start with anyone who wasn't fit. Given the overwhelming choice of system and starting XI by fans if I were able to roll back time and start the game all over again then I can't think of anything I'd change. For long periods, United actually did well to contain Barcelona to possession away from the penalty area, despite statistics about possession, passes completed and shots suggesting otherwise. A telling sign of United's tactical discipline is that Barca were even forced into shooting from distance a few times, something that is rarely forced upon them.
Individuals
Individual ratings are not something we do on our post-match pieces and that won't start today however I think brief analysis of each player and their part in the game is necessary as some did well despite the result.
Van der Sar – A disappointing end to a legendary career. Was beaten by two super finishes from Pedro and then later Villa however arguably he could have done better with Messi's goal. The shot from distance did come through a few players however it went in rather centrally and almost under Edwin's arm. That said, some crucial and important saves were made during the game to keep United in it.
Fabio – Lively as ever, often was involved in starting some of United's best attacks. The occasion clearly didn't faze him and it says a lot that Barcelona rarely looked to attack down the left hand side. A very strong end to the season for him, much to be pleased with.
Ferdinand – Bamboozled, as most were, a few times by Messi but in general he proved why he's considered one of the best. Some well timed tackling in important areas of the pitch stopped quite a few attacks. Possibly needed to be more vocal in marshalling those ahead of him but little he could have done about any of the goals conceded.
Vidic – Like Ferdinand, he was kept busy and individually produced some outstanding moments of defending. His partnership with Evra was a concern though – too often Evra needed to be told to get wider and a communication break-down was what lead to the opening goal of the game as Pedro left Evra and darted on the outside of Vidic who was not alert or tight enough.
Evra – A night that seemed to reflect his season in general. Ups and downs during the game but sadly more downs than ups. Too often he was caught narrow with a free man behind him. Was at fault for the first goal as a communication break-down with Vidic lead to Pedro being free. Not his night.
Valencia – So much was expected from Valencia yet he struggled. Rarely was he given an opportunity to run at Abidal and was so often closed down by two or three men. Defensively he did his duties but arguably was lucky not to have been booked in the first half for persistent fouling. Pedro won this battle.
Carrick – Contrary to many, I thought Carrick had a good game. Often outnumbered in the middle by Barcelona players he had a very strong first half, regularly making important tackles and winning the ball back. He didn't see enough of the ball as he'd have liked but generally looked to play forwards. Seemingly he'll be the scapegoat for not being able to match/stop Xavi and Iniesta – a rather tricky task!
Giggs – Picked surely to control United when in possession yet even when in possession he struggled to have an impact on the game. Was disappointing in helping with defensive responsibilities and often left Carrick isolated. When not isolating Carrick he was simply too flat. He did however play a major role in United's goal, a clever run was spotted and upon getting the ball he correctly identified Rooney to assist the goal.
Park – Started as well as anyone on the pitch. He broke up numerous Barcelona attacks and often kept Alves deeper than he'd like. Faded as the game went on and Barcelona looked to play through the middle into the space more often though.
Rooney – Arguably United's best player on the night. He prowled around hunting the ball down when it came near. Could have done more to pick up Busquets when in possession though. Rooney was regularly United's most threatening player and seemed to have the edge over whoever he came up against. Scored a superbly well taken goal – a great way to end the season and prove his ability to the doubters.
Chicharito – Struggled on no service but worked tirelessly closing down the Barcelona defence. Didn't really have a single chance all game but through no fault of his own.
Nani – Was brought on for Fabio and played ahead of Valencia. When going forward he injected some life into United and was able to go on a couple of runs beating men. Had one shot wide when he really should have looked to pass. Arguably has to shoulder some of the blame for the third goal, having won the ball he failed to clear it sufficiently and could only play it straight to Barcelona who scored.
Scholes – Came on for Carrick with fifteen minutes to play. Had no chance to really impact the game but unsurprisingly his passing was accurate and incisive.
Barcelona
Wow! What a football team! Over 750 passes attempted (United just 350); 22 shots (United just 4) and only 5 fouls committed (United 16). Stats aside, they outclassed and outplayed United. The triangles they're able to produce are mesmerising – Fergie once referred to it as a carousel and it is exactly that.
Moreover, they played as well as they ever have done. Pep Guardiola reckoned that was Barcelona's best performance under him – says a lot given their demolition job on Real Madrid earlier in the season. Aside from the usual characters, Pedro and Busquets put in outstanding performances. Pedro's goal was a stunning finish, slotting in at the near post when the far post seemed the obvious choice. He gave Valencia a hard game and his drifting across the middle made it hard for United to pick him up. Busquets, often considered a dirty player, a cheat, was excellent. Far from his usual 'dirtiness', he broke up United play and kept a very disciplined deep role, regularly anchoring the passing triangles.
Even in defence, Mashcerano, a stand-in centre back of late had a solid game. The star though was Messi. His goal was not his high point for me. His mazy runs and awareness of those around him were stunning to watch. What stood out for me though is just how well he finds and appreciates space. He seems to pick the pockets in between players all the time and is near enough impossible to man mark. He's a special footballer who was, along with Xavi, on a different level to anyone else tonight.
Tactically, Guardiola got Messi's positioning (central) spot on and they used the width afforded to them well. With Rooney not playing as deep as maybe he could have, Barca were quick to spot that avenues would open centrally rather than through the wings. They outnumbered United in the middle and made it count.
Barcelona were worthy winners. Their team is capable of doing this for another few years for sure. Whilst Arsenal attempt to play football like them, the reality is that no one comes close. Beating them usually involves a weakened team and errors – tonight they produced neither. Congratulations to them.
The season is over
This section needn't be long. With the season completed there will be time to reflect in the next few weeks and plan/discuss what should happen next year. However it's worth noting that even at a moment like this, where defeat is hard to take, this has been an excellent year. The squad has been written off by a lot of the media and even some fans, whilst Fergie admits we're a team in transition. Yet, we've won a record breaking 19th league title, got to the semi-final of the FA Cup and lost in the final of the Champions League to arguably the greatest club side there has ever been.
Best in England and second best in Europe. Successful season. Very proud of the players and the staff.
Match Conclusion
There was little in the way of a rumoured surprise in either starting line up. United went with the team that had so much success away to Schalke whilst Barcelona left Puyol on the bench due to a lack of fitness. Berbatov was though left out of the United '18' altogether in the biggest surprise.
United started the game with purpose to their play. They pressed Barcelona high up the pitch, forcing them to play in their own half. However getting the ball was one thing, keeping it another – it kept going back to the Barcelona side and they began to settle.
The opening 25 minutes produced few chances, Pedro shot wide and Villa forced Van der Sar into a smart save. However, on 27 minutes this changed. Pedro ran off Evra and behind Vidic, his run was spotted and found by Xavi. With Vidic slow to react, Pedro ran through on goal and wrong-footed Van der Sar to give Barcelona the lead.
United though weren't to be behind for more than five minutes. Fabio charged forward and a series of passes found Rooney bursting towards the Barcelona area. He slipped a ball through to Giggs who in turn swivelled and returned the pass back to Rooney who finished superbly with the inside of his foot to level the scores. The score remained this way until half time only due to further efforts being put wide by Barcelona.
United were sent out early in the second half, they'd done half the job and kept it tight enough to this point. Yet, Barcelona stepped up their second half play – Van der Sar produced an excellent save to keep Alves out whilst Evra had to head clear a goal-bound Messi effort. Messi got his goal though in the 55th minute – he was inexplicably left free and by the time Evra had closed him down, his 25 yard shot had fizzed into the goal, low and centrally. Messi and Xavi were then denied by Van der Sar before Fabio had to make a goal-line clearance to deny Alves.
The game was all but over with twenty minutes left to play. Nani, fresh from the bench won the ball but was unable to fully clear it. Villa, who'd not really been involved in the game had time outside the area to control the ball and curl a stunning effort beyond Van der Sar into the goal. Barcelona were able to see out the remainder of the game with ease to win their 4th European Cup. For United it was a second final defeat to Barcelona in three years. Eric Abidal who recently overcome a cancer scare was the man who lifted the famous trophy after he completed the full 90 minutes.
As a side note, referee Viktor Kassai had an excellent game, regularly allowing play to flow and was lenient with his bookings. Only late on did he start to get a bit whistle happy.
With the season over, the players can now enjoy some time off after a successful campaign. Pre-season starts in July!
AUTHOR: – Doron