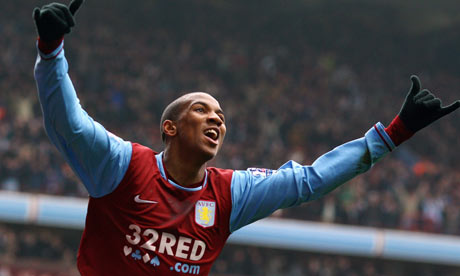 AUTHOR: – Doron
Ashley Young has been linked to Man United for over six months now. Indeed, even in previous seasons, the young English winger has been the subject of transfer speculation columns. Rumours of a January bid have never been confirmed or denied but recent murmurs suggest a deal is imminent. Today, word from the Man United doctors via Mr Mujac was that Young had undergone a medical last Friday. With that and speculation in mind, here are a few reasons why signing Young may make sense…
1. Need for another winger in the squad?
It may not be the most obvious area to strengthen but is arguably necessary. The club currently have Nani, Valencia, Park, Giggs, Obertan and Bebe as 'first team' wide players. However the latter two have yet to to feature regularly at the top level and Obertan may well move on this summer. Giggs is more often used centrally rather than out wide today whilst Park is similarly often used in a tactical role rather than a purely wide role. Tom Cleverley is returning from his loan spell at Wigan and whilst he's able to play wide, he is naturally a central player.
As witnessed this year, a couple of injuries have really stretched United's resources in the wide areas. Valencia's long spell out came at the same time as a couple of small Giggs injuries and Park's long January international call-up. Situations like that are rare but injuries are unpredictable. It meant Nani was left alone to shoulder the burden of responsibility from September until the start of February. An additional winger would therefore give us complete cover in this part of the pitch.
2. Cost
Despite potentially having a sizeable transfer kitty, these are times where signings are often linked to 'value'. Young is out of contract in a year so despite being English and therefore a victim of the inflated transfer fee, he would probably arrive at a very acceptable price, something between £10-15m. Additionally his wages would be in line with average wages at the club – a pay rise from Aston Villa wouldn't need United to make him a top earner.
3. Experience and langauge
Young turns 26 this summer and may have only played 11 games in Europe, none of which in the Champions League, but he has 177 Premier League games to his name and understands the league well. He does of course speak English too, coupling that with the fact he knows the league, it should mean that any 'settling-in' period is reduced. Compare this with say a Neymar or Alexis Sanchez – both of whom would cost significantly more anyway – neither know the league or speak the language. Remember, it took Nani a good two and a half years to really find some consistent form. Even as a squad player, any signing who settles somewhat instantaneously is a bonus.
4. He scores and he assists
Young's been incredibly consistent in the past four seasons. He's scored 9 goals in each of them (yes some were penalties) but he has amassed 60 assists over that time. United's wide areas have been fruitful in terms of both goals and assists since Ronaldo's departure and Young would seemingly fit the bill in that respect.
5. Set piece taking and other strengths
If there's been one area that has frustrated United fans regularly throughout the season, it's been set piece taking – mainly from free kicks indirect and direct, and corners. Given United have players who can score from set pieces, Vidic being the obvious example, it's disappointing that corners in particular rarely beat the front man. Ashley Young though is an excellent set piece taker. He's shown his worth in that respect even against United, providing some undefendable balls in. Clearly it would be advantageous for United to have someone in their ranks who can take good set pieces, both indirect and direct.
The blueprint for a 'United winger' would generally have someone who is fast, a good dribbler, a player who wants the ball, and a good crosser. In truth, Young, fits those specifications. He may not excel in every category and there may be better players than him but he's reliable and capable at all of those various facets. His crossing is something that would be interesting – United's strikers tend to feed off good balls in, certainly Rooney's best season directly coincided with Valencia's good crossing. Chicharito too, has shown this year he likes to get on the end of crosses. Despite being right footed, Young is comfortable on the left hand side, two good crossers on either side would be handy.
6. Chasing a win, and away from home he'd be a good choice
What United don't have right now is a third attacking winger. Young is probably under-appreciated in terms of the defensive work he does but he is an attacking player. When needing a win or wanting to switch to be more positive away from home, Young would represent a good option off the bench. Valencia and Nani are the two key attacking wingers we have right now but if both start and one needs replacing then Young would probably be a better option to bring on than Park if a win is needed.
7. Ability to play at a better level?
Young's attitude is questionable, he has a cocky arrogance about him and has played recently like he wants to leave Aston Villa. However, plenty of United players have that arrogance and indeed some is needed. Young has carried Villa along with a couple of other players and a step-up may be the challenge he needs. Plenty of players before him have proven that when playing with better footballers their game naturally improves – i.e. Yorke, Valencia, Smalling etc.
Conclusion
Young may not be the player every fan would want but arguably the wide positions are an area that could do with some added competition. Clearly many fans believe that the central area needs improving more than out wide and should a central player not be signed then it would make this potential signing a strange one. There is the belief United need to improve the starting XI rather than the squad, but I do believe that we are a natural winger short out wide. However, financially it makes sense and Young fits the bill in terms of what is required of a winger at United. Certainly, a player who can take set pieces and contribute to the side would be a good acquisition.
Should this deal go through at an acceptable fee then this will make sense for United in both the short-term and the long-term. Underwhelming? Maybe, but there's some logic to this.
AUTHOR: – Doron