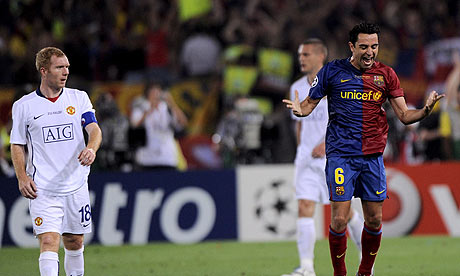 AUTHOR: – Doron
Game 60 of this long season. The finale. The Champions League final. The two best teams in Europe, Barcelona and Manchester United – both chasing a 4th European crown.
Unlike match previews in the past, this will be considerably shorter. There's little I can say that hasn't already been said ahead of this much anticipated tie. The two best teams in Europe this season lock horns – the champions of England versus the champions of Spain. United are fresh from a final day victory over Blackpool whereas a much changed Barcelona team won away at Malaga. This is the final, a chance to make right what went wrong in Rome 2009.
Barcelona are one of the iconic teams of the 21st century. Pep Guardiola has them playing attacking possession football like no one else can manage. Having already won the Champions League by defeating United in 2009, Guardiola will be looking to add a second trophy in this competition to his achievements as a manager. Once again, Barcelona won La Liga having lost just two games and scoring 95 goals – scarily their goal difference away from was better than it was at home. However, there have been question marks lately about the freshness of their side – Arsene Wenger hinted that he believes that Barca are tired both mentally and physically after four El Classicos in a short period of time.
In Europe this season, Barcelona qualified 1st in their group ahead of FC Copenhagen, Rubin Kazan and Panathinaikos. They won their group without losing a game but did draw two – away at Rubin and Copenhagen. In the last 16 they saw off Arsenal before beating Shakhtar and then Real Madrid in the semi finals. They have scored 27 goals in total and only conceded 8. As always, their approach has been one based on possession and attacking, as taught by Cruyff in the early 90s.
Barcelona have little to worry about on the injury front – Carlos Puyol and Eric Abidal have both been passed fit however it's expected that Puyol will continue at left back with Mascherano keeping his place in the centre of defence alongside former United player, Pique. Puyol has had a series of knee and hamstring problems whilst Abidal has had a cancer scare.
Expect Barcelona to line up in their usual 4-3-3 formatino but don't let that fool you. When they attack, this formation reverts to a 3-4-3 as Dani Alves joins the midfield high up the pitch. It's a system now very familiar in world football. Messi will play out on the right but will drift in-field picking up on the ball whilst Xavi and Iniesta will sit and control their play. Sir Alex Ferguson once described playing Barca as getting stuck on the merry-go-round as they keep the ball so well.
Barcelona demand respect from United. They're a team who play the way they wish to, refusing to be influenced by their opponents. However they do respected United and will have to understand that they're playing a hungry side. It would be foolish to pick out just one player from them but from United's point of view, keeping the midfield and Dani Alves quiet will be key. Further, more in depth analysis is available to read by clicking on the links at the bottom of the page.
Here's how I predict United will line up:
United have no injury concerns at all – it's simply a case of who's the fittest and what kind of system Fergie goes for. United are a confident team right now, so playing a 4-4-1-1 makes most sense despite its failings at Arsenal recently.
Edwin will start his final game in goal for United with what is seemingly the first choice back four ahead of him. Ferdinand, Vidic and Evra are assured of starts barring injury; whilst at right back, it's surely between the twins. O'Shea has been a phenomenal servant to the club but his lack of pace may see him miss out. Fabio seems to have the edge over Rafael at the moment, despite Rafa having more experience.
In the midfield there is arguably more of a debate over who starts. It all comes down to what formation Fergie will play. I believe that a 4-4-1-1 is most likely so in the middle I've selected Carrick and Giggs. Darren Fletcher will of course be hoping to be chosen give his return from injury and solid performance against Blackpool last weekend. Out wide, Valencia and Park are the obvious choices. Park can nullify Alves whilst Barcelona would fear Valencia's directness and discipline. Given the formation I've chosen, Rooney and Chicharito are the two strikers to pick.
It is of course near enough impossible to predict the line-up. Even who makes the substitute's bench is a debate in itself. There is the potential for O'Shea, Evans, Smalling, Anderson, Scholes, Fletcher, Nani, Owen and Berbatov all to be fighting for just six spaces.
United have won the Premier League, suffering just six defeats all season – four in the league at Arsenal, Wolves, Chelsea and Liverpool, and one in each of the domestic cups. No team scored more league goals (78) and away from home in Europe they're yet to concede altogether. In the Champions League, oddly United's away form has been better than their home form. United have scored 18 goals in their 12 European games but remarkably have only conceded four goals. After the group stages, Marseille, Chelsea and Schalke were all seen off to reach the final.
This season is United's 22nd in Europe's top competition and is their 5th final – their record stands at three wins from the previous four with the latest, in Rome (2009) being the only defeat. Both sides are incredibly experienced and the mutual respect that both coaches have for each other has been palpable in all the press conferences to date.
United are said to be prepared for this game. In 2009, there were many failings – players weren't fit, Ronaldo attempted to play his own game and the midfield was overrun. This time around United are prepared, even to the point that there is a plan in case we fall behind – a move to a 3-4-3 whereby Smalling will replace Park.
This final simply cannot go as badly as 2009. Even if United lose, the performance will be better. There is a real belief about United right now – they're a side working together as a team, as a unit for each other. Barcelona are said to be tired but even so, they will be a huge threat to United, regardless of how well organised they are. My predictions are rarely accurate, so I don't advice going and putting a bet on this but given that I believe Barcelona will actually fear both Valencia and Chicharito with the latter scoring the sole goal in the game and therefore I predict a 1-0 win for United.
You can share with us your thoughts ahead of the match and your favourite Champions League matches against Barcelona or final moments on the forum.
Links to all CL final content on Stretford-End:
– Cup Winners Cup 1991: Manchester United 2-1 Barcelona
– United v Barca 98/99 – Fight Night
– Turn the hurt of Rome 2009 into history
– For Man United and Barcelona, Wembley holds special memories
– Barcelona vs. Manchester United: Do Barca have a weakness?

If these don't get you going I don't know what will…
AUTHOR: – Doron