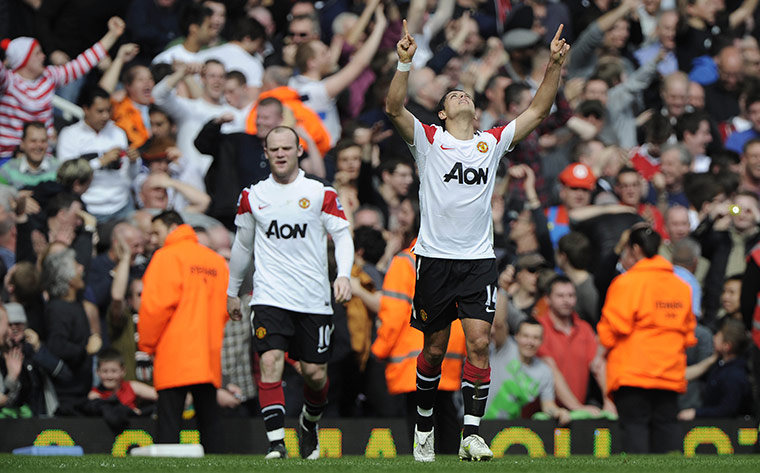 AUTHOR: – Doron
Manchester United have temporarily opened up an eight point gap over Arsenal. Down at half-time, the team did it the 'United way' and came back to seal a stunning victory in London and a rare away win. Here we discuss the talking points of today's game and welcome and comments from both United and West Ham fans.
Talking Points
Gutting half, errors and credit to the referee
United went in at half time 2-0 down. It seemed a real injustice. United had completed more than twice as many passes as West Ham (246 vs 97) and had generally been in control of the game. Frustratingly for all the possession, little was created by United with Park shooting straight at Green. As for West Ham, they managed only one effort on target (bar their two goals) not just in the first half, but in the entire game.
One of the few positives United fans could however take from the half was Antonio Valencia. He looked as sharp and quick as ever. It's remarkable really given he missed 5-6 months of football that he can slot back in and perform so well so soon. Every single cross he put in beat the first man and none were blocked. In the first half United were regularly looking to him and he put good ball after good ball into the box which to be fair to West Ham, they defended very well.
The return of Vidic at centre back should have been a calming influence on United yet instead it was he along with Evra who gifted West Ham their two goals very much against the run of play. The first penalty was given for a silly handball by Evra – no complaints. The second was a petulant trip by Vidic on Cole that may or may not have been outside the box – either way, no complaints again. It was disappointing that errors cost United going in at half-time – West Ham had otherwise rarely threatened. As the boss said to SKY TV after the game:
"Being 2-0 down at half-time was a travesty"
So often refereeing decisions are analysed and referees are criticised. Therefore it's worth praising Lee Mason today for getting almost everything in the game spot on. Just before half time, Vidic hauled down Ba – as the last man, Reds feared the worst. Yet, Mason got the decision spot on in awarding a yellow card – the ball was always going to be claimed by Kuszczak and hence a goal-scoring opportunity was not denied. Oddly the only decision I felt he got wrong was to later award United a penalty for a handball by Upson who seemingly couldn't get out of the way.
Substitutions changed the game
At half-time, Ferguson made the bold call to take off Evra and bring on a striker, Chicharito. The move saw Giggs go to left back in what turned out to be a master-stroke of a gamble from Fergie. Chicharito immediately put West Ham on the back foot. He holds a high line and forced West Ham deeper which in turn created more space for United's midfielders to work in.
The second move that changed the game saw Berbatov come on for Park Ji Sung. This saw Rooney move wide left with license to float around. Whilst Berbatov sat just behind Chicharito but similarly had license to move about. Whilst Chicharito brought darting movement; Berbatov caused different problems – he drops into holes that draw out defenders and caused havoc for West Ham as they tried to pick him. As fans have also come to expect from him – his retention of the ball was superb and added plenty of much needed calmness.
Moving Giggs to left back though was sheer genius from Ferguson. He provided assurance behind an ever changing left winger and was able to offer a really dangerous option on the overlap, picking his moments to go forward well. SKY picked Giggs as man of the match and it's hard to disagree with that despite heroics from Rooney.
Wayne Rooney
Let's get it out the way – Rooney's had games where he's played better. Certainly his touch was a bit off today and on his own up front in the first half he struggled against the West Ham centre backs and with the lack of support from the midfield.
The second half was a different story though. Not only did it help Rooney to have Chicharito and Berbatov up front with him but he was aided by forward runs from Carrick and Gibson.
Sometimes it just takes one moment to fire him up. The free kick he ended up scoring seemed to be it. It was curled beautifully over and around the wall and in the one area that Robert Green was never going to get to. There was no over-elaborate celebration a few high fives and hand shakes and United were back in it.
When behind and United get one goal – there is a feeling that the floodgates will open. With Rooney spearheading the United team, that's what happened. His second goal was a moment of world class forward play. The ball in from Valencia was nothing special but Rooney's touch to take the ball around Upson was superb and in one move he placed it perfectly into the corner beyond Green. This second goal was also Rooney's 100th Premier League strike for United.
It seemed almost inevitable that it would be Rooney who'd complete his hat-trick and complete the turnaround. The third wasn't as spectacular as the first but the penalty was tucked away calmly by Rooney.
It was also Rooney whose bursting run would lead to the 4th goal. A brilliant reaction finish from Chicharito who had little time to react to Da Costa missing the ball. As often is the case it's not so much the performance that matters but that the goals were scored – today Rooney delivered.
Unsung midfield heroes
Whilst the forwards will be getting the plaudits and only Fabio can really hold his head high in the defence (Smalling did little wrong but was shaky at times), Michael Carrick and Darron Gibson were extremely important in the win. Both players have been the whipping boys of the side for fans in recent weeks yet today both were assured in the middle of the pitch.
Before praising them for their possession and drive it's worth noting that despite neither troubled the scorers it was like a throwback to years gone by to see our central midfielders getting forward and shooting – between them they had 7 efforts on goal today.
As I hinted, it was for their possession that Carrick and Gibson were so key today. They came up against a tough tackling three man midfield in Parker, Noble and Hitzlsperger. In truth the latter two were disappointing but Parker was superb in breaking up United attacks. Not only were Carrick and Gibson the most involved players on the pitch but their accuracy between them for passing was excellent.
Often this season one of the midfielders has been on top of their passing game whilst the other has simply been 'ok' – yet today both were controlling and accurate whilst positively looking to shift the ball forwards regularly:
Click on image to enlarge
Carrick and Gibson passing
The diagram above represents 85% accuracy from Gibson (79 passes attempted) and 81% accuracy from Carrick (80 passes attempted). United's central midfield area may often lack creativity but it's functional and sometimes that's what's required when the flair is coming from elsewhere (wide or upfront).
Match Conclusion
Once again United came into this game with an injury depleted squad travelled to London to take on West Ham. The team saw van der Sar precautiously withdrawn due to a groin injury whilst Gibson, Fabio, Vidic and Park all came in from the side that beat Bolton, replacing Evans, Brown, Nani and Chicharito – Rooney lined up on his own up front.
United started the game strongly, putting West Ham on the back food and confining them to their own half for the opening ten minutes. However a long ball from Hitzlsperger saw Carlton Cole get behind the United defence and as he trip to chip Evra, the Frenchman inexplicably put his hands up and diverted the path of the ball. A penalty was awarded and Mark Noble tucked it away. Less than 15 minutes later and it was 2-0. Vidic tripped Cole on the line of the penalty area, and once again Mark Noble converted the kick.
Despite lots of possession and some excellent crosses from Valencia, the best United could manage was Park firing a shot straight at Rob Green. Lee Mason, the referee, was once again spot on just before half time. Vidic was the last man and brought down Demba Ba but was only shown a yellow card – the ball though had run too far and was safely gathered by Kuszczak which deemed it not a goalscoring opportunity that was denied. Two down at half time and United needed a change. Evra was hauled off and Chicharito thrown on at the break with Giggs deployed as a left back
The game changed in a typically blistering 15 minute period. First soon after the hour, Rooney took over free kick responsibilities and curled a beauty from 25 yards into the right hand side of the goal leaving Green no chance. Just before the free kick was awarded, Berbatov came on and he helped to hold up the ball and bring other players into the game. However like the first goal, the second was all Rooney too. Valencia's ball forward was controlled superbly by Rooney who turned Upson and fired the ball past Green into the corner – it was his 100th Premier League goal for United.
Rooney completed his hat-trick just before 80 minutes. A purposeful run from the excellent Fabio saw his cross hit Upson's arm and Lee Mason awarded a penalty which Rooney scored. United's 5th away win of the season was completed when Chicharito scored from yards out late on – a cross from Giggs was missed by Da Costa and the predatory instincts of Chicharito saw him react instantly to poke the ball into an empty net. The result leaves United 8 points ahead of Arsenal who play Blackburn later today.
United's next game is away at Chelsea in the Champions League on Wednesday 6th April.
AUTHOR: – Doron