West Ham United vs. Manchester United Match Preview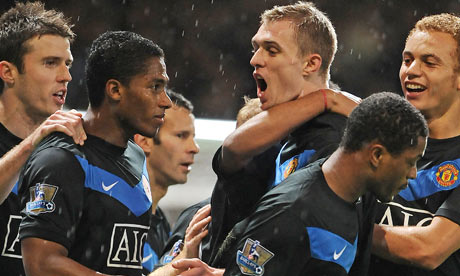 AUTHOR: – Doron
The internationals are finally over, there will be no more disruptions now until the season is over. United will be looking to put some pressure on Arsenal with a lunch time win at West Ham who themselves are in a battle but at the other end of the table. With plenty of players missing, the task facing United is hard, this is a big game.
It's been a relegation battle of a season for West Ham this year. Avram Grant came in last summer with the aim of stabilising the club and making sure they weren't in this very situation. It's actually easy to sympathise with Grant a bit. His side have regularly lost players to injury – summer signing Hitzlsperger for example has only recently made his debut for the club. The club currently sit 17th in the league, only out of the relegation zone on goal difference. Such is the tight nature of the league, West Ham are 2 points off the bottom, yet only 8 points off 7th and the European places!
Particularly in the big games this year, West Ham have adopted negative formations, often a 4-1-4-1. However recently, with the availability of Hitzlsperger, Grant has opted for a braver 4-3-3. It's fair to say it's worked as well. West Ham have been playing good football and importantly have been winning the midfield battles. I can't stress enough how much Hitzlsperger's return has helped to boost the club. This is one signing Grant got spot on. Whilst Barrera for example has struggled in his first season, in January the signing of Demba Ba appears to have been a master-stroke with the powerful striker scoring 4 in 5 league games. The rejuvenation has been lead by Scott Parker; his form has earned him a deserved England start and along with Noble and Hitzlsperger, West Ham have a very strong, tough tackling central area.
West Ham have done well recently. They made it to the semi-finals of the League Cup and the quarter finals of the FA Cup. West Ham have lost only 3 games in the league in 2011 – two of them came in January – March was an unbeaten month for them. Despite this, their last win came on the 5th March, nearly a month ago. Since then they've lost a cup game and got an admirable draw at Spurs two weeks ago. West Ham's league form means they are in fact the 6th most in-form side with 11 points taken from a possible 18; their home form is only joint 11th though. Their problem at home is simple – they don't score enough (20 goals is the second lowest total in the league). Plenty of teams have conceded fewer than their 21 goals but in actual fact that total is not bad compared to bottom-half sides.
West Ham have the luxury of a nearly fully fit squad. Kurucz and Stanislas are out whilst Collison continued his return from injury in the Reserves today so won't be involved. Scott Parker is a slight doubt but expected to play, as is Carlton Cole who played an April Fools prank on Twitter suggesting he'd been dropped (The Sun newspaper fell for it!). Otherwise, everyone else is fit – including Robbie Keane who joined on loan in January.
West Ham have a decent record at home to United in the league. They've only lost 6 times but have only managed 2 wins in 15 games. The wins came in back-to-back seasons – in 06/07 and 07/08. Should West Ham lose tomorrow it'll be their 250th Premier League defeat ever – it could also be Carlton Cole's 250th club career appearance.
Enough on West Ham…onto United and my predicted line up:
The injury crisis that was upon the club is easing, slowly. Once again the easy part of this match preview should be telling you who's out of the game but with Fergie you never know. Based upon what he's said we're missing: Lindegaard, Rafael (starts training on Monday), O'Shea, Ferdinand (in training but not match fit), Brown (starts training on Monday), Fletcher (to be assessed this coming week) and Hargreaves. Scholes will serve the final game of his suspension and Evans will start his 3 match ban.
Despite the temptation to revert to a 4-2-3-1 for an away game and match up to West Ham, I think we'll play a 4-4-2 – it will benefit our stronger area of the team – out wide. Edwin should start in goal despite rumours in the Daily Mail of a minor injury. In front of Edwin the back four picks itself due to injuries – Fabio, Smalling, Vidic and Evra. Vidic played 90 minutes for Serbia midweek and is fully fit for this one. I presume Oliver Gill will be on the bench as cover as he didn't play for the Reserves today.
The big issue in the midfield and up front is who to select with a big Champions League game coming up on Wednesday. Personally I think Giggs is likely to be rested for that game against Chelsea and so I think Nani and Valencia will both start tomorrow. Park is fit again and ideally I would like him to get minutes but it's hard to fit him into an XI – potentially he could play in the middle but this hasn't always suited him. This therefore only leaves Carrick, Gibson and Anderson to take up the CM positions. Anderson has trained for a week so is only likely to appear from the bench hence Carrick and Gibson possibly pick themselves. Up front I think Rooney and Berbatov will start – Chicharito only arrived back from international duty yesterday and is likely to be better as an impact substitute, his pace late on could scare the slow West Ham defence.
United remain top and two weeks ago were able to ever so slightly increase their lead over Arsenal to 5 points with a win over Bolton. Beating West Ham would make the gap 8 points before Arsenal next play (home to Blackburn). April is a crucial month for United with the next four league games being very winnable whilst there is a chance of reaching the FA Cup final and getting to the semi final of the Champions League.
Recent form shows United sitting a lowly ninth in the form league with 9 points taken from a possible 18 in the last six games. United's away form has been poor all season, 7 points from a last 18 available away from home is very average. Only two teams have scored more than United on their travels but compared to the other top teams, United concede too many.
In Dimitar Berbatov United have the league's top goalscorer (20 goals) and in Nani the league's top assister (16 assists; Rooney is joint 2nd with 11). Rooney likes playing West Ham, he has 5 goals in 8 league games against them for United. Two more would also see him reach 100 Premier League goals for the club.
Earlier this season United cruised to a 3-0 win at home to West Ham but struggled in the League Cup and lost 4-0 away from home. United's record away at West Ham is ok without being anything special. In 15 Premier League games United have won 6 but drawn 7. United generally get a rough reception from the West Ham fans – David Beckham effigies were infamously burned in 1998 there and of course in May '95 United couldn't find a second goal to win the title. There are however some better memories which are shown below on video.
United have a decent recent record against West Ham. West Ham are though battling to avoid relegation and may well win the CM battle. However out wide and up front United have the advantage and this should be good enough for a win. Therefore I predict a nervously optimistic 3-1 win for the Reds.
You can share with us your thoughts ahead of the match and your favourite moments from games away at West Ham on our forum.
As promised, here are some of the better recent memories from games away at West Ham:
2000/01 Beckham free kick:
2001/02 Beckham lob:
2008/09 Classic Giggs goal wins the game:
2009/10 Gibson's rocket:
AUTHOR: – Doron