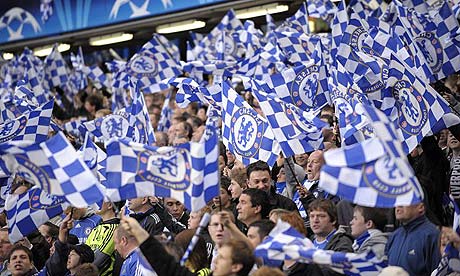 AUTHOR: – Doron
Ahead of Manchester United's Champions League and FA Youth Cup ties against Chelsea this week, The Stretty Rant wanted to get the view of an opposition fan on the games, the Chelsea squad and predictions. So, we sent a few questions across to season ticket holder and Reserve/Academy follower James.
1. Would you say the club and fans want Champions League success more than anything else?
If this question had been asked at the start of a season, most fans would trot out the usual "you can't differentiate between the Champions League and the Premier League". As we enter April, though, Chelsea find themselves in the unusual position (by recent standards) of being largely out of the running for the league and so focus naturally shifts to the Champions League.
In truth, having regained the Premier League last season, I had my eye more firmly on the Champions League as the primary target for this season… but then I would say that now, wouldn't I!
2. Has not winning the competition become a burden on the club?
It has become fashionable to talk of the Champions League as being a "dream, not an obsession" but Chelsea seem to tread the line between the two more delicately than most. I guess this is mainly born from the remarkable misfortune the club have had in this competition since Abramovich arrived. From the bizarre substitutions in Monaco '04, the "ghost goal" in Liverpool '05, the luck of penalties in Liverpool again in '07, the outrageous luck of penalties in Moscow '08 and the absolutely outrageous refereeing debacle against Barca in '09. It's enough to drive any football fan more than a little insane and it certainly feels like an increasingly heavy monkey on our backs. The worry, of course, is that it gets to the players too.
From the board's perspective, the story of Abramovich deciding to invest in football after the thrilling Man Utd – Madrid tie is well-documented. Today, it remains the only trophy that eludes him and it has appeared in recent years that his personal quest for Champions League victory has influenced certain decisions. I'm sure Ron Gourlay probably thinks it would help shift a few more shirts around the world too.
3. How would you assess Chelsea's season so far?
A tough one. Most fans were pretty apprehensive going into the season having shed a significant part of the double-winning squad from last year (a squad that, even then, still had clear deficiencies). These fears appeared to be mere pessimism as we raced clear at the top in the first couple of months. Sadly reality hit after the loss of just a few (key) players and suddenly options looked incredibly sparse. The goals dried up (and still haven't really returned) and the defence began to wobble and suddenly the team seemed devoid of confidence. With the big personalities (Terry, Lampard, Drogba) out of the side, we began to wonder where the next point would come from. Suddenly we were a long way back in the league, out of the carling cup (oh well) and, frustratingly, the FA Cup too (we don't like penalties much!). Thankfully, the squad is now almost completely fit and some semblance of form has returned, even if we still look far from fluent. Clearly it has been too late for a real run at the league but in previous seasons I've cursed at hitting form too early for the 'business end' of the Champions League – maybe we'll time it just right this year
4. What have you made of new signings Ramires, Luiz and Torres? Will not having Luiz available in the CL be a big loss?
I guess I should start with Torres. To say he's not quite hit the heights (yet) that we all expected would be a slight exaggeration. Naturally when your club spends £50 million on a player you're going to defend him with some passion (others might call it blind optimism). He's played a lot of football in recent years with little time for rest. He's had European Championships, Confederation Cup and World Cup in consecutive summers as well as constantly being rushed back from injury so he could 'save' Liverpool. I still have every confidence that he'll bang in the goals next season. It's very clear that he's still getting used to the style and players around him, as are they to him. His movement is top notch and the effort level is definitely there but, my word, the lad needs a goal!
Brought in at the same time but without the fanfare was our new cult hero, David Luiz. What a player. What a man. What hair! He's taken to the league with remarkable assurance, collecting the March Player of the Month award. His enthusiasm and spirit are contagious and ultimately allows fans to overlook certain areas that need work – namely his rashness and fondness of getting very (overly) close to attackers at all times. Until those issues are ironed out there is always the worry that he might cost us some points (e.g. Fulham and Stoke) but I've rarely seen a defender invigorate a crowd like he does and a curly wig is suddenly the must-have accessory at Stamford Bridge for good reason! Having done so well, of course it's a blow that he can't play in the Champions League but hopefully we'll chase some goals in the first leg so Bosingwa at RB gives us more attacking threat than Ivanovic whilst allowing our Serbian to fill his favoured position at CB.
Finally, Ramires. He arrived in the summer from the same league and team (Benefica) as Luiz but unlike his fellow Brazilian, has taken a little longer to acclimatise to our league. He came in for some early criticism for failure to retain possession and seemingly being a second late into most challenges. Those criticising him early on are beginning to rethink their opinions and, in truth, he's been our best and most consistent midfielder since November. Happier central than on the right of a midfield four, he's adapted well and covers a huge amount of ground every game. I fully expect him to continue to improve next season and provide us with an excellent option for years to come.
5. Where do you think Chelsea need to strengthen this summer and who would your ideal signings be?
With one of those pointless international breaks just gone, it's got everyone thinking about improvements to their side for next season. Right now the squad is in limbo somewhat. The players at Ancelotti's disposal don't really fit neatly into any obvious system and the result has been some kind of deformed 4-4-2 since January. Personally, I can't see Ancelotti (if he's there next season) sticking with this so I think whoever is bought will be with a view to moulding a new team in a new system. Personally I'd like to see us move for a new Right Back with Bosingwa rather shaky. It doesn't seem a RB is top of the priority list for the club this summer though – probably content that Ivanovic was the best RB in the league last season.
Personally, I'd love to sign Neymar. There was supposedly a deal in the offing last summer that never materialised but depending on what sources you read, there's already a deal in place for his arrival this time around. He's not without flaws but has bags of talent and we've desperately lacked someone with his creativity and flair since, well, Robben (Joe Cole might have something to say about that).
Beyond that, it probably depends on what system we adopt but we'll ideally need another CM or winger. I quite like the idea of Modric (who doesn't!) whilst Pastore is a name being banded about these days too but I'm less convinced on that one.
6. Our clubs have only met once in Europe before – will this tie be as close as that one?
When was that? I don't remember! I prefer to deny that night ever happened! In reality, I expect this tie to be incredibly tight and excruciatingly tense. Both clubs have seemed capable of scoring at each other's grounds in recent seasons and I have a feeling this one will be decided by away goals. Anything but penalties. Please.
7. Do you think United are due some 'decisions' and luck against Chelsea?
Ah United fans talking of being "due decisions" – never fails to tickle me that one…can't think why! Without wanting to rehash all the previous decisions (you tend not to want to when you get the benefit of them!), I only consider the Drogba 'offside' goal last year as absolutely 100% wrong. The others I feel are all open to interpretation and could be argued about for longer than I care to consider. In truth, when you get to a Champions League Quarter-final, what you really want is to win and go through because your football warrants it, rather than rely on a big decision to turn the tie. You certainly shouldn't underestimate the injustice felt by Chelsea fans when it comes to Champions League refereeing decisions. Wouldn't it be funny if UEFA decided to award the game to Mr Ovrebo to referee…
8. What are your thoughts on Manchester United and Sir Alex Ferguson?
Grudging respect is most appropriate, I guess. Whilst it has largely been Manchester United and Chelsea that have shared top honours in England over the last 6 years, the rivalry has never really resulted in any great contempt. In fact, I think I disliked United more when we weren't so good. This probably stems from Mourinho's care to stay on the right side of Fergie ("the big boss") and so Chelsea fans tended to do likewise. Our most controversial matches (especially in Europe) have tended to involve Liverpool and I'd much rather see United lift trophies than Arsenal. Seeing first hand how difficult it is to stay at the top and regenerate your team without losing ground has also brought home just how remarkable a job Fergie (or "Sralex", as he must be known) has done for such a sustained period.
9. Predictions for the match?
I said it would be decided by away goals so I'm going to go with 0-0 at Stamford Bridge followed by a 1-1 at Old Trafford. I'd take a win on penalties though…
—————————–
10. Chelsea are the current holders of the FAYC and have been in 2 of the last 3 finals – is there renewed optimism and interest in the youth team?
Certainly the huge investment in the youth setup by Abramovich raised optimism throughout the club that the youth team would suddenly start producing players. The nature of youth football though and the massive overhaul (new building, facilities, structure, personnel etc) meant that it took a few years to take effect. It has been a common dig at our youth setup that we simply buy up the best young talent around the world with our roubles and hope they end up to be as good as they were hyped. The reality is far removed from this with massive emphasis on finding and training local kids. Off the top of my head, I think 9 of the 11 who lined up against Watford in the last round were British.
Naturally, the marked improvements in results and publicity that has gone with it has invigorated interest in the youth team too. There is suddenly a real belief that some of these kids might break into the first-team with Bruma, Van Aanholt, Bertrand, McEachran, Kakuta and Borini all with first-team roles over the last couple of years. The biggest key to these things, though, is patience – something most football fans aren't very good with! – and it appeared there was a miscalculated rush to get these guys into first-team roles at the start of the season. This backfired somewhat on the first team and many have gone back out on loan for the second half of the season but there is certainly belief that they will come back and contribute over the coming years.
11. Who would you say are Chelsea's stand-out plays in the U18 side?
The name on everyone's lips is Josh McEachran. He just turned 18 and has made a handful of sparkling cameos in the first team this season already, as well as securing a couple of starts recently for England U-21s. Very much in the Wilshere mould, with a fantastic eye for a pass and natural ability to create time and space for himself even in a congested midfield. Nothing seems to faze him at any level but the key will be whether the forwards can take advantage of the chances he will undoubtedly create for them.
Aside from Josh, Aziz Deen-Conteh has progressed markedly this season and provides a vital attacking outlet from LB whilst having the speed and athleticism to recover to his defensive duties. Milan Lalkovic, the Slovenian forward, has also been key to the team's run this year. Previously utilised on the wing, he has inherited central striking duties due to injuries and has taken the opportunity with aplomb, scoring both goals to knock Arsenal out. He seems suited to the Chelsea kit too, missing a penalty in the last round!
A final mention must go to Nathaniel Chalobah. Still 16 but captain of the impressive England U-17 side and central figure in their European Championship victory last summer. Comfortable either at CB or CM he has all the attributes to succeed at the top level and his performances in this year's competition have shown impressive maturity beyond his years.
12. How big of a loss will it be to not have Billy Clifford available?
Billy would undoubtedly have appeared in my previous list but sadly a knee injury has ruled him out. Another player who has had an excellent campaign both at youth and reserve level and even appearing on the First team bench a few times this season. He can ply a number of positions very capably but has been best utilised in an all-action midfield role this year. His energy and link-up play will be sorely missed against a very strong United midfield.
13. Chelsea overcame a hyped-up Arsenal side in the competition – just how good do you think this U18 group is?
It's difficult to tell, in truth. All their matches in the FAYC this season have followed an unnervingly similar pattern: go behind (very) early on and then create tonnes of chances and eventually winning the game, deservingly, 2-1 – normally with a late winner. Certainly they are full of character and spirit and play some great passing football. Their downfall is undoubtedly their profligacy in front of goal and this will likely be the deciding factor over the two legs between the sides. Ultimately, the purpose of a youth side is to produce players for the first team rather than win youth trophies and there is a real belief that a number from this side can progress in the same way previous graduates in recent years have.
14. What do you know about the current United U18 side?
I know about certain individuals but less about their performances as a team. The midfield three of Pogba – Tunnicliffe – Morrison is an impressive looking triumvirate. I watched the highlights from the Liverpool game and was obviously impressed with both Tunnicliffe and Morrison and that comeback clearly shows a strong character in the United side too. I'd imagine Chelsea's ability to contain and control the midfield (even without Morrison, in the first leg) will go some way to determining the how the two ties play out.
15. And finally, are you confident that Chelsea can reach another FAYC final?
The wonderful thing about youth football is its unpredictability. The strong character of both sides means that either side is really going to have to earn their place in the final over the full 180 minutes. As is so often the case at this level, it will probably be decided by a moment of magic or a defensive error. Hopefully it will be the former and both sides have players capable of producing exactly that. If I could, I'd sit on the fence, but I'll go for a 4-3 aggregate victory for Chelsea.
AUTHOR: – Doron