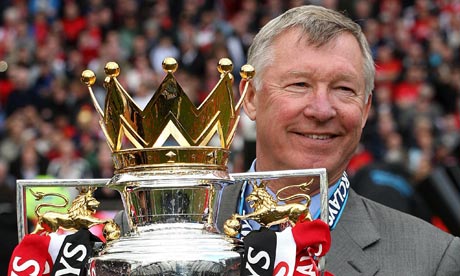 AUTHOR: – Nik (Guest Blogger)
How the manager's selection policy in midfield is instigating tactical change
Manchester United seem to be gaining that vital momentum and consistency in the league as we enter the final few weeks of yet another captivating season. Crucial to United's success this term has been the selection policy in central midfield, and seemingly a move towards a slight change in team shape.
In the modern era, Sir Alex Ferguson's approach to the central midfield area is dictated by makeup of the opposition team; moreover, he has only ever had one mantra when it comes to team selection: to question whether the player is good enough (mentally as well as in terms of technique) to contribute to a winning team (i.e. is he in the right form at the right moment?). It is for these reasons that Fergie is not only held up as a motivator of men, but as an astute tactician, able to re-invent his team and club time and again.
From 'double pivot' to 'triumvirate'
Lobanovsky famously remarked to the effect that there are no positions on the football field, merely 'football players'. And to a point this is fundamentally true; it is the application of a system and not the system itself that wins football matches. However, there is a clear distinction between playing two centre midfielders and three. The 'creator/destroyer' battles of the pre-noughties era are largely a thing of the past. Many of us will remember fondly the enthralling encounters between the likes of Keane and Scholes and Petit and Viera; however, today's application in central midfield has taken on new significance as not only are three players required in the big games (which meant that Berbatov for example suffered as a result last season), but even when two players are selected, they tend to take on very different roles given that defensive shape – and enhanced defensive roles for narrow wingers – takes on greater importance (see the evolution of Scholes' role in the team as an example).
The move towards a three-man central trio is partly down to the evolution of tactics (and the need for 'controlling' midfield possession) in the last decade, and partly due to the liberalisation of the offside law – meaning that a less direct style of play across only three bands is becoming less desirable at the highest level.
A 4-2-3-1 shape has thus become a coach's preferential system, and with possession of the football comes better 'passing triangles' with the proverbial 'W' shape across the middle offering different angles of attack. It's not to say that Fergie has completely left the 4-4-2 system behind, indeed it's dynamism is used to great effect on the domestic front. However, its application against the stronger clubs would rely heavily on a high intensity pressing game, which we simply do not have at present. It is perhaps for this reason alone that we have failed to find a consistency this season, especially away from home, as we have leaked goals that would have been unimaginable for a United side in recent years.
A tried and tested formula
In the double-winning year of 2008, Ferguson had success with three from the rotated quintet of Scholes, Fletcher, Anderson, Hargreaves and Carrick (with Ronaldo, Tevez and Rooney ahead). Essential to this system was the fluid interchanging of the selected trio and the ability of each to read the pattern of the game; when to ensure two players are holding, when to join the attack and so on. Each member was given a defined role – Carrick and Scholes to orchestrate from the centre and intercept the opposition attacks; Hargreaves and Fletcher to harry and harass across the park; and Anderson, having struggled for consistency early on in his preferred attacking midfielder role was asked by Ferguson (and Quieroz) to perform a more defensive specialism – leading to performances such as those he gave at Anfield and the Emirates where he used his dynamism and vibrancy to great effect, shackling messrs Fabregas and Gerrard respectively. A personal view is that he should now revert to this position given his strength and ability to run from deep – and also the apparent lack of finesse in his game further ahead on the field.
There is of course the logical argument that we should be seeking to enhance this area of the team, with Cleverley and Gibson not able to step up to the mark as yet; Scholes and Hargreaves arguably seeing out the latter months of their United careers, and non-specialists such as Park, Giggs and even O'Shea at times, unable to offer the sustained quality as we move forward. However there is still the core trio from 2008 available in Carrick, Fletcher and Anderson, who at ages 29, 27, and 23 years respectively are arguably operating at a more refined level – Carrick and Fletcher in particular potentially hitting 'peak' years. The duo have been pivotal to the success at the club in the last four years which has seen us win three back to back titles and reach consecutive Champions League Finals, amongst other successes.
Anderson is yet to find the consistency expected of him (not helped by the switching of midfield roles and a glut of injuries which have hampered promising progress) and thus Fergie has rotated well in this area of the field; Park has performed admirably in the advanced central midfielder role in games such as the AC Milan tie of 2008 and Arsenal of 2009; Giggs has recently excelled against Chelsea in the Champions League quarter final, and who is playing with such intelligence and panache. Essentially, when everyone is fit there is still a balance and harmony to the midfield that is the envy of many. Which leaves us with Wayne Rooney and the tactical conundrum Fergie faces from here-on-in.
Rooney as a '10' or an '8'?
Ferguson should be given great credit for turning Rooney's season around with a slight tactical maneuvering; Rooney has dropped very deep at times this season and yet is still adopting playmaking duties in attacking situations and combining with high wide men who like to come into central positions – Valencia, Giggs and particularly Nani have all had great joy varying their wing-play approach in recent months, seeking to link with the attacking personnel more towards the centre. This is essentially allowing United to play what is quickly becoming a 4-2-1-3 at times, rather than a typical 4-2-3-1.
Rooney's ultimately surprising role then versus Crawley and then Arsenal in the F.A. Cup seemed to rekindle the fire in the player, and as we enter the last furlong of the season it is this role more than any that could define the season. Playing in the 'number 10' role is nothing new to Rooney, having frequently dropped deep to collect the ball and link the attack since his early days at Everton. What has altered is the instruction from the manager in terms of positional discipline; more than a deep forward player, Rooney has been asked to stifle opposition attacks from deep meaning that he has often played alongside the two deepest central midfield players, so a position which isn't quite '10' and isn't quite '8'.
Frequently versus Chelsea in the first leg of the Champions League for example, he was continually pressing the space in and around the deepest midfielder, Essien. In tandem with Giggs and Carrick, they sought to halt any midfield momentum in the Chelsea midfield, learning from the league encounter from the previous month when Rooney played a more orthodox striking role. It has been his energy and ability to get on the ball in the right areas of the field that has allowed others to maneuver accordingly to improve the angle of approach. In fact, Rooney's passing game seems to have improved as a result, and the frequent 'Hollywood ball' attempts now seem a thing of the past. He seems to be thriving with the freedom, able to pull out wide and link with the likes of Evra and Nani to the left, and O'Shea and Valencia to the right. Incidetnally, this is why Hernandez's movement has been so fantastic, occupying the centre half pairing, the young Mexican seems so adept at exploiting the space between the out of position fullback (who tracks Rooney's movement) and the centre half.
Jonathan Wilson:
'By definition, by being only a short pass away from the creator, the two midfield holders are more involved in the attacking aspect and at least one of them can be encouraged to press forwards at times, as Xabi Alonso did for Spain, and as Seydou Keita does for Barcelona. So immediately the range of attacking options is increased.'
The system, used at its best, means that the playmaker is harder shield against, and essentially means that the team is playing with up to four playmakers, each interchanging in a dynamic system going forward. Fletcher or Anderson can be the Keita in the above snippet, and their drive and penetration on the counter attack is pivotal to this way of playing.
Yet there still seems to be nagging reservations about the sustainability of this approach in the long term, which has led to many to question whether there is a need to invest in a 'trequartista' type player. A personal view again is that this would be sensible given that Rooney's finesse in this role is mostly sporadic; to get the best out of the young Englishman then would be to relieve him of classic centre midfield defensive duties, allowing him to alternate between the striker role and 'creator' (interchanging with the front four so well as he did v Blackburn and Liverpool for example). This would allow for a more specialist recruit to ply his trade in such an important position, and would ultimately be the safer bet for the team's efficiency on the whole. Players such as Modric, Sneijder, Sanchez and Pastore have all been mooted and would all be technically more accomplished in the playmaking role; if Ferguson is looking at Rooney as the long-term solution here however, a Rodwell or a Henderson type player may be recruited to challenge our deeper lying central midfielders.
'The evolution to 4-2-1-3?'
Conclusions
It is imperative that central midfield continues to be an area which is rotated with studious attention to detail. Sir Alex has become a master of squad rotation in recent years where to challenge in each competition, optimum player fitness and mental preparation has become essential. Moreover, the tactical acumen required to send out a team that has the right blend of energy enthusiasm and experience in the position, which is arguably the most important in terms of shaping the outcome of a game, is untold.
When we look at the array of talent available in the senior squad and assess the fantastic progression this team has made since the departure of Ronaldo it is no wonder that Fergie saw 'no value' in the market. Aside from the acquisition of Valencia, his policy has very much been to invest time and effort on the training ground with the tremendous wealth of potential we have across the midfield. This strategy has seen Fletcher and Nani in particular come of age when the common consensus amongst fans and media were that they were not 'United material'. Wilson was very astute when he commented on the value of building from within:
'[it offers] an almost organic understanding of where they should move and where their team-mates are moving, and, in a world of billionaire owners looking for shop-bought success, that is a consoling thought.'
Who next for United then in this position? Cleverley is progressing very well at Wigan, and there are high hopes for Morrison, Pogba and Tunnicliffe from the youth team. In the immediate future however, Fergie will have little option but to look at investment to fill the void left by the ageing Scholes and Giggs in midfield – and his ultimate dilemma is who to trust with the attacking fulcrum of the side? It is finding the perfect balance in this central area alone which could instigate a change in approach as the manager seeks to create one final 'magical team' before his inevitable retirement. But of course the system is only as good as it's players and application – and with the great man at the helm for some time to come, as United fans, we should have no worries at all on this front.
AUTHOR: Guest Blogger – Nik