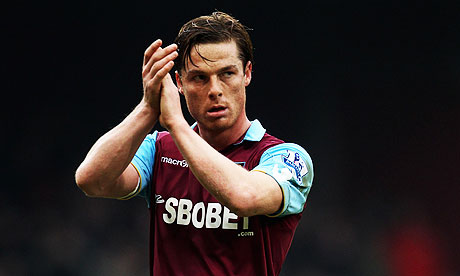 AUTHOR: – The Mancunian Red (Guest Blogger)
In a recent debate with Lee Clayton, I called his decision to support Scott Parker for Football Writers' Player Of The Year as a demonstration of bias rather than a meaningful reasoned and thought out decision. It is difficult to put over a reasoned argument over twitter so I would like to thank the excellent Stretford-End website for allowing me to put over my argument!

I have nothing against Scott Parker he has had a very good season, however I cannot see the arguments which support the case to demonstrate he is the best and most important premiership player of the season.
Firstly by its very nature the role of defensive midfield player is limited, he isn't going to change or win WHU that many points. The truth is certain positions are not going to change games as much as others. I would want the winner of the best player award to be instrumental in effecting the outcome of numerous games, especially the important ones.
Secondly, when you play for a team challenging for as major trophy the pressure is on every game and when teams come to you it is like their cup final. Even poor sides suddenly become tigers, chasing every ball that is not the case when you play for a WHU side fighting relegation. Moreover you can get away with inconstancy because you are not expected to win every game. Parker has had a good season but there are plenty of Northern and Midland midfield players who have done just as well but do not have the publicity benefits of those that play for London clubs.
Has Parker really made as much impact as a Tevez, or 50 other players I could mention? Had Tevez had the impact he has had at City this season playing for WHU they would not be fighting relegation and he would have won the award and this coming from a red!
A winning mentality is something special, some players are big fish in small pools and until they can demonstrate they can cut it at the very top with the big boys and change games they shouldn't win on a regular basis I wouldn't put them forward as the best prem player. I've seen so called great players join big clubs like United and be expected to perform every week and fall apart.