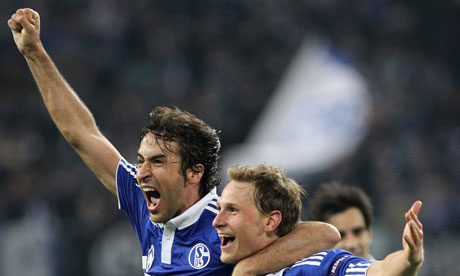 AUTHOR: – Doron
It's semi-final time in the Champions League and United are away to FC Schalke 04 in the first leg. United have never played the club from Gelsenkirchen but have mixed memories against German opposition. Both teams are at different stages of their domestic leagues – whilst United lead the way in the Premier League, Schalke are in the bottom half of the Bundesliga.
United's record in Germany isn't great – P12 W4 D4 L4 – all four defeats have come under Fergie's reign with only two of those wins coming in the past 55 years. Twelve competitive games have been played on French soil with four won and only two defeats. United have never met Schalke before, but were in Germany twice last season… a Michael Owen hat-trick was enough to see off Wolfsburg – all the more impressive given that Pat Evra was the only fit defender; and an early Rooney goal against Bayern Munich wasn't enough to prevent a 2-1 defeat in the quarter finals of the competition.
Having sacked Felix Magath just over a month ago Ralf Rangnick was appointed for a second spell in charge of Schalke. Rangnick had a lot of success with Hoffenheim and since coming in he's lead Schalke to a 7-3 aggregate win over Inter Milan in the quarter finals of the Champions League but has failed to totally calm the erratic league form. Schalke have had a terribly bad domestic league season with December being the only month they went unbeaten in. At present they are 10th in the league (only 8 points off 16th) with a very average home record (P16 W7 D3 L6). Whilst only two teams have conceded fewer goals at home (15) Schalke have only managed to score 23 goals at the Veltins-Arena. Schalke come into the game off the back of a home defeat to Kaiserslautern and they haven't won in nearly two weeks. That defeat was their 11th in all competitions this season and means that in 21 of their 44 games now they've not won.
In Europe this season, Schalke qualified 1st in their group ahead of Lyon, winning 4 of their games, drawing 1 and losing 1. In the last 16 they saw off United's group opponents, Valencia, 4-2 on aggregate before thrashing Inter 7-3 on aggregate in the quarter finals. At home, they've won all five of their matches scoring scoring 13 and only conceding 3.
Schalke don't have too much to worry about on the injury front – Klaas-Jan Huntelaar is definitely out and talented young defender Benedikt Höwedes is likely to make the game despite being a doubt after having picking up an abdominal muscle problem at the weekend. Peer Kluge and Kyriakos Papadopoulos are both definitely fit after having minor problems. Unlike United, Schalke have three players just a booking away from missing the second leg – Papadopoulos, Jurado and Raul.
Expect Schalke to line up in their usual formation of a narrow 4-4-2. It involved one central midfielder sitting deep, wingers who'll cut in and usually Raul as a deep striker. Both domestically (against Bayern Munich) and in Europe (against Valencia) Schalke play this way – it'll be important for United to neutralise the threat of their roaming winger, much like trying to nullify Ramires in the last round. If Farfan starts on the right, he'll invariably hold a much wider position than Jurado on the left so Park may well be deployed on the right for United.
There's bound to be plenty of attention on Manuel Neuer tomorrow. The German number 1 and arguably one of the best goalkeepers in the world has announced he'll leave Schalke this summer. Despite very obvious interest from United, it seems almost certain he'll go to Bayern Munich. United fans will be keen to see how he performs against us, whilst Schalke's own supporters are said to be fuming over a potential move to Bayern with most preferring him to move abroad than to another German club.
There are plenty of players worth picking out as important to Schalke. Both Farfan and Jurado have already been mentioned as danger-men but the players tasked with keeping United at bay are just as key. Höwedes and Metzelder are a good centre back double-act. They combine experience and the fearlessness of youth to form a tough defensive barrier which is exemplified in the number of goals Schalke have conceded. Papadopoulos is a very talented young defender who a few years ago was on United's radar and whilst Levan Kenia is unlikely to start, he's a tricky midfielder whose unpredictability would be a real challenge for United.
The grand old master is of course Raul. He ended an 18 year affiliation with Real Madrid last summer and chose to move to Schalke. Now at the age of 33 he's still a key figure in European football. He'll float between United's defence and attack as both a link-up man and someone who can make a telling difference under pressure. He has of course scored against United before and remains an incredibly well respected footballer.
The stadium will be noisy and intimidating tomorrow night as the Schalke fans hope for an upset. Charged with making sure that doesn't happen, I predict United will line up like this:
Usually for an away game in Europe I would suggest United line up in a 4-5-1 with three obvious central midfielders; however with Schalke almost certain to play a 4-4-2 there is little need for United to revert to a formation that often seems uncomfortable. Therefore I've gone for the 4-4-2 or 4-4-1-1 we've seen a lot of lately. There are a few men who haven't travelled due to injury: Berbatov, Hargreaves, Fletcher, Amos and Lindegaard (Sam Johnstone is there as 3rd choice keeper).
With Edwin in goal there are a few decisions to make in front of him, the biggest of which is at right back. There are arguments both for and against selecting O'Shea or Rafael. I've gone for Rafael because Schalke are a pacey team and he wouldn't struggle with that. He's definitely maturing and seems to have learnt a lot from his red card against Bayern last year. However there is that niggling doubt over his willingness to still jump into tackles too quickly and his positional discipline could be called into question in such an important game. O'Shea has a physical advantage in terms of height and presence over Rafael, as well as being more experienced. However, Schalke aren't a physically demanding team and with O'Shea getting a small knock against Everton there are understandable concerns he could be overrun. The other decision is whether to play Rio given he played 90 minutes on Saturday. The fact he's travelled means he's fit so for me he plays alongside Vidic, fresh from a rare break.
Again, there are big decisions to make in the midfield. Firstly out wide – Valencia should start due to his tactical discipline and ability to defend as well as attack whilst on the other wing Park has to play. I've already suggested that tracking the drifting Jurado will be key and Park is just the man for such a job. This is of course harsh on Nani who since Valencia's return has had a slump in form, probably as a result of switching to the left wing. In the middle the options are Carrick, Gibson, Scholes and Giggs. Carrick was rested at the weekend so will start and I'd partner him with Giggs after that pairing worked so well against Chelsea. Scholes, suspended in the league is the freshest of the lot but would require a formation change to accommodate him so for that reason I'd be surprised if he started, unless Park is moved centrally to play in the number '10' role with Nani out wide. Of course one shouldn't forget Obertan has also travelled – his recent Reserve form has been very encouraging. Up front, it should be Chicharito again supported by Rooney. I am wary of Chicharito being burnt out though, he looked tired in the last 15-20 minutes against Everton.
United are top of the Premier League and have suffered just five defeats all season – three in the league at Wolves, Chelsea and Liverpool, and one in each of the domestic cups. The clubs away form has been heavily criticised with just five league wins from seventeen games (23 goals conceded); but in the Champions League it's been much better. Five games away in Europe this season have been dealt with successfully with four of them won. United have though only managed to score six goals on the road but importantly and incredibly, none have been conceded. United's strong defence has only conceded three goals in all ten European matches so far, this helped see United top their group with 14 points. To get to the semi finals United have dispatched of Marseille (2-1 on aggregate) and Chelsea (3-1 on aggregate). Heading into this tie United beat Everton 1-0 at the weekend and have won 8 of their last 10 games.
This season is United's 22 in Europe's top competition and remarkably it's the 12 time United have reached the semi-final stage of the competition. The experience United have at this stage of the competition, particularly under Ferguson is invaluable and should help against a Schalke team who've never been this far before. Should Giggs play he'll become the British player with most apperances in all European competitions. Meanwhile, Edwin can equal former Chelsea and Real Madrid midfielder Claude Makelele's record of 13 Champions League semi-final appearances and by not conceding he'd be the first goalkeeper to keep 50 clean sheets in the competition. Wayne Rooney needs just three goals to become the top scoring Englishman in European Cup/Champions League history – Paul Scholes holds the record with 24 goals.
There's no doubting that by avoiding Real Madrid and Barcelona, United have the better draw but Schalke are dangerous. They have little to play for in their league so their focus is Europe and with United the clear favourites they can play in the same attacking style that's got them this far. United though are a team on a mission and with key men rested at the weekend I think Fergie will have them ready to get a result. I therefore predict a 2-1 win for United.
You can share with us your thoughts ahead of the match and your favourite Champions League matches against German opposition or semi-final moments on the forum.
Our thanks to MUFCinfo.com for providing stats. You can also follow them on Twitter.
AUTHOR: – Doron