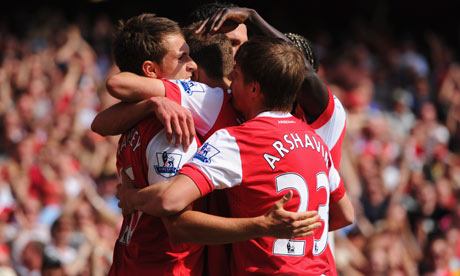 AUTHOR: – Doron
United endured a fourth league defeat this season and ensured that trips to London have not been an enjoyable experience for travelling fans this season. Arsenal meanwhile kept alive slim hopes of a league title whilst the biggest cheers will have come from Chelsea fans as they are now just three points behind the Reds on the same goal difference with a trip to Old Trafford next weekend. Here we discuss the talking points of the match and welcome both sets of fans to contribute to the events.
Talking Points
Change of set-up from Fergie and Rooney in the wrong position
Selection and set-up away at Arsenal is often something Fergie gets spot on at Arsenal. If by chance and luck or tactical nous, Fergie had a winning system. A 4-5-1 built to soak up pressure and contain Arsenal but able to hit them hard on the counter attack with deadly pace.
Click on images to enlarge
Arsenal away '09-'10 (won 3-1)
Arsenal home (league) '10-'11 (won 1-0)
The key to both of those victories was a solid defence, a three man midfield that would work back and wing play. In the match preview I alluded to the fact that Fergie would have a selection problem. In Rooney and Chicharito, Fergie had a pairing in form however it would mean going away from a system that has served him so well against Arsenal. Personally, I opted for the system over the partnership leaving out Chicharito with Park playing as a CM in the absence of Scholes, Fletcher, Hargreaves and Giggs who is ill.
Fergie opted for fitting in the successful Rooney-Chicharito partnership with this formation: