Manchester United vs. Manchester City Match Preview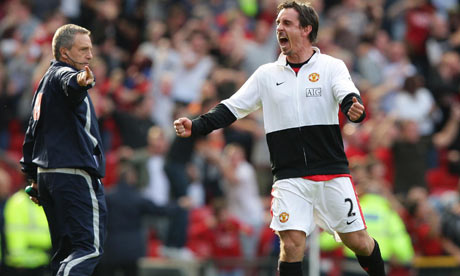 AUTHOR: – Doron
It's a derby weekend. It's United vs. City. It's MASSIVE! Or is it? The game won't decide the title but it could knock City pretty much out of the race. Bragging rights are though up for grabs and United will want to prove that Manchester is still very much red.
It's been just under 35 years since Man City fans could feel the excitement of being involved in a title race as we get near the 'business end' of the season. Last season City finished 5th, just missing out on a Champions League place. Further investment in the squad has seen £150m spent this season including 6 players at over £15m each. However, the club have been rewarded for their spending by putting together a competitive side that at kick off on Saturday will be only five points behind leaders, United. There has been no war of words between the bosses; a few mutterings from new boy Dzeko; a paragraph from Tevez on fans booing him; some respectful stuff from Kolarov and little from the Red side. It seems both sides are treating this game with some respect, very aware that if either side takes three points the consequences could be big.
What to expect from City? Immediately the phrase "park the bus" comes to mind. Naturally the mind tracks back to City and their visit to the Emirates earlier this season. It was a point won for City; by all accounts it should have been an Arsenal win but City's negative attitude towards the game admirably won them a point. This game may not be as negative though. It's easy to forget that City had David Silva missing at the Emirates; the Spaniard has somewhat gone under the radar when football fans discuss the best players this season but his impact has been big. He controls how City play and is capable of moments of genius. He should start against United and therefore City will automatically offer more going forward than they did at the Emirates.
That said; Mancini is likely to set up for a draw. It's easy to say that this is the derby and therefore one can expect a mad unpredictable game with lots of goals like last year; but the reality is that with the teams so close, City cannot afford to lose this – to get an idea of this mindset I can quote Kolo Toure: "We must make sure the gap doesn't widen on Saturday. It's a game we must aim not to lose". No one should be anticipating an open game. You can read a detailed tactical preview about why the fullback area is key and what impact an early United goal may have here.
It's been a season of strange defeats for City. Games at Wolves, Sunderland and Villa; as well as at home to Everton are not really the kind of games a team going for the title should be losing; that said their away record this season is only bettered by Arsenal. At present City's league form is solid; they've taken 11 points from a possible 18 in their past 6 games – one of the better returns in recent games in the league. On the road, it's 9 points from 18 in recent games; a record that matches United's away form. City's most recent away form though has not been great with only 2 points taken from their last three games.
The area where City have been interesting this season is when playing the other "big" teams – Arsenal, Chelsea, Spurs and United. City have played 5 games out of 8 against them and taken 6 points; but have only scored 1 goal! They have however only conceded 3 (United have only scored 3 in their four games but have conceded none). City are bringing the meanest away defence in the league to Old Trafford; 12 goals conceded in 13 games away from home is very impressive but don't be fooled; they can score too, only Arsenal and Chelsea have scored more when travelling across the country – it will make for an intriguing match up as United are the most free-scoring team at home in the league and have the toughest defence. Two tough defences – it should be a tight game. What do I know though? It's bound to be another 4-3!
In terms of who to look out for…well Tevez is the obvious one. He's been brilliant for City this year, adding goals to his bulldog-like approach. I've already mentioned the craft of David Silva but he will be key. Another new signing who has had his ups and downs is Yaya Toure – this is the sort of game he might just relish. Joe Hart in goal is England's first choice keeper and a very good one even if a few errors have crept into his game this year. It's very hard in fact to pinpoint an area of the City team that is light in quality but maybe the wide areas are the weak ones. Adam Johnson and Micah Richards are both ruled out with Balotelli and De Jong both big doubts.
In the 25 league games Carlos Tevez has scored in, City have never lost – Tevez has a good record against United, scoring 4 in his last 6 appearances against the club. However, City have failed to score in four of the last five league encounters with United; with only 1 league win in their last 26 league visits to Old Trafford.
Enough on Man City…onto United and my predicted line up:
As line ups and formations go, this is as tough a one to predict as any. At home United should be seen to go 4-4-2 – the system that is attacking and best suits the club/players. However City will line up in a 4-5-1 and so United should, I think, match them and also play that system. On this rare occasion I don't think that would be a negative move at home.
The initial team news is that Evans, Ferdinand, Valencia and Hargreaves are out. Chicharito is fit but returns from international duty too late to be involved. Edwin in goal is simple, as should be the back four. Rafael, Smalling, Vidic and Evra will line up after Fergie confirmed Smalling's inclusion. Personally I would have liked to see Wes Brown selected over Smalling but few could argue that Smalling's general performances this season don't deserve this chance.
As I suggested I've gone for a 4-5-1 or a 4-4-1-1. Out wide I've selected Nani and Giggs. The problem then comes with choosing three from five (Carrick, Anderson, Scholes, Fletcher and Park). Personally I think Park's inclusion after a week off is vital. His energy and movement will drag City's midfielders about. I've selected Park to play in the 'pocket' doing the job Anderson did against Arsenal. Don't be surprised to see Park and Giggs switching positions during the game. Scholes, like Park could be key. He can run the game and in a deep area should have freedom. Fletcher completes the trio. His hardwork and energy will provide some dynamism to the midfield. Good cases can be made for both Carrick and Anderson – Carrick in a deep role has been excellent this season but with Scholes likely to play I can;t see Carrick being picked. Anderson can always have a big impact off the bench – the argument for selecting him would be that in this system he excelled against Arsenal; however City won't be as dynamic as Arsenal were.
Despite Berbatov's good form; Fergie has said he is hard to select in a 4-5-1 formation. Rooney is better suited to the lone role so I think he'll start. With Chicharito unavailable, having a quality striker in reserve on the bench could be key.
United remain top despite their defeat at Wolves last week. The gap over Arsenal is four points and City are a further point back. With Crawley in the FA Cup next weekend, there would appear to be little need to rotate the squad with future games in mind; expect a strong United XI.
Recent form shows United sitting joint second in the form league with 13 points taken from a possible 18 in the last six games. At home, the record is even better – played 13, won 12, drawn 1. City's last win at Old Trafford came in February 2008 as the city remembered the Munich Air Tragedy's 50th anniversary. That City win is their only victory on Red turf in the Premier League era. Of all the derbies in the Premier League era to take place at Old Trafford; last year's was arguably the most exciting (see videos below!).
In Dimitar Berbatov United have the league's top goalscorer (19 goals – Tevez is second with 18 goals) and in Nani the league's top assister (12 assists; Rooney is joint 3rd with 10 – the highest City player is David Silva in 17th with 6 assists). It doesn't need me to remind fans that Tevez will of course be returning to United where a friendly reception will no doubt await him(!). Tevez will try and change another run United have going at the moment – they've not conceded a first-half goal at Old Trafford in the Premier League since April 2010.
I would like to think this will be a spicy affair with lots of goals. However I can see this being a cautious and somewhat disappoint game. It may just be another late goal that does it… I predict a 1-0 win for United.
As promised, here are various highlights from derby matches to take place at Old Trafford in the Premier League:
And in case you missed our own video that was made for the Derby earlier this season:
You can share with us your thoughts ahead of the match and your favourite moments from games at home to Man City on our forum.