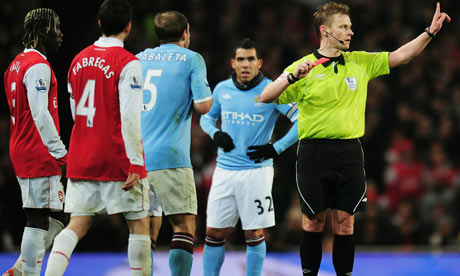 AUTHOR – Stretford-end
Giacinto Facchetti was a one club man. He played 476 times for Internazionale and scored 59 goals. In his eighteen year career he won two European Cups and was regarding as one of the finest attacking fullbacks of all time. Roberto Mancini was born in 1964 and went onto become a fine playmaker with Sampdoria.
The Manchester City manager would not have seen Facchetti in full flow for "La Grande Inter" in the 1960's, which maybe if he had of done might have made Mancini a little more attack minded with his right and left back on their travels. Mourinho used to do it when his Chelsea side were two or three goals up, however should Mancini be a little more adventitious if his side wants to challenge for honours?

There was a famous quote, and excuse the Scouse mention, by Bill Shankly that highlighted the importance of have more grafters than artists in a side, something that City took to new extremes against Arsenal:
"A football team is like a piano. You need eight men to carry it and three who can play the damn thing."
Now, i'm not so naive to be shouting "we should be playing 4-2-4 away from home!" and "attack lads, attack". I realise that in order to challenge you need to be able to pick up points away from home at different grounds – especially against the top sides. However, City were criticised for their 'catenaccio' style approach (something United did against Barcelona in 08 and Inter did against the same opposition the season just gone) against Arsenal and picked up a point for their efforts.
Arsenal had 15 shots on goal to Manchester City's 5 (all of which were off target), whilst the North London club completed 235 more passes. So, looking at these stats and assessing the balance of play, I think even the most biased City fan would concede that Arsenal were the better team on the night, but most importantly were the team that were setup to try and win the match. Many Reds have highlighted the huge sums of money Mancini has spent on players since his arrival at the club. Should a manager, who by all accounts was brought up on the most defensive/cautious brand of football in Europe, that is allowed to spend such sums on world stars, be looking to get a little more out of his side – attack wise?
So lets take a look at the heatmaps of each City fullback from that Arsenal game:
Micah Richards heatmap vs. Arsenal
Pablo Zabaleta heatmap vs. Arsenal
So both full backs made over 50% (with the other 45% just across the halfway line) of their passes in their own half. As you can imagine, both of Arsenal's fullbacks bombed on providing width as Walcott and Nasri (especially) were allowed to roam in field. The unadventurous fullbacks weren't too concerned in joining up with the attack, which left Tevez, Yaya Toure, Milner and Jo (for what is was worth) as the four men to try and carve an opening. The key part of this setup was not necessarily to stop Arsenal crossing from the byline, but to stop the through balls in between the full back and centre half.
The following chalkboard highlights the interceptions made by Zabaleta (dark dots), whilst the red arrows highlights the unsuccessful passes by tailisman and chief playmaker Cesc Fabregas – who was clearly trying to utlise the pace of Theo Walcott in behind Zabaleta and Kompany (who was operating on the left of the centre half pairing):
Cesc Fabregas unsuccessul passing vs. Zabaleta interceptions
Nani will provide a different problem for Zabelta than Walcott. Both have blistering pace, that would frighten any left back stupid enough to leave space in behind, however Nani is a more competent dribbler who has equally good balance – left or right – which is why he scores so many goals starting out as a wide player and cutting inside from the right to hit the ball with his left foot. Rafael will provide the width that Sagna did for Arsenal, however De Jong/Barry will have to monitor the space that Nani operates in through the centre.
You may be thinking "Well, its obvious that the away team would take a defensive stance when playing against a top four side", however take a look at the positions Rafael and Evra took up when United went to Eastlands earlier in the season:
So, I think it is clear to see the different approach and mentality from both managers when targeting a big game, both of which finished 0-0, a result that City were looking for in both games? Its not a criticism, however the question should be asked if you can be 'too cautious'.
We are very quick to point out the failings of a manager who doesn't take a risk, but yet can't find enough superlatives for a manager who goes gung ho and 'just' loses out 5-4. Mancini will argue that he has a job to do and the proof will be whether or not Manchester City are challenging at the end of the season, with a minimum requirement of Champions League football – something that I think will be achieved.
Doron usually does the match previews, so I will leave the proposed lineup to him – however, I just wanted to touch on the away form of Manchester City. We all know how poorly United have been away from home and how strong we have been at home. However, based upon the twelve games City have played away from home, the 'away wins when City score 2nd' column is quite interesting:
Table showing Manchester City away form
I don't want to take all the fun and romance out of football (honestly!) but these are my findings from the table:
City have yet to win a game coming from behind against away opposition this season
City are yet to draw a game coming from behind
City have won half the games in which they score first in
City have lost one only one game where they have scored first (Wolves)
The two other losses were 1-0 (Sunderland & Aston Villa)
I remember thinking when United played City at Eastlands last season if Mancini had a plan 'B' at all. Back then he lined up 4-4-2, with a flat back four (like against Arsenal) and De Jong and Barry screening in front, with the attacking responsibility again put to the two wide men (Bellamy and Johnson) and the two strikers (Adebayor and Tevez). The game would have finished 0-0, a result that I believe Mancini set out from the off to achieve, if it were not for a last minute header from Paul Scholes. I had wondered if United had scored earlier – would City have changed anything to try and win or draw the game?
It sounds obvious, that when you are behind you need to change your approach to try and score a goal (I sound like Andy Townsend now), but Mourinho's Chelsea were excellent to watch when they trailed 1-0 to a side – Manchester City are yet to win a point having come from behind on their travels. So United will need a good high tempo start and an early goal will force Manchester City into doing something they have failed to do in thirteen away matches so far – fightback.
As mentioned, Doron will do a detailed match preview including lineup – however, I just wanted to touch on the shape and what I feel will be a midfield trio. I would select Scholes as a deep lying playmaker with Fletcher and Anderson either side to provide the runs from midfield. Nani will be on the right hand side and I would play Giggs on the left who tormented Richards in the corresponding fixture last season. 4-3-3 against City isn't a negative move – even at home – as based upon the stats and the performance against Arsenal, they will only be at Old Trafford for one thing, not to concede. The lone frontman is an issue – considering how well both Rooney and Berbatov have done together in games, but I suspect the manager may opt with the same setup that won the match against Arsenal in December.
I have no doubt that Manchester City and Roberto Mancini will be overjoyed with a 0-0 draw on Saturday and I can't see them changing their approach from the game at the Emirates. United will need to be on top of their game to break down a stubborn defence, whilst Nani and Giggs will no doubt try to make space for Evra and Rafael to gallop into and of course try to pull out that defensive line that have kept clean sheets against Tottenham, Arsenal, Chelsea and Manchester United this season.
So what do you think? City aiming for a 0-0 draw? Will the fullbacks be more adventurous at Old Trafford? Does Mancini have a plan 'B'?