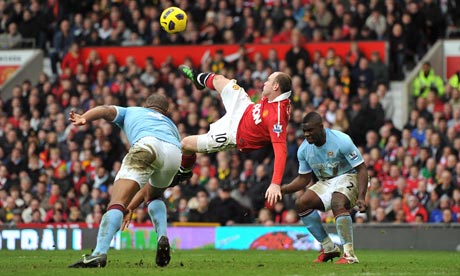 AUTHOR: – Doron
What better way to bounce back from a defeat than by beating your local rivals? This game was far from easy for United and despite not being at their fluent best, some individual performances and moments stood out to help get three points. A well taken Nani finish and a sublime overhead kick from Wayne Rooney was enough to see off Manchester City – who now trail United by eight points having played a game more. Below are the main talking points from the match.
Talking Points
Chris Smalling and Nemanja Vidic
With Rio Ferdinand and Jonny Evans out of the game, Fergie confirmed on Friday that he'd be turning to Chris Smalling. Personally, I'd hinted caution in my match preview saying I'd go with experience and select Brown; but few could deny that Smalling had deserved a chance. Furthermore, he appears to be comfortable lining up next to Vidic. To prove just how inexperienced Smalling is playing for United in the Premier League, the table below shows that he's only played 315mins of league football this season (and impressively United have only conceded twice whilst he's been on the pitch):
Click on diagrams to enlarge
It had been suggested that United's defence may have it easy today but we warned fans that the inclusion of David Silva would add some attacking dimension to the City side – something they lacked at the Emirates. Certainly City didn't 'park the bus' and United would have to defend well to keep City at bay. It would be Smalling who everyone would be raving about after the game – it was a performance from him that one would expect from someone older and more experienced. However, Vidic too was as usual, immense:
Tackles won (blue) by Smalling and Vidic
Interceptions made by Smalling and Vidic
The fact that between Smalling and Vidic, 8 interceptions were made is brilliant. Reading the game is something so often associated with Rio Ferdinand but in his absence, this new partnership excelled. Aerially, both were flawless but it was Smalling's calmness and composure on the ball that impressed me today. Nearly 85% of Smalling's passes were completed successfully today and on a couple of occasions he showed his impressive vision as he produced some excellent cross field balls – the cross field ball from a centre back is something United benefited from a lot with Silvestre, since him no one has been quite as good.
Chris Smalling passing
City's goal, although probably deserved on the balance of play, was in fact lucky in the way it arrived (via a big deflection). With the exception of a Silva chance in the opening few minutes, City rarely had good opportunities to get in behind the two centre backs. It was in December that I said that the performance against Arsenal was defensively brilliant; but today the Vidic/Smalling partnership probably eclipsed that – it was the strong reliable foundation that lead to a win and three points.
Midfield trio
If there was one thing pretty much guaranteed before today's game, it was that City would play three players in the centre of the pitch. Gareth Barry and James Milner held a deep roles whilst Yaya Toure was able to push up a bit higher. When defending, they'd all be behind the ball though. With the centre of the pitch so congested, United clearly had to get the ball out wide. When looking at the chalkboards for Fletcher, Anderson and Scholes; it's obvious to see that Giggs and Nani were often the targets.
Darren Fletcher passing
Anderson passing
Paul Scholes passing
When looking at the chalkboards it becomes clear just how well United kept the ball in such a tight central area. Scholes, who probably had one of his quieter games, continuously changed the focal point of the United attack, stretching out the City central midfielders to create space for someone else in the middle. Each player played their part – Anderson put in some cutting passes and did well to close down opponents; whilst Fletcher was everywhere – chasing and harrying – after being criticised in some quarters lately he put in a very good performance.
I left Old Trafford today thinking that in David Silva, I'd seen one brilliant footballer. His movement was superb both on and off the ball – at times he almost looked a step ahead of his team-mates. Yaya Toure also stood out, I was surprised at how well he used the ball. I was even more shocked when I compared the two sets of three central midfielders that started for the two teams:
I wasn't surprised that City made more passes than United in this area of the pitch but I was surprised by how high the United average was for successful passing given that the midfield trio were attempting more ambitious longer passes than their City counterparts. It goes to show how using and keeping the ball is so important, especially if you can regularly find the wingers like United did.
That goal, some luck and some top blocking
In a game of few clear-cut opportunities (particularly for United) it seemed unlikely that one would suddenly present itself as 80 minutes approached. Rooney's winning goal, hardly an easy chance, was though one of the few times he had any space in the box. The outstanding Kompany for once in the game wasn't aware of where Rooney was; add to that a tiny shuffle backwards from Wayne before striking the ball and he had a good couple of yards all around him. Truth be told, it wasn't a good cross in from Nani, certainly it would have had to have been a pretty special header from that position to beat Hart had the cross been a good one. There's no point trying to describe how Rooney scored – watching it is the only way that one can appreciate it:
Fergie would tell MUTV and Sky after the game: "I haven't seen anything like it before, that's for sure. It was absolutely stunning, unbelievable." – he hinted it was the best goal he'd seen at Old Trafford. Do you agree? Rooney himself has scored some special goals (Newcastle comes to mind); Berbatov of course has a few scissor kicks; Ronaldo's free kick vs Pomepy etc – for me, Scholes vs. Panathinaikos is the best I've seen.
Luck's a funny thing. United could have and should have been behind in the opening minutes. David Silva, played in by Tevez and onside by Vidic somehow put the ball wide from just yards out. It was easily the best chance of the game. It was also luck that helped United take the lead. With Rooney's wonder goal; Nani's touch to control the excellent ball from Giggs and then his finish may go overlooked; but in the build-up to the goal, Lescott wins a header against Rooney but Rooney had done just enough to ensure the ball wouldn't go where Lescott wanted it to and instead it rolled straight into the path of Giggs who could play in Nani.
Nani himself had a busy game. In the first half he was United's most dangerous player and despite a quieter second half he remained the man the side looked to for inspiration. We were critical of Nani's shooting post-Birmingham but then praised his improvement in accuracy post-Aston Villa. It would be easy to be critical again after only getting 33% of his efforts on target yesterday but again luck played its part, this time against United. Nani's four efforts off target, were all from outside the area and all very close to the frame of the goal. Clearly Nani is very confident right now and shooting off his left or right foot appears to be no problem. City's defenders, particularly Zabaleta had little idea of which way he'd go and on another day Nani could have easily had more than just his one goal.
It wasn't just luck that restricted City to 3 efforts on target out of 14 (one of those 3 being the goal, a shot that was heading wide until a fortunate deflection). Certainly hitting 3 shots off target from within 10 yards of goal is lucky for United (see the red dots below); but United's top defending contributed to City's lousy 'efforts-on-target' ratio.
City shots on goal
The six dark grey dots above represent blocked shots. Whether it was poor shooting that meant efforts were hit at United players or United players scrambling to block a shot; the men were back behind the ball and in the right places to make sure City couldn't get a shot in to trouble Edwin van der Sar. City created more chances than United and had a real intensity about their attacking play as they always tried to get men into the box. As it has been so many times his season, the defence held solid – it was just some bad luck that took away a clean sheet.
Match Conclusion
United started off slow, which gave City incentive to push on and the visitors created a glorious opportunity for David Silva, who shot wide after being one on one with Edwin Van der Sar. City were more attacking than they were at the Emirates last month, something that we blogged about in the week leading up to the match. Zabaleta and Richards did push on and play higher up the pitch – however this was partially due to the slow tempo of United.
As the game went on United started to find their feet, with Nani tormenting Zabaleta on the right hand side, whilst Giggs played a number of crosses into the box from the left. The two wide men combined for the first goal, after a long punt down field from Edwin Van der Sar, the ball dropped to Giggs who played in the Portuguese winger. Nani plucked the ball out of the air superbly before accelerating away from the fullback and tucking a left footed shot passed the helpless Hart. United went into the break 1-0 up.
City's goal was a result of a Dzeko shot that deflected off David Silva following a low cross by substitute Shaun Wright Phillips. Sir Alex Ferguson brought on Dimitar Berbatov immediately as United shifted to 4-4-2. As the game approached the final ten minutes, Wayne Rooney scored the winner after converting a breathtaking overhead kick. The game ended 2-1, with United now having a two week Premier League break until the next fixture against Wigan Athletic on 26th February.
AUTHOR: – Doron