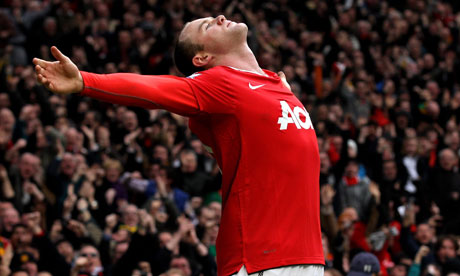 AUTHOR: – Herzog's Child
The two moments, juxtaposing in their nature, precisely defined both the problem and the solution. Again, like Rooney's game in general this season, the lay-off was wild, bobbling horridly away, before luckily falling into the path of the mercurial Scholes. Moments later, Rooney, sharking into the box, tried something different: he took to the air as Nani's high ball floated in, before conjuring a moment of brilliance we've missed for so long this season. His next act, seconds later, again attempted to transcend all realms of normalcy: striding towards the corner flag, Rooney jutted his body into an archetypal Jesus Christ pose, limbs outstretched, taking in the noise of those lost in the hysteria of witnessing a master-craftsman resurrecting a miracle that until then appeared lost for good.
The nature of the goal – a rarefied pluck of opportunism – is one unlikely to be ever repeated again. But the man who crafted it, who is one of the few who can produce those moments, needed it and so did we. We need to be consistently shown why the events of that dark October pained us so much, and Rooney, who in two weeks has doubled his before-then paltry goal return, needed it to reassure himself of the ability he still harbours. Meanwhile, City's hearts once again fell into disrepair.
Before the Aston Villa game of a few weeks ago, I wrote a piece – damning in parts – on Rooney's decline in form. Concern was stressed for the nature with which he plodded through games, and calls – justifiably, one feels – were put in place to suggest his permanent placement within the team should be ruptured if his continuous chances of reprieve continued to be plundered. From some quarters, heavy sighs were expounded with the advent of Wayne's – and not Hernandez's – name on the team-sheet. The unthinkable was progressively coming to fruition – many wanted to see a change. A minute into the Villa game, he had taken a high ball down and thundered it past the ever-irritating Friedel. By the end, he had scored two, and with it all 3 points for United. Fergie – again – called it right. A brief interlude into the harrowing depths of doomlordery followed at Molineux, and then came City. The giddy parade can hold off for the moment – until the end of the season, at the very least – but there are brief signs emerging that maybe, just maybe, Rooney's long overdue repayment is kicking in.
Afterwards, Rooney, looking back on the goal, dedicated the moment to the red half of Manchester. The dedication, followed by an admission of prolonged ill form, was needed. Following his past misdemeanours, Rooney, curiously smitten after months of wanting out, never did make the formal apology that was promised by sources to be forthcoming. Erratic displays, coupled with a hapless goal drought, duly followed, and Reds rightly felt hard done by. A justified cynicism emerged. Words, many declared, were never going to be enough, anyway; the only required form of apology was the only way in which a player's desire to be at a club can be proved: to perform. Thus followed Rooney's stumble into ineptitude, and, as a result, mass concern amongst unhappy Reds. A predictable slew of conspiracies followed: Rooney, despite signing on, still didn't want to be at United; Rooney's level of performance had already peaked and he was in the midst of a premature decline; Rooney's much-devoured turbulent private-life, recounted in illimitable inches, had seeped into his professional career; Rooney's relationship with Fergie had dissipated beyond repair. The truth, as always, was interminable, and will forever remain so. However, some answers, one feels, are about to emerge.
Rooney's general play against City, lost in the brouhaha of its frenzied climax, typified his season. Neat passages here and there, but certainly not the combative, all-action, Wayne of old. Touches were met with a heavy boot; slip-throughs were, as they are so often now, inches off once more. His spectacular winner aside, his chances were extremely limited, with Kompany shackled to his every move. However, there were short glimpses – minute little moments – where it appeared a fury was on the verge of ignition. Hacked down on numerous occasions, Rooney, after pelting off in pursuit of a City defender, was promptly spoken to. The inherent anger – hidden for quite some time – was displayed; vulgarities were loudly espoused, and a raucous billowing of Rooney, Rooney followed. The goal itself – a mixture of grace in its absolute and power at its most devastating – embodied the true Rooney model: power, pace, precision and a nurtured skill possessed by a divine select few.
The cataclysmic noise which erupted following the goal should have confirmed without any modicum of doubt the importance of the occasion for all Reds to Rooney, and how, only a few short months ago, he nearly threw it all away in pursuit of something unequivocally unobtainable. City, it appeared at the time, were the only realistic, dreaded route which Rooney was going to embark upon. Chelsea had already privately snared Torres from Merseyside's misery-pit; Barcelona didn't need him; Madrid did, but wouldn't have been able to garner the riches his talent merits; the Milanese giants were never a viable option. So it was City – and just City – who loomed with primed pincers. In the aftermath of his turnaround, Rooney, to little surprise, warded off the notion, denouncing the idea as mere speculation – he would never have joined City, he ensured, never. Credible sources from elsewhere, however, begged to differ: City's insidious chief-exec, Gary Cook – replace the 2nd 'o' with a letter of your choice, if you so wish – was formulating a key nabbing to further his grossly unbearable 'cause,' and Rooney, enticed by a rumoured quadrupling of his wages, was interested.
Once more, truth – that ever diminishing value – was the most crushing casualty. No one truly knows why he stayed; he just did. To believe his own reasons would be naive – footballers, it's not to be forgotten, are trained in the mechanical teachings of PR; dull reassurances, incessant clichés, appeasers, and tit-bits devoid of any ingredient of controversy are their practised languages. As mentioned previously in another article, it should come as no shock that the figures who attain the most directed outcries are those who fail miserably in the token-spiel of the modern player; they are those that, through one slip or another, resurrect a value lost in nearly all sport nowadays: honesty.
Rooney's reasons for saying, he stated, centred on the reassurances emitted from Fergie, Gill and the Glazers. What he didn't dwell on, unsurprisingly, was the fact he secured a bumper rise in wages through a newly awarded, totally unjustified, bumper contract. For many, it didn't matter. He was staying, and United were all the better for it. And, just as importantly, City didn't get their man.
It is only now, after a few barren months, that Rooney, it would seem, is about to blaze another trail of which he was so consistent in producing before everything fell to pieces. Saturday, given everything that was there to be taken, was a defining moment – for not only Wayne, but the club also. Fergie's decision to not play Berbatov was again telling, for a number of reasons. He does not, contrary to many grievances, adapt well to playing as a sole striker, and couldn't, due to a shamefully weak midfield, be part of a front-two. But it was Fergie's entrusting of the role to Rooney, his most inconsistent striker, which told all. It could have failed miserably. It almost did. Yet, as often is the case with United, a moment even too surreal to be a product of fiction established itself, and everything, not for the first time, rolled into a thunderous bliss of a type only a Red can truly realise. Infinitely tougher games loom in the oncoming weeks: Chelsea and Liverpool away will go some way in rendering whether or not May will amount to an unprecedented 19th, or a mass-heap of dung.
What is a certainty is that Rooney, like he did on Saturday, will not only have to produce goals, be it the spectacular kind or plain old bundle in, but also produce the type of displays his talent is so fine-tuned to disclose regularly. He will be entrusted once again to begin the big games as a lone striker. What needs to follow from the supreme, acrobatic brilliance is the determined drive that has torn apart even the most resolute of defences. We need the Wayne of January 2010, who tore through the Emirates as if propelled by a jet-pack, before thumping in a wonderful low drive past the hapless Almunia. With that Wayne in tow, the possibility of a retaining the title looks an even more likely eventuality. Rooney needs to recognise the reasons why he has been entrusted with leading the line; simply, when on his game, he is the most well-equipped of our frontline to do the role justice. Chiefly, it's a matter of self-belief, coupled with a desire that was once so evidently inherent in a player one and all assumed would fill the enormous gap left behind by the departure of Ronaldo to Madrid.
Composing himself from the sacred stance of a crucified Christ, Rooney, as his team-mates wheeled away, stood poised before taking a proud bow before those air-pounding and cheering his name in the stands that were still shaking. It was one of those rare moments that can only come about in an environment where normalcy has been momentarily displaced; in cup finals, in last minutes, in heroic comebacks, in derbies when you crush your noisy neighbours to beyond obliteration. Sometimes, it's not enough to just win; sometimes the manner of the win is just as important as the points gained. City, for all their self-absorbed spouting, crumbled – like the 3 occasions last season – under another wave of United spirit, and suffered once again the harsh pain of another explosive United blitzkrieg. Money has ensured City are now an accomplished side. The spirit, however, will have to be pilfered from elsewhere – the clouds, perhaps, given the amount of time they're prone to spending there. Encouragingly for United, the spirit to believe is engrained within the culture of the club. At the centre of that should be Wayne Rooney, as it was so often last season. What needs to be ensured is that, unlike then, his talent should be backed up with the required calibre of player next season. For now, we plough on. Saturday needs to be a restoration of Rooney's belief in himself. If he keeps repaying, the greatest of all goals – to reach a dream-like 19th – won't be far off.
Was that Rooney's best goal? Discuss it on the forum
AUTHOR: – Herzog's Child