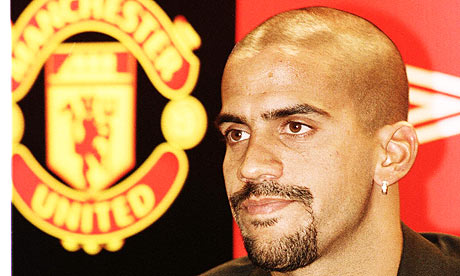 AUTHOR: – Doron
People say the Premier League is faster and more of a physical challenge than ever before. Yet United, in the past 20 years, have seen Keane, Ince, Butt and Robson leave and now have Carrick, Scholes, Anderson and Fletcher. The flavour of this season has been that we need a creative midfielder but I'm about to tell you why that's not the priority in the central midfield area.
A couple of years ago, Paul Ince and Roy Keane came up against each other as managers. In the build up, Ince reflected on one of the most fearsome central pairings the Premier League has seen, "We felt we could intimidate opponents before we went out on the park. That was the idea, and it seemed to work most of the time. We had a belief that we were the best midfield players in the Premier League. Whether we were or not, it doesn't matter. That was the mindset we had. Sometimes we were lined up in the tunnel at Old Trafford and we knew we had teams beat before we had stepped outside."
Ince and Keane would only play together at United for two seasons, however they'd set the benchmark for midfield expectations to come. It was fitting that their partnership and the club would flourish whilst Bryan Robson was on the payroll. For they were able to apply everything that had made Robson come to be known as Captain Marvel, but in a winning team. Robson still remains as the most complete, all-rounded central midfielder that the club have had under Ferguson's stewardship.
The idea that United lack a creative midfielder first (re)appeared 18 months ago in The Guardian. Since then this belief has gained a large following and is still being discussed and debated. As recently as last week, the BBC's response to United's defeat at Wolves was that they lacked a creative spark. It's been a theory or belief that has been around since just before Veron signed but was put to bed for a few years when Ronaldo started leaving his mark on the team. I don't disagree with the notion that United's main rivals in the league all have more creative midfields than ours (Chelsea are probably the exception and lets not forget we do have Paul Scholes) and I don't necessarily disagree with the fact that United might benefit from some new signings, however there are questions that have to be addressed…
…have United ever had a creative midfielder under Ferguson? Has it ever worked? Can it work now?
I asked a question on Twitter a week ago… "If you could sign one central midfielder for United, who would it be and why?" – I had loads and loads of responses but not a single person said that United shouldn't sign anyone. Rarely has the general consensus among fans been so conclusive that a central midfielder is needed. 62 out of 71 fans replied suggesting an attacking or creative midfielder. The remaining 9 all suggested a box-to-box midfielder who could do both defend and attack. I must point out, I'm not advocating getting rid of anyone from our squad – there are lots of supporters though who do believe some players need to be moved on. I fall into the category of 'trust the manager, if we need someone, he'll sign someone'.
Inadvertently, those 62 fans want United to adopt a 4-5-1 or 4-3-3 or 4-2-3-1 (they're all essentially the same!) as their primary formation. In a quick split-second of thinking, I'm struggling to come up with an example of a Premier League team that plays 4-4-2 with two proper strikers (as opposed to Spurs who usually play 4-4-1-1 with van der Vaart behind a striker) and a creative central midfielder. Spurs have done it on a couple of occasions, as have Everton with Arteta but otherwise I'm struggling.
The 4-4-2 formation has been Ferguson's preferred choice of set-up since arriving at the club. This season, nearly 75% (28 out of 38) of United's games have seen Ferguson set the team up in this way. He's tinkered with it a lot over the years and often played variations particularly upfront. In 1990 McClair sat behind Hughes; in the mid-90s Cantona also played a deeper striking role; further back Jimmy Greenhoff and Stuart Pearson didn't always stick to a classic 4-4-2 formation.
One theory I had put to me was that it's only an increase in awareness in formations and tactics that has lead to them being discussed more – the tactics and tinkering of formations has been going on for years. The reality is that United, like most teams, haven't played a static 4-4-2 for a long time now but lining up with two wingers, two central midfielders and two strikers is the way Ferguson likes to go. What Ferguson has always had his variations of 4-4-2 do, is attack with width – from Kanchelskis to Giggs to Nani to Sharpe to Beckham.
United have generally always had 4-4-2 as their primary formation. However in the 1960s a 4-3-3 was sometimes used to free up George Best (Morgan, Aston and Charlton in the middle, Best roaming with Kidd and Law up top), in the same way Ferguson has changed the way his teams have played to free up Cantona and then later, Ronaldo. Formation's are important but sometimes it's simpler to look at what you have and work out a way to get the best out of the players rather than trying to fit them into a system.
It was arguably this rare mistake that Fergie made with Veron. After success with true box-to-box midfielders, Robson, Keane, Ince and to an extent, Butt (Scholes although could do it most often was found higher up the pitch whilst one of Keane or Butt would do an anchoring, defensive job), Ferguson brought in Veron – at the time, the best creative playmaker in Europe. Without going into details, Veron's short United career was a personal failure for him but a learning curve for the club and Ferguson. Veron's problem was that he could only operate successfully in a three man midfield (generally the preferred formation in Europe hence Veron's really top displays in the Champions League) but in a 4-4-2 he struggled.
This is the crucial part of this blog.
Veron's failure in a 4-4-2 was as much Ferguson's fault as anyone elses. There is only one way that a creative player, a playmaker can work in a typical 4-4-2 (forget the tinkering, when United attack, they attack in that shape) – and that is with the correct partner. That partner has to be a very specific player – a Robson or a Keane ('94-'99). Someone to do all the running, to win the ball, to track back, to burst into the box. The problem is that such a player rarely comes along. There are few true box-to-box midfielders in today's game (for me, in England the best is Scott Parker, otherwise Schweinsteiger is the best at it). Veron never played with that kind of partner and it was naive of Ferguson to think he could come in and succeed in a brand new system to him (one can argue that the best players are capable of adapting though).
Ray Wilkins, maybe the last of the more creative midfielders pre-Veron had Robson; Keane and Ince had each other; Veron had… no one. Veron's short-comings forced Fergie to try and change the formation; he even said in the summer of 2002, "When we operated with three in midfield there is no doubt we controlled most of the games". It shouldn't have taken Veron's inability to adapt for Fergie to change the system. He either shouold have built a team around Veron and tried to fit 10 players into a new system (longshot); or he should have also signed someone who'd compliment Veron. The problem for Veron, was that he'd always revert back to his preferred 4-4-2 – in 2000 he said about United, "We are a complete 4-4-2 team".
What the club and Ferguson learnt from the Veron experiment was the value of the 4-3-3 in keeping the ball away from home in Europe. Feruson's reluctance to dip into the transfer market lately may well reflect that he's learnt from the error of trying to fit Veron into a 4-4-2 without the correct partner. Creativity in a Ferguson team comes from out wide, it always has done. The central area is the powerhouse of the team, the engine. Very few teams will change a whole system to suit a player – hence signing central midfielders under Ferguson has been a very selective process (clearly there have been some errors of judgement – Djemba-Djemba; Liam Miller and Kleberson – who had bad luck).
Earlier, I said there were three important questions that needed answering – have United ever had a creative midfielder under Ferguson? Yes. Has it ever worked? Not really. Can it work now? Yes but only if the club's main formation and culture changes.
So if we are to look to strengthen in central midfield; what should we be looking for?
Well if fans think the club need a creative midfielder then before they suggest the Sneijders and Modrics, a proper box-to-box à la Ince, Robson or Keane needs to be found first. For me, such a player doesn't really exist at the moment. We're fortunate that in Ryan Tunnicliffe there is a kid in the Academy who is starting to show signs of a very good all round game but in general with the success of Spain and an emphasis on technical footballers lately in English academies, (England have been criticised for lacking them) the classic box-to-box midfielder once associated with the game in this country is a dying breed.
Ferguson has therefore got a bunch of midfielders who can do a bit of everything (bar score). Carrick is a box-to-box midfielder come anchor man who can't score; Scholes has reverted to a quarterback role; Fletcher is an all round combative workhorse and Anderson still truly hasn't had his role defined yet. It may well be that if the club had a Keane, that player may perfectly suit Anderson in a higher role. We shouldn't be so concerned about a perceived lack of creativity in the middle, we have plenty of it out wide (and arguably could do with even more) – what we should want more of in the middle is goals and players who aren't afraid to shoot.
Picking 11 players and making them work is like a jigsaw. You can't put one player down if he doesn't fit in with the guy next to him. The central midfield area is the core of the jigsaw, everything revolves around it – you only need to read United Rant's excellent piece on how the fullbacks have a direct impact on the central midfield to understand how fragile a formation is and how easily it is upset.
Football since Keane and Ince has changed – United can dominate midfields in a different way from them. We've had success without a creative midfielder before and that could be repeated again this year. Just because our rivals have a certain type of player it doesn't mean we have to follow suit. Remember, United are a 4-4-2 team. Before wishing for a creative player to be signed, think carefully about the impact that could have on everyone else and then maybe consider if it's a different type of midfielder we should be signing.
I welcome all comments and thoughts on this – I certainly could be totally wrong; so let me pose a few questions to start some discussion: Should United follow current trends and make the 4-3-3 formation the teams primary formation? Should United in fact strengthen another area of the team – say out wide, reasserting the club's main creative threat to its traditional area of the team? Upon reading this blog entry, if you feel the club need to sign a player, who would it be and why? Should the club take inspiration from Keane, Ince and Robson and search hard to find a player in that mould or is that kind of player and role now not necessary? Is scoring goals from central midfield the biggest issue, not creativity?
Finally, a big thank you to Tony for advice on this topic, providing historical examples and generally playing devil's advocate whilst I did my research!
AUTHOR: – Doron