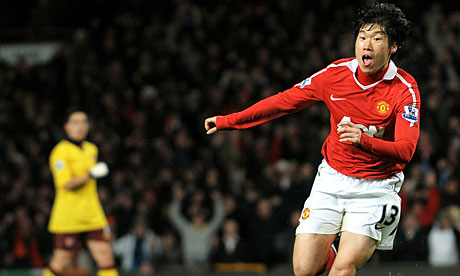 AUTHOR: – Doron
United were delivered some bitter-sweet news today as Ferguson confirmed that Antonio Valencia's recovery is going well but Park Ji-Sung is out for a month.
Speaking to ManUtd.com, Ferguson said:
"We got a blow on Saturday morning with the news that Ji-sung Park did his hamstring on Friday afternoon in training. It was very unfortunate because it was his last kick of the ball in training as well. We were really looking forward to having him back after being away for a month at the Asian Cup. He'll be out for up to a month, which is a blow to us."
"The good news is that Valencia started training with the Reserves on Saturday. So he's on his way back and that will be a real boost to have him available for the run-in."
Park had only been back from the Asian Cup for two weeks and having been given a week off he'd trained all week in the build-up to the derby match against Man City. The news on Valencia is positive and in line with an expected return at the end of this month. It has been suggested that he's been pencilled in to play for the Reserves next week.
You can discuss how good/bad the news is on our forum, where we are asking the question: Is it more of a blow than anything given how much of a role Park has played this year and his versatility; especially because it'll no doubt take Valencia some time to hit top form after so long out?
AUTHOR: – Doron