Tactical view – Fletcher and wide play key to United beating Stoke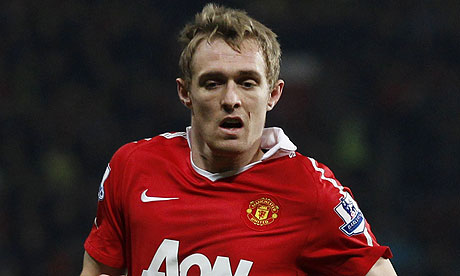 Despite as Yolkie describes in his match report a "laboured" win over Stoke for me there were two key reasons why United won. Firstly, Darren Fletcher and secondly United's successful wide play.
Yolkie quite rightly highlights Nani, Rafael, Giggs and Fletcher as four of United's best players tonight against Stoke. Darren Fletcher's form has been criticised lately. After some very consistent seasons he's had a bit of strange patch the past couple of months and has been overshadowed by Anderson and Carrick. Tonight saw him paired with Darron Gibson.
Gibson tends to hold a very disciplined role. This allowed Fletcher some freedom tonight to play his A-game – dominating a midfield. The chalkboard below represents Fletcher's passing, notice how one could easily draw a rectangle around the middle area of the field and it would just about cover the area from which he played every pass.
A better way of representing this would be via the use of a heatmap (below). A huge 60% of Fletcher's passes were played from around the centre circle – impressive given that Stoke were playing 3 men in the middle versus United's 2 men. Fletcher had seemed to have lost his presence lately but this representation oh his evening perfectly illustrates that he had his mojo right back tonight.
Contrast Fletcher's performance against Stoke with the one against West Brom. Granted, Fletcher started in a three man midfield and had to often shift wide when United reverted to two up top. However his heatmap from that game (below) shows him all over the pitch – a role and a style of play that doesn't and did not suit him.
Fletcher's change in form was completed tonight with a bustling performance. Tackles and interceptions are something he's been shying away from lately however in those departments he was on top of his game tonight even if some of his tackles were deemed "unsuccessful". Although Gibson's graphics aren't displayed, he made one interception and one tackle, compared to Fletcher's three interceptions and seven tackles indicated below.
The other area of the pitch that United were dominant in tonight was out wide. Full backs who like to get forward has always been part of United's game under Ferguson. Tonight was no different. Evra and Rafael both spent 52% of their time in the opposition half tonight as indicated below.
However the real key to having full backs who can play an attacking game lies in the attitude of the wingers themselves. Giggs and Nani have two very different styles of wing play at the moment. Both come inside at times but whilst Nani likes to stay wide and hug the touchline, Giggs will tend to drift into the centre more often. This is represent with the heatmap below.
These contrasting styles suit both Evra and Rafael. Evra likes to stay wide, so Giggs drifting in field draws a man in with him to create space. Rafael also likes to stay wide but does also like to come on the inside of Nani. Unlike Giggs and Evra who tend to have space between them. Rafael gets close to Nani to help draw away one of the two markers usually assigned to stopping the Portuguese winger. The different combinations out wide tonight and the movement of the wide players was too much for Stoke to handle and United had a lot of joy out wide.
The final piece in the puzzle tonight lies in Dimitar Berbatov. He likes to come deep and get on the ball but rarely on the right because Nani and Rafael work so closely together. So to add to Stoke's problems he drifts into deep spaces on the left to allow Giggs to come inside and push on whilst drawing a centre back out with him. His movement to the left also helps to give Evra another option when Giggs comes inside. Berbatov's movement is represent by the heatmap below.
United tonight did labour to a victory but it was well deserved. Frustration will no doubt lie in the fact that United had only two shots on target – the two goals with a further 7 efforts blocked and 10 off target. United's wide and central play deserved better. Fletcher's return to form was a welcome boost ahead of a big game against Liverpool on Sunday. Liverpool will have to be wary of United's clever wide play, Stoke aren't the first team to have failed to deal with it.
You can read Yolkie's match report by clicking here, obtain the match details and you can follow me on Twitter