Manchester United vs. Liverpool Preview (FA Cup)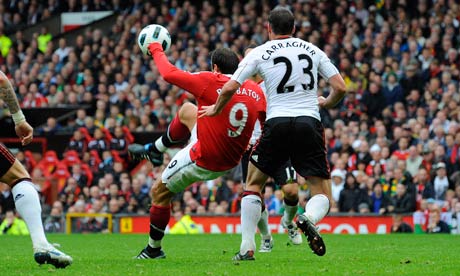 As if the one game at Old Trafford this season against Liverpool wasn't dramatic enough; a match set to bring back memories from 98/99 has been thrown up. It's Liverpool and it's the third round of The FA Cup.
Derby matches and FA Cup matches are games where that old footballing cliché 'form goes out the window' gets used. When a derby match and an FA Cup match are in fact the same game, well who has a clue what could happen!?
It was only a year ago that bitter rivals Leeds came to Old Trafford and shocked everyone by beating United 1-0. It doesn't need me to say that going out two years in a row at the first stage of The FA Cup to huge rivals isn't an option.
Just to add to the drama (and to force me into late changes to this preview), Liverpool have spiced it up by announcing the departure of Roy Hodgson from the club. Replacing him temporarily is (King) Kenny Dalglish. Everything I was planning to say about how morale is low at Liverpool can be forgotten. If the Liverpool players needed a lift and the supporters needed geeing-up then this is it. A wave of Dalglish-optimism will sweep through Merseyside and crash into Old Trafford on Sunday.
The simple "facht" about Liverpool is they've had a poor season. They sit 12th in the league and their form has at times been inexplicable. Their past three matches show a loss at Blackburn, a (lucky) win at home to Bolton and a truly awful loss at home to Wolves. Their squad does have some very good players – no one would deny the class of Reina, Gerrard and Torres when fit and in form but beyond them, the squad is, in my opinion, rather average compared to some of the teams they're up against for the European positions. They are expected to replace Sotirios Kyrgiakos with Daniel Agger tomorrow and Kuyt is likely to come in for either Maxi or Joe Cole. The thing is, although losing to your rivals would be hard to take, Liverpool have a bigger game on Wednesday when they travel to Blackpool – a team they are level on points with.
In short, Liverpool are a club in some kind of crisis of the pitch and on the pitch but this is a derby match, an FA Cup match and now Dalglish is also involved…I just don't know what to say!!
Enough on trying to analyse Liverpool, it's too confusing at the moment…onto United and my predicted line up:
I can tell my formation is going to take some explaining..!
I expect Edwin to return in goal and a first choice back four to be picked. I would have thought Edwin is over his flu and Rio was merely rested against Stoke.
The problem that might arise in the midfield is that Liverpool are almost certain to play with three in the middle. Whilst United showed against Stoke that they aren't afraid of playing two versus three I think against Liverpool it's not worth taking the risk. If Park was available he'd have been nailed on to start in this game. As he isn't I think United will line up in a cross between 4-4-2 and 4-5-1. Nani wide right, Fletcher in the middle, Carrick sitting deep and I think Anderson will play an advanced role but slightly to the left. Berbatov will be the main striker and if Rooney has recovered from his ankle injury I expect him to play up front behind Berbatov. Here's the confusing bit. I think Rooney and Anderson will jointly share the responsibility of covering the left hand side of the pitch. Evra as he does, will no doubt play as a wing back and push forward a lot to cover for the lack of a natural winger (according to my selection) but when defending, I think Anderson and/or Rooney will probably drop in. The concern of course is no natural width but as I said, I think Evra often can provide that. I've left Giggs out, somewhat harsh but I think his impact might be better felt off the bench.
Although league form and position is somewhat irrelevant in an FA Cup match, United are still top and are unbeaten in the league. Bar two points dropped at Birmingham, United are on a winning run. At home, Old Trafford has been a fortress with only 2 points dropped all season.
Under Fergie, the two clubs have only met three times in the FA Cup. Each occasion is remembered for a stand-out moment. The first, the 95/96 FA Cup final – Cantona's last minute volleyed winner capping a brilliant season that saw his return from the infamous kung-fu kick incident ban. The second, in 98/99 was a fourth round match at Old Trafford – United 1-0 down until the 90th minute when first Yorke and then Solskjaer scored to send Old Trafford ballistic. The third, in 05/06 was a 5th round match at Anfield – not remembered for Crouch's winner in a 1-0 Liverpool win but more for the horror leg and ankle break/dislocation that Alan Smith suffered. Altogether the sides have met 15 times in The FA Cup with United winning 8 and Liverpool winning 3 of them.
Incredibly, this is the only all-Premier League clash of the third round. The league game earlier this season ended 3-2 to United with a Berbatov hat-trick. In this fixture there have been 180 meetings, 70 won by United, 60 won by Liverpool and 50 drawn. Just to add to the "round numbers", United have scored 250 goals in those 180 meetings.
Between United and Liverpool there have been 18 FA Cup wins. United hold the record for the most with 11. Should the two sides cancel each other out, the replay date has already been set for the 19th January.
Before the Hodgson saga this morning I was going to predict a 3-1 United win but now, as the score was in September, I'm predicting a 3-2 win for United.
You can share with us your thoughts ahead of the match and your favourite moments from games at home to Liverpool on our forum.
Here are a couple of clips to bring back some good memories:
Before I sign off, here is the Stretford-End.com betting info ahead of the game against Liverpool:
If you fancy a bet on this game, then with Stretford-End.com you get a special joining fee at Paddy Power:
Get a free £20 bet when you join
Man United Vs Wigan Atheletic Betting Odds (correct at time of publishing)
Man Utd to win 8/13
Correct score markets:
1-0 is 11/2
2-0 is 6/1
2-1 is 13/2
3-0 is 11/1
or if you, like me think there may be a repeat of the score in September…
3-2 is 22/1
First scorer:
Rooney 4/1
Berbatov 4/1
Nani 13/2
Fletcher 18/1
Vidic 25/1
Anytime scorer:
Anderson 15/2
Rafael 12/1
If you think Berbatov may bag another hat-trick the odds are 25/1
If you think last year's star, Own Goal will show up then the odds are 15/2