Boxing Day is good for United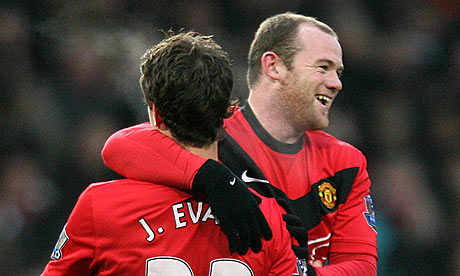 The Boxing Day fixture was once the game where hungover footballers would lump around on a pitch when they'd much rather be wrapped up at home indulging in Christmas leftovers. Today it forms a central part of the all important "festive fixture period". More often than not it is the first of two games within three days and is now traditionally a bit of a "fun" day for the fans. For United, Boxing Day, according to recent history, is a very good day indeed…
This won't be a long blog at all. I woke up this morning and suddenly realised that I couldn't remember many occasions on which Boxing Day had gone badly for United, so I did some research and came up with some facts and figures.
Before that, why is the Boxing Day game important?
I believe that the game is mentally a tough ask. It's the day after Christmas, most people in the country aren't working, and yet these sportsmen have to go out into the cold and play a game of football. Not a big ask, come 3pm on Boxing Day I too could do with a bit of a kick around. However, lose on Boxing Day and potentially things can go downhill fast.
The fixture schedule over Christmas and the New Year is busy, a game every 3 or 4 days for a couple of weeks takes it's toll on the players. Lose on Boxing Day though and with the next game traditionally just 2 days later, it's hard to pick oneself up. Win, and momentum, adrenaline and positivity can start a run of good results.
So Boxing Day for United…
In 18 years of Premier League football, United have won 15 games, drawn 2 and lost just once. Take away the first two years of the Premier League and it becomes played 16, won 15, lost 1. A very impressive statistic. That one defeat came in 2002 against Middlesbrough. Maybe the way the fixtures come out has often been kind to United but scoring 3 or more goals in 11 of the 18 Boxing Day fixtures is mightily impressive.
It was only two years ago in 2008/09 that the Boxing Day fixture was the start of a brilliant run of results for the club. The win over Stoke that day started a run of 11 straight league wins that ultimately propelled United towards a record equalling 18th title.
As I said, this is just a short blog with a few facts and stats. I end erring caution though. In three of the past five years, United have gone on to lose at least one game during the busy Christmas fixture schedule. United might be unbeaten this season but according to very recent history, that may end soon. Mind you, four times United have played Sunderland over the festive period and never have they lost – most recently, on Boxing Day in 2007 when United won 4-0 at the Stadium of Light.
Boxing Day is good for United.