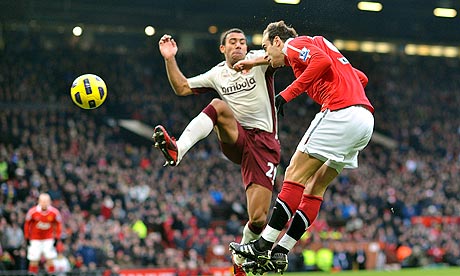 The two teams "hardest to beat" in the Premier League went head to head at Old Trafford; Manchester United won with a Dimitar Berbatov brace as an early onslaught never materialised into the goals it threatened, to stay two points clear of Manchester City having played 2 games fewer – and, significantly, 5 and 6 points ahead of Arsenal and Chelsea respectively with the London clubs set to face off against each other tomorrow.

Berbatov's 5th minute goal eased any early tension against Steve Bruce's in form Black Cats – Ryan Giggs played the ball to Wayne Rooney, whose cross to the far post was headed home with a degree of comfort by the Bulgarian. And United could – and maybe should – have had more. Wayne Rooney went close with a chip and Berbatov rattled the post from 10 yards before the 10 minute mark, Anderson hit a rocket against the crossbar, Ryan Giggs forced a save from Craig Gordon and Berbatov fired into the side netting as the mentioned foursome were unplayable.
Anderson and Rooney went close with other chances before the break – a phenomenal 45 minutes should still have included a note of caution, as their visitors recently thrashed Chelsea at Stamford Bridge and were described by Sir Alex himself as United's most difficult opponents this season. An early warning shot by Gyan in the second half demonstrated Sunderland's positive response; so a second goal was clearly needed. It duly arrived just before the hour; Anderson's attempted pass hit a defender but it rebounded straight back to the Brazilian; without a pause, he fizzed it first time to Berbatov, who took the shot on and saw it clip two defenders before beating Gordon in goals.
That was it for Giggs and Anderson; replaced by Darron Gibson and Kiko Macheda on 63 minutes. The pair had been by far the best players on the pitch and their withdrawal spoke volumes about their importance in upcoming weeks; with Anderson virtually undroppable and unplayable, and Giggs' experience vital in the absence of Valencia, Nani and Park, Sir Alex's decision to remove them was most definitely one of preservation, especially with Anderson's recent illness and Giggs still finding his way back from injury.
Sunderland managed to impose themselves more on the game as United sought to save energy, but the result was never threatened. 8 weeks ago the Red Devils were described as a team in decline; but now, with a number of the leagues in-form players and certainly the best football being played by them, there is an air of positivity that looks unlikely to be shaken off anytime soon.
Ratings : van der Sar 7, Rafael 7, Ferdinand 7, Vidic 7, Evra 7, Park 7, Carrick 7, *Anderson 8 (Macheda 6), Giggs 8 (Gibson 6), Rooney 7, Berbatov 8 (Chicharito)