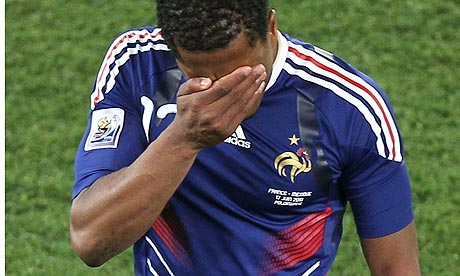 Despite being one of the best left backs in the world and one of the most consistent performers in recent seasons for United, ex-French defender Lillian Thuram has called for a life time ban for our number three after his conduct as captain was called into question at the World Cup finals in South Africa. Evra, along with Malouda and Anelka were harshly criticized for their actions following Anelka's criticism of the inept head coach Raymond Domenech. Anelka was sent home, whilst Evra and Malouda were left out in their final group game, a 2-1 loss to host nation South Africa. Lillian Thuram is France's most capped player ever and was a fine fullback for Les Blues over the years, whilst performing constantly at a high level in Serie A for Parma and Juventus – however, is there a tinge of double standards from Lillian?

Thuram released the following comments regarding Evra recently:
"I demanded that the players be harshly punished and that Evra never returns to the France squad. When you are captain of the France team, you must have a responsibility to the jersey and the people. When the players shut themselves in the bus, and the fact that it was the coach who read the statement, that showed that the coach was no longer respected. In any group there are leaders and people who follow, and others who do not agree and do not dare say no."
So you'd think that Lilian Thuram would be consistent in his criticism of captains that don't put the team ahead of themselves? Yeah? Having scoured the Internet and archives for the past half an hour, I can see no criticism from Lilian Thuram for the genius that is Zinedine Zidane after his headbutt on Marco Materazzi. He specifically said "when you are captain of the France team, you must have a responsibility to the jersey and the people" – so due to Zindane's technical superiority is he exempt from Thuram's criticism? Of course Evra would have wanted the tournament to have gone better than it did, but as usual ignorant ex-players blame the wrong people. Was it not the fact that the FFF continued to back Raymond Domenech despite his inability to get the best out of his players whilst trying to distance his sides poor showing at Euro 2008 by concentrating on the fact that his girlfriend had agreed to his marriage proposal – cue bemused journalists. Or could it be that the FFF named a successor to Domenech (Ex Red Laurent Blanc) right on the eve of the finals – hardly great preparation?
If the powers that be do listen to Lilian Thuram, who by the way (although past his best) was appalling at Euro 2008 and rightfully retired soon after, and ban Patrice Evra – his exclusion from, what could only be described as 'a bunch of arrogant twats', the national side will be United's gain. His signing in 2006 is one of Ferguson's best as he made the left back position his own after the selfish and arrogant attitude of Gabriel Henize before him (although Henize was a fans favourite at the time, I was appalled at his attitude in the summer 04 when he went to Olympics and he also handed in a transfer request the day before his injury against Villarreal a year later). He is a modern day fullback and provides great width for United when Giggs or Nani cut inside from the left handside. Evra played 50 times for United this season in all competitions, the most out of any player. Whilst I respect the ability and quality of Thuram as a player, he should really reconsider his criticism when it isn't consistent across all levels and when he doesn't know all the facts. Having said that, i'm sure some smartarse will find some dusty old BBC article entitle 'Thuram slams Zidane' – oh mon dieu!