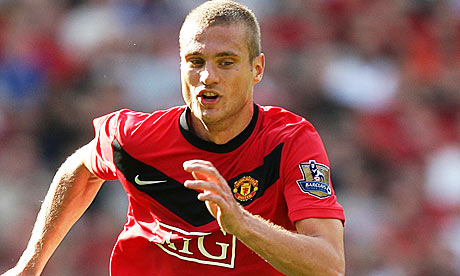 One year ago, Manchester United sold Cristiano Ronaldo and Carlos Tevez left the club after refusing terms on a permanent deal. Though fans can lament Antonio Valencia and Dimitar Berbatov squandering chances at Ewood Park, or Mike Dean's suspicious refereeing at Old Trafford against Chelsea, it would be commonly accepted that losing the best player in the world probably cost United a point or two. Now, with the new season drawing near, the sight of our rivals losing players from their squads while we seem relieved to hold onto Vidic (at present, at least) shows that standing still might actually be the best way forward in next seasons Premier League title race.
Chelsea's loss of Michael Ballack and Joe Cole with the imminent departure of Deco might not, on the face of it, seem like as big a body low as losing someone like Ronaldo. Conventional wisdom however would suggest that loss of numbers in that central area drastically alters Chelsea's game, with a sudden huge dependence on Essien staying fit, more so than before, if only to fully utilise Frank Lampard. Sir Alex Ferguson commented two years ago about the age of Chelsea's squad counting against them; this year, with John Terry's form consistently more inconsistent, Ashley Cole's mind elsewhere, and Ricardo Carvalho also casting wistful glances at potential suitors, the Stamford Bridge exodus might not yet be over, either. They could of course strengthen but one never knows about the compatibility; and regardless of that, City seem to be adopting the same tactic as Chelsea did in the wake of Roman Abramovich's takeover when they signed most players United had tracked for a long time, just pick the players strongly linked to your rivals and sign them.
That same conventional logic would suggest that City will probably develop into strong title challengers, but just as with Chelsea, City's strengthening only directly effects United two times a season in the league. It wasn't good enough for City last season as United (just) took maximum derby points, and should United just do their job in the other 34/36 games then those head to heads lose significance. Easier said than done, of course, but the point remains, and was essentially what set us apart in our title winning campaign of 2006/7.
Liverpool have made a steady appointment in Roy Hodgson but their freak season in 08/09 was very much the exception to the rule; Arsenal's loss of numbers in central defence won't necessarily effect them with Arsene Wenger's shrewd signings, but the transfer saga surrounding Cesc Fabregas is a little unsettling for the club – standing still in that case may be the best step forward for Arsenal, too, but it was woefully inadequate when it mattered last season. Sure, a years development and experience may prove key, and I certainly don't see them falling out of the top 4 – a fit van Persie might even help them in a serious trophy push for the first time in 6 years – but man for man, United are undeniably stronger, as the last few seasons have proven.
Our rivals' fortunes are one thing. Our own are another – Ronaldo's void was filled by Rooney, while the effect Valencia and Nani's emergence as (alongside Malouda) the best wingers in the country will have from the off cannot be discounted. Last year, up until January, the disjointed appearance of the side was probably down to the tactical re-adjustment post-Ronaldo. This time around they will have had the 6 months getting used to the system.
A tired cliché it may be but the return of a fit Owen Hargreaves and Anderson will be like two new signings – Hargreaves' absence speaks for itself but Anderson's future is undetermined, not helped by the fact he appears to be an enigma. I've made no secret of the fact I'm a huge admirer of the Brazilian, but I couldn't really describe what I think is his best role. His best performance last season was when he man marked Essien high up the pitch; he did the same job on Steven Gerrard when his United career is in his infancy and has also dominated Cesc Fabregas in a number of competitions. His potential is so much more than negating the opposition, as his assist play in the Carling Cup against Blackburn in the 08/09 season showed. If the team can be built around the energy of Rooney and Anderson then it should, but he needs a settled role in a defined position.
Another enigma is Dimitar Berbatov, who looks likely to have a last chance at United next season. He won't succeed in a 4-3-3 but may start in games against sides expected to finish in the bottom half. He has to hit the ground running or could find his place under threat by Javier Hernandez whose stock rose in the World Cup. Waiting in the wings are Danny Welbeck and Kiko Macheda though either or both of them could go out on loan.
In goal we're sorted for next season at least; in defence, Jonny Evans emergence means that even with concerns of Rio Ferdinand we needn't be too concerned. So taking into account we finished just two points (one converted chance at Ewood Park or one fair refereeing display between United and Chelsea) then the task of finally getting to the 19th league championship isn't as daunting as it would appear. There are those craving the signing of a forward, winger, or creative midfielder. Of the three, I would choose the latter, though if you were to offer me a signing or a prolonged chance with Anderson, I would take the Anderson option every time. It's all very well plucking out a name such as Alexis Sanchez and concluding that he would do a fantastic job at the club. He may well do a great job at Old Trafford but what would happen to Valencia or Nani? How much further down the pecking order would that push Tom Cleverley, just to use one example of our exciting crop of youngsters? If you rephrase the question to ask which, out of those four players, you would want to succeed at Old Trafford, you're surely not a true fan if you don't choose to back those currently at the club.
We have no divine right to success; some people are appalled because last season we ONLY won the League Cup. Put it into perspective; when Ryan Giggs, Paul Scholes and Gary Neville retire, and when Sir Alex finally calls it a day, the heart of the club the majority of us grew up supporting will finally be transplanted. Three of the best players this country, never mind our club has ever seen; three players whose retirement will significantly alter the inherent desire to play in the Manchester United way. That is a desire that comes from players who grew up with the club; that is the desire that we should want to see, not another expensive mercenary who has no real attachment to the club. Think I'm overplaying it? Our win at Eastlands at the back end of last season was a direct result of the heart of Paul Scholes and his refusal to accept anything less than 3 points.
Money doesn't always talk; just as well, in our financial predicament. Those concerned about our lack of spending should look at the relative positions of our rivals. Aside from City, there is no notable step forward that should strike fear, nor should City's recruitment, to be honest. The players that we have at Manchester United are good enough to give our legends the glorious swansong that their careers deserve.