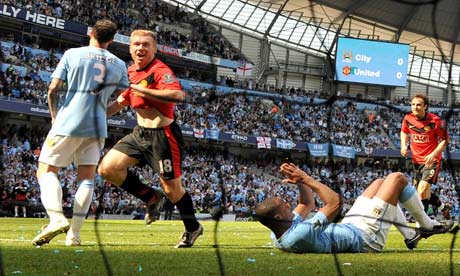 I blogged last week about the immediate future of Manchester United and how I believe that in the short term at least the rabid incoherent demand for a "marquee signing" seemingly on the principle "it proves we have money" is unnecessary and a little short sighted. I still believe that; but the newest setback to Owen Hargreaves has highlighted the fragility of a football players career and with arguably 4 of our first team players entering what is surely likely to be their last season at the club, thoughts inevitably returned to the required long term investment, the size of it, and just how badly the Glazers are financially taking apart the club.
To start we have to begin with Hargreaves; I learned of the news shortly after a hugely promising meeting about this website. There I was, in high spirits and full of optimism about United in general and while the setback was hardly a surprise, to say it put a dampener on proceedings would be an incredible understatement. This is no slight on Hargreaves himself. I have read some fan websites and entered into discussion with those more ruthless than myself who think it's time for Hargreaves to pack his bags and call it a day and without pausing for breath reeling off a list of potential replacements.
Manchester United doesn't work like that; if we did there would have been no glorious swansong from Ole Gunnar Solskjaer in 2006, while Gary Neville would already be consigned to our history books. Owen Hargreaves may be "gone" from the prominent picture but he is certainly not forgotten and you can rest assured in the two years he has basically been out of the first team picture that he has worked as hard as anyone. No, Hargreaves should not be kicked out of the club, even if the most we get out of him is another 30 seconds at the end of the season to say goodbye – just to say goodbye – then we should support that. It shows incredible heart and determination to do what he is doing and that should be supported. I'm more cynical than anyone but although he is handsomely paid he is putting his health on the line to repay the fans faith. The sad fact of it is that I agree with the opinion he should retire but for purely humane reasons; surely no-one wants him to continue to sacrifice his health when the cold hard reality of the situation is that even should he be able to compete to kick a ball it won't be on any long term basis.
Sticking true to my opinion that we don't need immediate investment; should Anderson return from injury firing then that will be like the clichéd new signing. I would be more than happy with a 4-3-3 set up with the personnel at our disposal, with the obvious 4-4-2 switch as and when appropriate. And why not? Michael Carrick has something to prove after being slated for much of last season; perversely, after the England World Cup shambles, he has an opportunity to stake a claim as an England regular. Speaking of having something to prove, so too does Dimitar Berbatov. United have failed to get a bidder for the Bulgarian so by default he will be the number 9.
Should those two fail to make their mark next year they'll certainly be on their way out – having been used almost against Sir Alex's will at the crunch point of last season they won't be afforded too many more bad spells.
Paul Scholes, Ryan Giggs, Gary Neville and Edwin van der Sar are four players defying conventional logic but you would expect all four to retire at the end of this season. Edwin has had "the talk" with Fergie to continue for the last 2 seasons, Paul Scholes has made the noises, Gary Neville's form probably convinced him to continue against the body language after the City game where he seemed to be savouring it up in a true "goodbye" moment leaving Ryan Giggs as the only one of the quartet that you could sensibly argue has more than a year in his legs. And even that probably depends on how he starts the season.
This is not new news but their reliability has meant most supporters have yet to really think of the long term. Fees like £30m for the 30 year old Fabiano, £20m for the unwanted van der Vaart, £30m for an admittedly brilliant midfielder but who cost £15m a year ago (Sneijder), £25m for Ozil, a player generally unproven with his contract up in just 12 months, £30m for a winger in Alexis Sanchez when the two we have do the job perfectly well, or whatever flavour of the month takes the tabloid fancy next week to illuminate the minds of a thousand bloggers. I'm the first to admit we need a creative midfielder; I'm also the first to want to see if we can fill that vacancy from within before we risk splashing an obscene amount of money – that we can ill afford, even if we do have it. It's all in the fervent desire to win that elusive 19th league title before Giggs, Scholes, Neville and Ferguson retire and take the heart of the club with them. But why not leave it to them to see if they can do it? After all, that's what the last 3 league titles have been about, as much as the brilliance of Ronaldo and Rooney, the key moments have generally come from the legends.
When those elder statemen do retire there is no telling the funds or time it will take to replace them. Ryan Giggs, Gary Neville and Paul Scholes are often derided by rival fans; even sometimes by our own, as old, past it. Supporters who can't comprehend the value of playing for the crest and the club, that extra 10-15% it gives you even on the younger, more vibrant legs, and those are the supporters who miss out on that extra 50% of exhilaration you get when it is Paul Scholes scoring the goal in the 93rd minute at Eastlands or that it was Giggs running the assist masterclass at Old Trafford against City simply because it was Scholes and Giggs. If you could guarantee Scholes and Giggs would play another 5 years then what price would you put on them? Surely at least £20m. That's admittedly speaking as a biased United fan; Giggs however created as many chances per minute as anyone last season in the Premier League. And statistics don't have bias, or show sympathy for older legs.
That's £20m at least each to replace what they give to the club now; their career long contribution cannot even be valued. Gary Neville's 15 years, give or take the injury years, as United's first choice right back, are coming to a natural end but there is no need to consider the cost of replacing him with the strength at right full back as it is. Van der Sar's £2m fee looks like a practical joke at Fulham's expense now but taking into account the outlays on Peter Schmeichel's predecessors that it took to get it right you're looking at around £15-17m. A fee that might get you an Igor Akinfeev but he doesn't come with a rubber stamped guarantee. With Hargreaves' retirement surely inevitable by the time this season ends you could argue that's another £15m, and with the general bits and bobs – Evra's back up/eventual replacement (cough, Bale, cough), another truly creative alternative to Scholes or his replacement then all in all you're looking at something in the region of £100m, if we're so bloodthirsty for trophies that we need replacements ready to rock and roll.
It's spiffing when the figures recently released hinted that there was around £95m of cash there. It's less spiffing when you remember the Glazers will take that money out of the club and before you even consider the rising interest payments.
As we watch it all patiently, or impatiently, waiting for the next tabloid line or the next time Fergie will come out and say there's no value in the market, one thing we all forget is our own personal roles in the matter. I'm long past the place on where we as fans stand on the abandonment of club merchandise and the blanket ban on everything that will put money in the Glazers pockets – the stupid PR stunt from the Red Knights has left everyone disillusioned, me to the point where I can't fault fans for returning to support the club. There is a natural excitement over transfer speculation, in pre-season it's about all that gets our spirits up, aside from the relative banal experience of a fixture list being published or the true geek experience of awaiting the squad number changes. Of course there is, too. It's fantasy, it inspires hundreds of blogs.
The debt on the club is monumental so I can't help but feel a little guilty for even allowing myself to indulge in the speculation. Some think that a big signing will pay for itself; clearly not so, with the way the club is run. Yes, there is excitement, but I look at what we have, and that teenage ignorance quickly evaporates. There is no dream takeover on the horizon. The Glazers don't look like going anywhere. With season tickets going on general sale to fans, next years financial results are probably going to make even grimmer reading than they have done ever before. Do we want the club to survive on a competitive level for as long as possible or do we want to send it crashing down as soon as we can?
I'm for the former, if only in the vain hope that the Glazers will eventually go. Nevertheless, the thought of us splashing out the money I estimated – even though, with Fergie's nous, he would probably do it for quarter of that – doesn't exactly fill me with the excitement it should. I feel guilty because even speculating makes me part of the problem. There is no telling what the likes of Smalling, Cleverley et al will achieve, but they deserve our support more than pinning our hopes on a player that publicly states he doesn't even want to come to United or a player we clearly can't afford. What we have, as I blogged last time around, is a team that came within a dodgy refereeing decision or a one on one at Ewood Park from winning the League. A team eliminated from the Champions League on away goals. Glory so close with a constant list of injuries long enough to make even the Arsenal physios blush. Not so bad in the grand scheme of things, but somehow so bad to make the impatient supporters who don't understand the concept of 92 league teams ultimately competing for the same trophy as one that is something earned and not given demand some kind of symbolic yet masochistic extravagance from the club to satisfy their ill-informed desire. There will be fans reading this who will point back in time to an era when finance was required and in it came and we did well, fans who will read it to times when it was needed, it didn't come and we did well too. History though is just that, the game is ever changing and there's no point referring to the past because it has no connection to what will happen.
If you are a United fan reading this and take nothing else away from it, take this. Don't pray for a £30m signing now. If you must pray for a big signing, pray for one next year. Because that is when we will need it. It's not inconceivable that we could win the league next season playing Chelsea at home, or Blackburn at Ewood Park, the two venues and opponents we could directly refer to as scenes of our loss of the title last season, and that we could do it with the team we have.
Perhaps I'm being overly verbose, so consider these two scenarios; United sign Sneijder for say.. £34m, and he scores the goal that wins the league at home to Chelsea. Or, we don't sign anyone. And Hargreaves comes off the bench to score a free kick at Ewood Park, the second in a 3-0 win that wins the title. Neither situation is directly relative to the other in the grand scheme of things. But the feelings of each event probably inspired a completely different emotion inside of you, and if you're like me, the second one is clearly the one you want. Consider both events occurring and United don't win the league. The first feeling quickly evaporates while you still harbour the emotion of the Hargreaves moment.
That's the "£34m" question. To me, it's not even worth asking the question. Will my answer be the same in 12 months time, with investment sorely needed? To be honest, I don't know (even though I still feel I want the best for the club long term regardless of current owners or short term satisfaction over a transfer). Would yours?