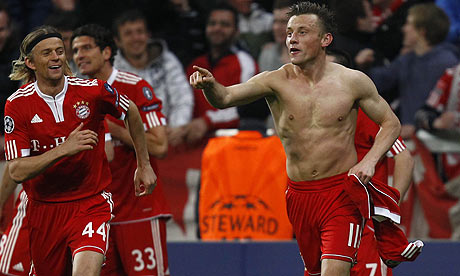 Sometimes you get so fed up after a defeat, you just prefer to leave things the way they are rather the dwell on the shambles that you witnessed. I should have probably vented my feelings on the performance a little earlier, rather than on the eve of our biggest Premier League game of the season, however I honestly feel that we will get a result at home on Wednesday night – although we will have to play a lot better to get anything out of the game. The performance was lackluster, flat and we were generally second best to Bayern all game. We operated far too deep with Van Bommel loving the acres of space he could gallop into. Both Neville and Evra were at fault for the goals and were generally poor all evening. Patrice Evra has been one of our best performers all season, however he did have an off night, which I know he will bounce back from next week.

I was bemused with the substitutions made by Fergie, not because I didn't agree with them (I'm not even entitled to talk to the man let alone give advise on substitutions!), but merely because it was very un-Ferguson like. United have always been known in the Ferguson era as an attractive attack minded team, that gamble to obtain a result. This is usually highlighted in the number of late goals scored by United (will do a review at the end of the season to compare goals this season), a trait that many have put down to 'luck' or 'bias refereeing'. As we all know, I doubt if you've be doing it for over eighteen years you cann't classify it as 'luck' and its quite obvious that if you're getting a result at Old Trafford you will do as much as you can to waste time, which results in the 'generous' amount of injury time at the end of a game. However, in Europe – Fergie was criticised from some Reds around five/six years ago, when he shifted from United's usual 4-4-2 to 4-3-3. It may seem laughable now, but there were many games where 'attack, attack, attack' rung around Old Trafford as United tried to adapt to what is now the default formation in European football – 4-3-3/4-5-1. Carlos Queiroz was usually blamed for the 'cautious' approach that United were shifting towards, however it is clear to see that the fine line between open attacking football and conceding a goal on the counter attack is quite a close one – so it is key that United shifted towards a more patient approach. Of course the opposition plays a major part in the way United line up, but it is fair to say that if United get past Bayern on Wednesday, every remaining game will field a 4-3-3 setup.
So back to the substitutions, I guess Fergie tried to push Bayern back a little with the introduction of Berbatov – but unfortunately it didn't work. Although, this for me wasn't a main cause for concern. All night the Bayern players adopted a high work rate, closing down United high up the pitch, which gave the impression that the midfield trio couldn't string two passes together. When United moved the ball forward quickly, although a little direct, Rooney tormented the back two with his driving runs. It is unfortunate that Rooney won't be available next week, although we have an extremely capable replacement in Dimitar Berbatov. Berbatov will offer a different approach to that of Rooney and will most probably be seen dropping far deeper, which will allow runners from midfield to push on or diagonal runs from the wide players. You've probably heard me say this before about forwards who start out on the wing and then come inside to attack and the most dangerous in Europe – and the movement of Dimitar Berbatov can create space for these players to gallop into.
Bayern will of course play a lot more cautiously than they did last week. I thought they ran their socks off and put in a great performance. A half fit Franck Ribery was exceptional and I expect him to be as much of a threat on Wednesday. Both he and Robben (if fit) will be their main outlets when counter attacking, but i'm hopeful that United press a lot higher up the pitch than last Tuesday. It was a massive disappointment as we didn't deserve to get anything out of the game, although were very unlucky with a cannon of a header from Vidic, which thundered off the crossbar. But truth be told, we were way below par, whilst Bayern played out of their skin. Can Bayern sustain the same amount of energy levels that they put in the first leg? Like we do, Bayern have an enormous match this weekend against Schalke – who are two points ahead of them in the table, so it will be interesting to see what type of team they field – I will make sure I document it in our forum. So to conclude, really disappointing performance – however it is only half time. I commented on Twitter that we lost 2-1 to Roma in 2007, before thrashing them 7-1 at Old Trafford. Although I don't expect a similar scoreline next week, I do think we will run our 2-0 winners.