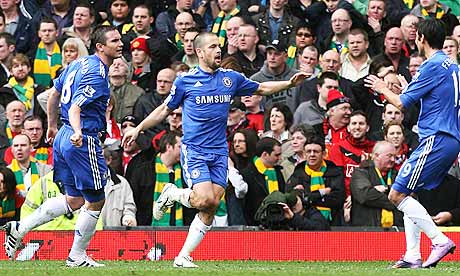 Didier Drogba came off the bench to score a goal despite clearly being offside as referee Mike Dean handed Chelsea a probable unassailable advantage in the title race. Dean, who is also a Liverpool fan, made several bad decisions – with increasing likelihood of deliberate intention – to do all in his power to halt Manchester United's attempt for a record League title push.

With a below par performance from the defending Champions it wasn't even as if the visitors needed the helping hand to get at least a point, but the assistance they did receive was so much in abundance that question marks should be raised – although they obviously won't – over the credibility of the impartiality of the officials.
The first half hour in particular saw the Old Trafford crowd witness a slow start from their heroes – Alex's early header was wide and Joe Cole scuffed an effort after Nemanja Vidic was nervous twice in a clearance. Chelsea got a deserved goal in the 20th minute – in-form winger Malouda was inexplicably allowed to drift into a dangerous space by Fletcher, and he played into Cole. The midfielder was able to get in front of Ferdinand and Evra and perform a cute flick into the opposite corner – a rare show of ability from the once highly rated player.
Much had been made in the build up of Dimitar Berbatov's importance to Uniteds chances – but it was referee Dean's intervention from thereon that sealed a crucial result. 6 minutes after the goal, the Red Devils attacked through Park who weaved a mazy dribble through the defence but he was fouled just inside the area. The incident drew immediate comparisons with the foul on Valencia in United's previous home game against Liverpool, in almost an exact position. Bottling on a decision to give a penalty would have been understandable had the referee given a free kick; his decision to not award anything hinted at a sinister undertone. Some may have seen Dean's decision to not give Chelsea a penalty four minutes later for a mistimed tackle by Neville on Anelka as a levelling out of poor officiating but two wrongs don't make a right, despite a probable admittance of fault by not awarding it.
United improved slightly towards the end of the half but their threat only embodied itself in another penalty appeal – Lampard was reckless on Berbatov, and although he won the ball, the "ball first" mentality was gone a long time ago when taking into consideration with a tackle from behind. Nonetheless, Dean and his official nearest the away end were in no mood to play by the rules.
The visitors almost caught United cold again early in the second period when Paulo Ferreira was allowed to dribble half the length of the pitch – only the veteran Portuguese full back's lack of conviction in the penalty let the hosts off. As the Champions began to take the initiative, Chelsea's tactical breaking up of the play began to feature prominently, to the extent that the 'Braziliguese' schemer Deco should have been sent off when he was booked and then escaped two bookable offences straight after.
After Berbatov missed two headed chances, first from a Giggs cross and then from one by Neville, United made changes, introducing Nani and Macheda for Park and Scholes. It was game on – enough impetus for Dean to make it game over. Chelsea had brought on Drogba for Anelka and it was his goal, 13 minutes from time, that sealed things. The striker was played in by Malouda but he was clearly at least 2 yards offside – so was another Chelsea player – and the linesman and Dean allowed him to take full advantage of that time and space. The Ivory Coast forward doesn't normally need such space so made no mistake to seal a gift wrapped chance when afforded it.
Hope was rekindled when the substitutes combined and Macheda bundled in Nani's cross to half the deficit, though that hope was quickly extinguished with the cold hard reality that Dean would never allow the fair result. Sir Alex Ferguson conceded after the game that the title was Chelsea's to throw away and was quick to voice his dismay at the most biased refereeing performance in modern day top level footballing history – though he stopped short of describing it in such candid terms – and United's below par display did little to raise the morale of an Old Trafford faithful who are praying for an unlikely comeback in the midweek European fixture.
Chelsea move to the top of the table and have gained a valuable advantage in what was the most enthralling title race in years – however it seems as if it will be the first ever to be decided by a referee. Years ago John Fashanu and Bruce Grobbelar were accused of match fixing for lesser "crimes" – if the FA has any integrity and wants people to believe in it's respect campaign, the very least it should do is confirm it's contempt with Dean and his team and sack them from their positions with immediate effect in the fear that they will further fix the competition.
The shambolic officiating does not compensate for and should not distract attention from Ferguson's team being very poor for at least most of the first half. The options at the disposal of the legendary manager were self explanatory as much as they were restricted so little fault can be laid at his door, but their lack of impetus from the players selected with the stakes so high were sorely disappointing. It is out of Ferguson's hands now whatever the case; it would be harsh to level that on his admittedly poor troops when faced with such a terrible refereeing display.
Ratings: van der Sar 6, Neville 6, Ferdinand 6, *Vidic 7, Evra 6, Valencia 5, Fletcher 5, Scholes 5 (Macheda 7), Giggs 6, Park 5 (Nani 6), Berbatov 5