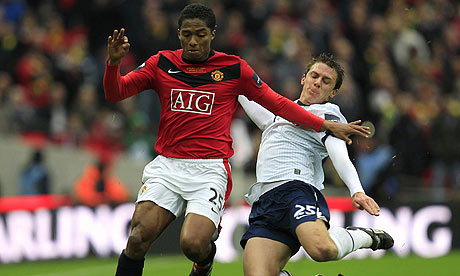 I think it is fair to say that Antonio Valencia has been a hit since signing from Wigan Athletic in the summer for a fee believe to be in the region of £16Million and £18Million. He has notched up six goals for us and an impressive 11 assists so far. I'm not even going to suggest that he was bought as a direct replacement for Ronaldo, as it is unfair to compare the two – however, his athleticism, crossing and positioning have helped United create more of a balance, whilst providing Wayne Rooney with a number of goal scoring chances. Looking back at the 1-0 defeat at Stamford Bridge it dawned on me how quiet and pushed back Ashley Cole was due to the attacking position that Valencia occupied for most of the game. With Cole injured, Yuri Zhirkov has stepped in of late to fill the void – could Zhirkov's attack minded approach play into the hands of our Ecuadorian winger?

Firstly, let me make this clear – Yuri Zhirkov is a good footballer and he can play a bit too:

Class goal from the Russian, however from watching him play in the national team, he looks much more comfortable as an attacking force. I guess he would be described as a wing back rather than a left fullback or winger. He is athletic and can up and down the pitch, although his natural game to bomb forward may allow Valencia to exploit the space occupied by Zhirkov. Take a look at the number of passes played by Valencia at Stamford Bridge last year:
Although we can't assess touches and average position occupied within the game, it is clear to see them majority of passes were done in the Chelsea half. As we had predicted, United lined up with a 4-3-3 formation, which allowed Valencia and Giggs to push on with cover from both Fletcher and Anderson. I don't think there is any question that we will lineup the same way as Chelsea look to their full backs for width. Out of all their midfielder players, the only one that offers natural width is the much improved Florent Malouda, so the reliance on the full backs to push on is pivotal. However, take a look at the passing stats of Ashley Cole in the same game:
Seven of those passes were 'throw ins', which occurred in the attacking half. If we compare his passes in the United game to that of the 3-0 victory over Tottenham Hotspur a couple of weeks before, you can see that his average position is far more advanced than against Valencia:
Against Spurs, he had a 100% pass completion rate, got an assist and was generally more of an attack threat than against United. As much of a little twerp Ashley Cole is, there is no doubting his quality as one of the best modern full backs in world football today. The modern day full back is becoming more and more important, especially as top European sides crowd the midfield more. Players like Maicon, Evra, Alves and Cole shows the evolution of the modern day full back. Of course Brazil have produced players like Cafu, Roberto Carlos, Nilton Santos and Carlos Alberto, who have bags of stamina and can run all day, however as mentioned top European teams now acknowledge the benefit of having a fullback that can both defend and attack. Zhirkov can most certainly attack, as highlighted in the comparison graphic with Ashley Cole below:
Although it actually looks like Zhirkov is a winger, he actually replaced the injured Cole in the 7-1 victory over Aston Villa last weekend. Cole on the other hand got on the ball more than Zhirkov and made just as many 'defensive' passes as 'attacking' ones. You may argue (and you'd be right) that the opposition and circumstance plays a part in a players performance, however Chelsea were 1-0 up within five minutes against Birmingham, whilst against Villa – Chelsea were drawing 1-1 right up to half time, but that didn't stop Zhirkov from bombing on. Think it might be a fluke? Check out his passes against Portsmouth and Blackburn Rovers:
So he has played a fair bit of football since the 4-2 defeat at home to Manchester City in February, with his attacking exploits clear for all to see. So will he change his style of play against Valencia at Old Trafford today? I'm sure he will be asked to operate deeper, but if he gets some space on the left hand side – be well aware he will take it. Valencia does his fair share of tracking back and is athletic enough to support Neville/Rafael/O'Shea/Brown at right back. However, with all eyes on Berbatov in the absence of Rooney, I would urge Valencia to get on the ball as much as possible to push Chelsea back and invite pressure. Of course we will have to be weary of the counter attack, which is why I think Fergie will opt for a three man midfield consisting of Carrick (who has a point to prove after Tuesday's poor showing) Fletcher and Giggs. Nani can hopefully continue his good run of form on the left hand side, with Berbatov operating as a lone frontman. The easy scoreline to suggest is 1-1, however I'm going to go with my heart and say 2-1 United. A brace from Berbatov, both created of course by Antonio Valencia.