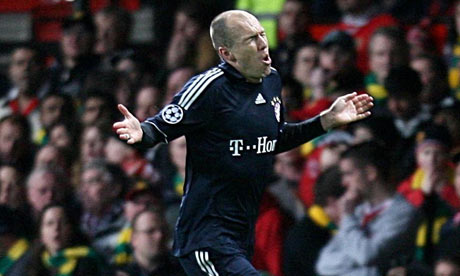 Trophy aspirations for the Premier League Champions Manchester United are in tatters after their limp exit on away goals in the Champions League Quarter Finals against Bayern Munich. Arjen Robben scored the Germans second goal – and more importantly, the second away goal – in a second half that saw the team that have made consecutive finals comfortably eliminated.

The news that Wayne Rooney was not only fit to take his place in the squad but would start gave a massive boost to the Old Trafford crowd and led to a wonderful atmosphere in the opening period – you wouldn't put it past Sir Alex Ferguson to have delayed the news for that very reason given the downcast feel of the last 8 days, ultimately though, that decision would backfire on the legendary manager. Old Trafford didn't have to wait too long to reach fever pitch – with the first chance of the game in the third minute, Darron Gibson fired home a 20 yard shot that was clearly not anticipated by the Bayern defence. Rafael had done well to find Rooney in the build up and it was the returning forward who set up the goal.
Rooney's importance to the cause has been underlined by his mammoth goal haul this season but he showed just how instrumental he is to the heartbeat of this team by providing the major breakthrough for the second goal in only the 7th minute – his brilliant cross field pass found Valencia, and the winger delayed his ball into the area until the most opportune time. That time was when Nani ghosted near post and Valencia's clever ball in was extravagantly flicked in the number 17.
Michael Carrick shot wide from 20 yards and Rooney headed over from a corner before twisting his ankle in the 20th minute to send the home crowd into silent fear – fortunately, he recovered after a few minutes limping. Two more long range shots from Nani and Gibson followed before Rafael almost capped a brilliant individual first half, first dispossessing Ribery with ease, then receiving the ball from Gibson as he broke. The full back raced the length of the Bayern half but in the crucial moment got a rush of blood to the head. He shot across goal with Rooney waiting – United, though, were not made to wait too long for a third.
Daniel van Buyten had a sly dig at Rooney's ankle and van Bommel was slightly fortunate to stay on the field after a series of fouls in quick succession, while Olic reminding United of his own threat when he latched onto a Muller flick only to see van der Sar magnificently block out the chance, but when Rafael's throw caught the visitors on the back foot Valencia humiliated van Buyten and pulled the ball across the area. Nani was there to meet it again on the edge of the area with a classy, composed finish into the roof of the net.
A thrilling first half did end on a negative note when Olic was the beneficiary of another Muller flick and all too easily shrugged off Michael Carrick and then shot across goal into the far corner. It could have got worse in first half stoppage time – Fletcher was impeded in almost an identical situation to which he had seconds previously conceded a foul, Robben got the ball and from 25 yards forced his compatriot van der Sar into what seemed like it would be a crucial athletic save.
Nervous anticipation gave way to the same defeatist realisation that dawned on the home supporters after Drogba's goal on Saturday, when Rafael was dismissed for hauling back Ribery in the 50th minute. It was slightly harsh on Rafael considering his first yellow was probably undeserved, and Ribery flung an elbow in the youngsters face in the tussle which lead to the second – Sir Alex later lamented that he felt the Bayern players had got the youngster sent off and it would be difficult to argue. Badstuber was booked soon after for a wild lunge on Valencia, and Nani almost scored from the resultant free kick – keeper Butt punched only as far as the young Portuguese and his flick and volley was just tipped over. The corner to follow saw the end of Wayne Rooney, after consistent targetting from the defenders, he was unable to continue and John O'Shea replaced him. O'Shea moved to right back in Rafael's absence and with no natural frontman on the pitch – and no rush from Ferguson to risk that second substitution with United edging the tie – from then on it became a defensive exercise which the home team ultimately failed.
Ribery had forced van der Sar into a punched save from a volley while Nani had raced faster than what his body seemed able to handle to almost complete a hat-trick. Gomez glanced the cross bar from a Lahm cross and Schweinstiger tested United's dutch stopper from 20 yards. Nani and Valencia combined on a break to play in Gibson, but the midfielder's vision was crucially blocked by the referee and his shot was tame. Despite that rare moment of hope it was apparent that it was merely a brief respite from the inevitable.
Bayern broke when Carrick – again, embarrassingly poor in a big game – shockingly surrendered possession. Robben's left hand raid and striker was deflected wide by Vidic, and Bayern forced another corner afterwards. Ribery's set piece was volleyed in with clinical, brilliant accuracy from 20 yards by Robben. That the goal came with quarter of a hour remaining and was replied to with what was tantamount to a white flag said all that was needed about United's response. Berbatov and Giggs came on for Carrick and Gibson ad while the Welshman at least got involved, the Bulgarian's contributions amounted to conceding a throw in and deciding not to chase a ball in the 90th minute.
Ribery and Nani both fired shots wide in the 89th minute, the game petered out to the visitors preference – Sir Alex may reflect on trademark German gamesmanship (and did, to defamational reference by Phil McCulty of the BBC) that turned the tie against his side and he may have cause to feel this compounds his woes after the miscarraige of justice at the weekend, but the truth is tonight, even taking into account the ten men for 40 minutes, United's second half display lacked vigour and passion and worst of all included a level of complacency when they most needed concentration.
The post match eulogies will be written in mass; even though the tie was so finely balanced after United's poor first leg show and obvious restrictions tonight, it is clear that 3 years on almost to the day from the Roma game in which Michael Carrick was superb; he has failed to do so in almost every crucial game since. Likewise Dimitar Berbatov – he admittedly was given only quarter of an hour but was so anonymous that United may as well have had 9 men, and the most damning verdict of all against the "languid" striker being that of the home crowd who were hoping for the presence of Federico Macheda instead. Even if he only had presence; that was more than what Berbatov offered.
Ratings : van der Sar 6, Rafael 8, Ferdinand 6, Vidic 6, Evra 6, Valencia 7, Gibson 7 (Giggs), Carrick 4 (Berbatov), Fletcher 5, *Nani 8, Rooney 7 (O'Shea 5)