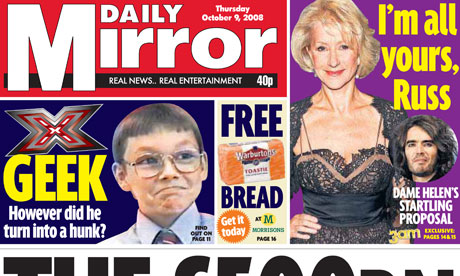 Well done, media, you got what you wanted..
After months of doom-mongering and encouraging with the ridiculous leading question "What if Wayne Rooney gets injured", the media finally got their wish last night in Germany when the 34 goal striker pulled up with what looked like either a nasty ankle injury or even the dreaded m word, and left the stadium on crutches.
It's been a strange few months; seeing United generally score a bucketload of goals with Rooney getting more than just his fair share. The praise for Rooney's escalation in form has been scarce and begrudging when it surfaced; instead of the kind of accolades reserved for the likes of Arsenal or even Chelsea, United have been labelled a one man team, Rooney himself has seen his undeniable rise to prominence scoffed at by a Sky-generation led campaign that will tell you he's not fit to lace Messi's boots. Messi, in case you didn't already know, is being touted in some corners of the media as the best ever player after two consecutive hat-tricks in La Liga. That reaction is the norm; of course when a United player does well it should be shot down in flames and laughed at by the media. Hell, we're living in an age when a British broadcaster is actually enthusiastically cheering the cause of the foreign opponents of United in Europe.
The reaction to his form which is certainly far from the norm (or should be, given how it goes against the grain) is the incessant media chatter about "what would happen if Rooney gets injured?"
To single out one player, presumably only because of the club he plays for, for this kind of talk is almost prompting the event. Every tackle is met with a national wince; because despite him being apparently massively over-rated, you see, realistically the country know he's the only chance of coming close to winning the World Cup this year. Which makes it even more strange to read the constant talk of a possible injury.
Why would people do it? Does it make people feel better, comfort people even, to now read about things that may only potentially harm United's chances? Why does it not happen for Arsenal? Chelsea? Liverpool? Why are we not subjected to column inches regarding the impact a mythical serious injury to Fabregas or Torres could affect their clubs chances for glory? Only one thing comes from such talk; it's the only real purpose of initiating it. To put it into the conciousness of players and teams.  This is more of a moral question than a sporting one. To actively and openly publish unfounded concerns about a potential injury to one specific person is bizarre. It's almost as if the authors have given up on private black magic in the preference of a public hypnosis.
Strangely enough elsewhere in the country Arsene Wenger publicly talks up about teams roughing his players up and it's having something of the desired effect. The way it goes is this; if a player goes in for a tackle where they are guilty of putting their foot near the ball then Wenger singles out that player after the game for a public haranguing. Having seen Martin Taylor's reputation ruined by Wenger; Ryan Shawcross was next, then Danny Fox of Burnley had the audacity to perform a sliding tackle on Walcott and was roundly castigated (perfect tackle though it was) and Wenger subsequently indicated Walcott's poor development was apparently down to a similar tackle 2 years ago. Then, of course, came his ridiculous swear word rant at the weekend. Still, such comments are having the desired effect. West Ham aren't really in any kind of form where they would be expected to get a point but had they dared to apply themselves they could have arguably left the Emirates with all three – however a tackle was nowhere to be seen. This will be a feature of Arsenal's run in and will result in them being gifted more goals and points. Players now think "if I go in for this tackle as full blooded as an Arsenal player I'll either be stretchered off and be forgotten or have my reputation ruined.. is it worth it? No". Case in point, has Campbell's reckless tackle on the Hull player Zayatte (who had to be stretchered off) even been properly reported? It was carefully omitted from the match report on Arsenal's official website. Zayatte, if you were wondering, is expected to miss the majority of Hull's run in. Campbell, if you were wondering, having already been booked, stayed on. Whether he should have been booked or sent off for the tackle is open for debate – the reaction had the tackle been the other way around clearly isn't.
That goes to show the two extremes of the media campaign – on the one hand you have them not wanting a team to be tackled and on the other they have incredibly singled out a player who they constantly imagine could get injured.
So, back to Rooney and United. The challenge itself was innocuous – the fact that we're talking more about the repercussions of the injury rather than if the goal should have stood considering this happened in the build up tells you that even United fans realise it would have been harsh to call it even a foul – but there was still a sinking feeling of inevitability about it if you were watching it as a United fan.
So, congratulations, media. You've got what you wanted, a nightmare scenario. Our league position despite the crippling defensive injuries has apparently not been worthy of an accolade; if Rooney misses the lion's share of the rest of the season as looks likely, then Dimitar Berbatov suddenly has a very real opportunity to live up to his pricetag. One thing's for sure; if United, sans Rooney, can somehow keep in the hunt, then the team really will deserve the respect of being one of the best ever. The more likely situation if we do pull through will be that another player will be identified as our "one man". Who will then most likely be subject of injury concern. Before he gets injured.
I use this page to complain about the media on a far too regular basis for my liking, generally regarding their ridiculous Southern bias, but campaigns such as one to essentially injury a particular player should be against the grain whoever you support. Waking up to a nation waiting tentatively for scan results leaves a very sickening taste in the mouth.