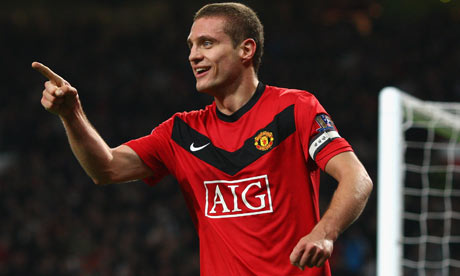 Wherever Nemanja Vidic ends up next season, there is no doubt we have been in the company of one of the best defenders in Europe over the past five years. Strong, commanding and brave – Vidic has become a fans favourite for his no nonsense approach and quality that he has shown alongside Rio Ferdinand. Both Ferdinand and Vidic have been dogged by injuries all season, but against Liverpool today they played in their fourth successive game this season – something Ferguson hasn't been able to do all season. The press tried to bill Nemanja Vidic as a blundering fool when faced with the task of marking Fernando Torres – however he showed his class with a solid performance that demonstrated his importance to the side in the 2-1 victory over Liverpool.

I'm sure someone will mention the fact that Fernando Torres actually scored within five minutes, however I would argue the fact that Torres is a world class striker and if you give him an inch of space he can and will punish you as he did this afternoon. Vidic looked a tad nervy around Torres at first, however after the first ten minutes he found his composure and put those ghosts of last year to rest. He got close to Torres when he needed to stop the striker from turning and stood off when he needed to.
Nemanja again operated on a the left hand side of the centre half pairing, with his pass completion rate higher than it was at Anfield earlier in the season. You would of course expect our defenders to get more of the ball against a counter attacking side like Liverpool, however his 93% pass completion rate highlights his composure and confidence when faced with a pacey forward like Torres. In the first fifteen minutes Torres was operating on the right hand side, which is where Vidic was operating:
As I said earlier, I think Vidic was obviously weary playing against a top striker that has just come into a run of form after injury, which is why he was hesitant at times when Torres was dribbling at him. However, the rest of the half showed Torres' passing being intercepted by Vidic – which saw him shift over to the left hand side (red dots highlight failed passes):
I think once United found their feet and started moving the ball quicker, Liverpool couldn't keep up. United started to dominate play, which obviously meat the service to Torres and Gerrard became limited. Steven Gerrard played much further forward in the first half, before being forced into making more tackles second half, which was a result of United's dominance:
Gerrard first half tackles:

Gerrard second half tackles:

Steven Gerrard's withdrawl to a more deeper role gave Ferdinand and Vidic more space to operate in and push forward as a libero, something Rio Ferdinand does naturally very well. Liverpool's counter attacking mentality meant that they dropped deeper as the game went on compared to the first fifteen minutes, when they actually attacked United. This is reflected in Nemanja Vidic passes in the first twenty minutes compared to the rest of the game. Vidic misplaced three passes all games, two of which happened int he first seventeen minutes:
Vidic passes first twenty minutes:

Vidic passes after twenty minutes:

United did start out with Michael Carrick playing a holding role and obviously to have a responsibility in monitoring Steven Gerrard, something in which he failed to do in the build up to the Liverpool goal. After the goal, Ferguson dropped Fletcher a little deeper to operate alongside Michael Carrick with Ji-Sung Park higher up the pitch. This was brilliantly pointed out by Zonal Marking (a website I all recommend you read daily) – which gave United a better shape, but left Rooney and Park isolated up the pitch. We all know the work rate and stamina of Darren Fletcher and you all know the praise we have for him on here, so his ability to pick up the ball deep and drive forward – whilst also getting back behind the ball after being high up the field highlights how pivotal he is when playing against a counter attacking side.
In the second half Park put in a great performance, having been excellent against Aston Villa and AC Milan recently. However, the first half paints a different picture as the Korean was caught in possession too many times, whilst being sloppy with the passes that he did make. There was no tactical shift as he operated in the same space in the second half, he merely raised his game to the levels that we saw against Milan recently, resulting in him getting on the ball more and producing a better pass completion rate:
Ji Sung Park first half passes:

Ji Sung Park second half passes:

I felt that in the first half the game was passing Park by as he couldn't get hold of the football. Credit to him in the second half as he put in a fine performance resulting in a vital goal to give us the victory. Last night I sent out a 'tweet' that asked whether United should line up with Valencia or Nani on the right hand side – Fergie went for both of them with Valencia favoured on the right. Nani has been excellent on the right hand side of midfield and has put in his better performances there, rather than on the left hand side. Against the attack minded Glenn Johnson, you would be forgiven to be a slightly concerned. However, Nani at times was class against Johnson, cutting back on his right and allowing Evra to overlap, whilst also inviting challenges that resulted in a foul. Nani also didn't ignore his defensive duties by working up and down the left hand side as a outlet to pass to, whilst also putting in a number of tackles (6:2 compared to Valencia). Compare the number of passes made by Valencia and Nani over the course of the ninety minutes:
Nani's passes:

Valencia's passes:

Valencia was much further forward, as these stats suggest, which resulted in Insua being pushed back and limited to a defensive outlet. Johnson is a far more accomplished attacking full back, which is why Nani had to operate a little deeper. Having said that both wingers put in good performances today, with Valencia getting the penalty in the first half after a driving run from the right hand side into the box. Below are the conflicting passes made by both Liverpool fullbacks:
Insua's passes show him being pushed back:

Johnson completed more passes and was more venturous on the right hand side:

So to conclude, United put in a very solid performance against a counter attacking, cautious Liverpool side. Antonio Valencia continues to impress as attacking force on the right hand side, whilst Darren Fletcher continues to go from strength to strength in United's midfield. Nemanja Vidic may leave United in the summer after speculation that his wife is unhappy and in the wake of signing Chris Smalling from Fulham. He won the majority of headers, looked assured in his passing and as the game went on kept Fernando Torres quiet.