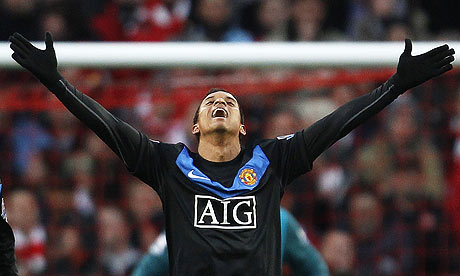 Fair play to Nani, who was rewarded today with a four year deal after putting in some superb performances since returning to the starting lineup in January. I honestly thought, as i'm sure most of you did, that Nani was on his way in the transfer window. However, his performances against Arsenal and Liverpool were top class and the Portuguese winger was today rewarded with a four year contract, keeping him at the club until June 2014.

Sir Alex Ferguson was delighted that Nani committed to the club, describing him as an 'Emerging Talent':
Nani is an emerging talent within the team and has developed tremendously since joining the club. We are delighted he has signed a new contract and I am sure he will have a long and successful future here at Manchester United.
Nani was equally pleased to have signed his new deal, stating that it is a 'dream come true' to have signed for Manchester United:
I am delighted to have signed a new contract. It has been like a dream come true to play for Manchester United. The coaching staff have taught me so much about the game and I am playing alongside some of the best players in the world. I'm looking forward to winning many more trophies with this team.
Although Nani's goal return hasn't been fantastic this season (1 goal in 16 Premier League games), his creative streak as been impressive, with ten assists so far this season in all competitions. His ease at running past Gael Clichy against Arsenal was visible for all to see, a far cry from a player who was put in below par performances against Blackburn Rovers and CSKA Moscow a mere six months ago.
Looking at that game against Blackburn and their East Lancs pals Burnley, you can see the immense difference in his crossing from wide areas. Against Rovers, Nani didn't convert one successful cross, whilst against Burnley he had a field day!
The next weekend, Nani cross a wonderful ball for Rooney to score one of his four goals against Hull City. Having said that, after looking at his cross ratio, he could work a little more on finding a Red shirt – but he has a great delivery so, I'm sure as he matures and gets even more experience he will get a more successful cross ratio.