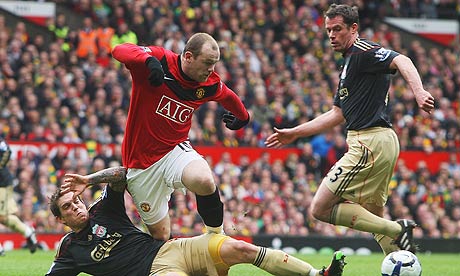 Manchester United manager Sir Alex Ferguson believes that Wayne Rooney will be fit to play against Bolton Wanderers tomorrow evening after concerns grew following the striker 'limping' after the 2-1 victory over Liverpool last weekend. Wayne Rooney has been in excellent form this season, scoring 33 goals so far in this campaign. There was a concern that Sir Alex Ferguson might rest Wayne Rooney with Bayern Munich next up on Tuesday night.

Sir Alex Ferguson dismissed any fears that Rooney may have to miss the match through injury:
"He's OK, there's no problem. He had some bad bruising for a couple of weeks but he's played [since then] and there's no problems with the knee."
Fergie's opposite number, Owen Coyle, was full of praise for our number ten, stating that he is one of the best three players in the world:
"In Wayne Rooney they have someone who is in inspirational form. With Lionel Messi and Cristiano Ronaldo, he is one of the top three players in the world. We know that we are going to have to be at our very best, but if we are, then it's a game we can take points from. We are six unbeaten at the Reebok. I know that my group of players will give everything."
Fergie obviously isn't planning on a total football style approach from Bolton, stating that they still operate the same way now that Coyle has taken over:
"Now Owen's gone to Bolton, there's not much material difference in the way that Bolton play. They've still got the two big lads up front, Johan Elmander and Kevin Davies, they still have long throw-ins, free kicks and corner kicks and we're used to that. "
Fergie also knows the battle that his side face tomorrow:
Going to Bolton is a battle – it's always been that way. Losing points at this time of year can be damaging. I think there will be some points dropped by the three teams between now and the end of the season, not a lot, but some. We just have to make sure we don't drop as many as Arsenal and Chelsea.
Bolton welcome back Gary Cahill after a two month layoff. He played 90 minutes for the reserves on Monday night and is expected to make an appearance tomorrow. Ryan Giggs is also in contention for a starting position, having recovered from a broken arm he sustained against Aston Villa in February.
This will be United's 117th game against Bolton Wanders (56 away to Bolton). If United win tomorrow evening it will be the 18th win at Bolton (current record P56 W17 D14 L25) 51st overall. The last six games at Bolton are listed below:
2008/09 – Bolton Wanderers 0-1 Manchester United
2007/08 – Bolton Wanderers 1-0 Manchester United
2006/07 – Bolton Wanderers 0-4 Manchester United
2005/06 – Bolton Wanderers 1-2 Manchester United
2004/05 – Bolton Wanderers 2-2 Manchester United
2003/04 – Bolton Wanderers 1-2 Manchester United