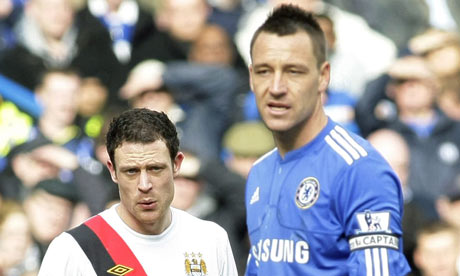 Back in December I got some stick for defending Sir Alex Ferguson for fielding a makeshift three man defense against Fulham at Craven Cottage. Some readers seemed to think that I was a 3-5-2 advocate, when in fact I do not feel it is effective in top level football anymore. Forwards are withdrawn to the flanks and cut inside to attack, so there is little need for a three center halves, with one effectively spare – but that is for another blog/discussion! My defense for Ferguson was based on the fact that United were suffering from a defensive injury nightmare with Van Der Sar, Vidic, Ferdinand, Brown, Evans, O'shea, Neville, Rafael and Fabio all unavailable for selection. Could it be that Chelsea are now experiencing similar problems?

Lets not beat around the bush, Chelsea would have to lose Terry, Carvalho, Alex and Ivanovic for a direct comparison but with Cech and Ashley Cole missing, the league leaders have been dealt a massive blow in their attempt for a fourth league title win. Florent Malouda has improved since his 2007 transfer from Lyon, however I doubt any Chelsea fan wants to see him at left back for the remainder of the season. Petr Cech, one of Europe's top keepers, is now sidelined whilst the comical Hilario takes his place in between the posts. Tevez's weak finish on Saturday demonstrated the fact that Hilario isn't actually a Premier League keeper. Chelsea were humbled at home on the counter attack by Manchester City, whilst losing both Belletti (another defender unavailable) and Michael Ballack to red cards. So as Vidic returns to the United backline, are Chelsea's defensive problems an issue OR have they the squad to cope with it?
I'm sure Chelsea fans will make me aware of the fact that Rio Ferdinand is still injured whilst John O'shea probably won't play again this season, however it is a far cry from fielding a deep lying playmaker and a competitive midfielder in defense. We are now entering the business end of the season with only a point separating United and Chelsea, whilst Arsenal are becoming a serious contender considering their run in. Chelsea have to come to Old Trafford in April and for the second last game of the season will travel to Anfield. So, it really is too close to call at the moment.
Ok so lets get to the impact that these injuries could have on the side. Cech is reportedly out for a month, something United fans know all too well about. Van Der Sar broke his hand in a pre-season friendly with Bayern Munich and missed the first two months of the season. Having a world class keeper behind your back four is vital to maintain that consistency throughout the season, so in our 28 Premier League games so far this season – Edwin Van Der Sar has played in 11 of those. Compare that to 26 appearances from Cech in 28 games. It makes a monumental difference when you do not have a consistent backline (including keeper to choose from), so it is great credit that United are only a point behind Chelsea with ten games left to play.
I realise Bosingwa is a long term injury concern – but Chelsea's first choice defense this season has been (from right to left) Ivanovic/Carvalho/Terry/Cole – have played 22, 21, 28 and 24 Premier League appearances respectively. Add in Cech and you've got a pretty consistent backline, wouldn't you agree? Now lets compare United's first choice defense from last season. Van Der Sar, O'Shea, Ferdinand, Vidic, Evra – who have played 11, 12, 6, 14, 28. So good old captain fantastic Patrice Evra playing in ever Premier League game so far this season – but Ferdinand's appearances stand out like a sore thumb – or a sore calf strain if you're Rio. A half fit Ferdinand and an out of sorts Vidic last played together in the 2-0 defeat at Anfield back in October – the same center half pairing that conceded a mere 12 goals in 27 games (prior to the 4-1 defeat at home to Liverpool). So it is clear that the absence and subsequent lower appearances have resulted in United fielding an inconsistent lineup, which is an enormous benefit for the opposition.
So are Chelsea about to experience the problems that United have faced over the course of the season? Every team gets injuries – Arsenal have been without Robin Van Persie for half a season whilst Chelsea were without Cech for a considerable amount of the 2006/07 season – but I doubt anyone could have prepared for so many players in the same position to be out at the same time. Chelsea will be without Cole and Cech for some time (Cech to return at start of April apparently), with Malouda and Hilario deputising. So was the 4-2 defeat to Manchester City a blip for Chelsea? Was it lost in the moment to the media circus that surrounds the John Terry/Wayne Bridge fiasco? Or has Ancelotti got a defensive headache? Shame Maldini turned the chance down to join him at the start of the season – he might have got a game the weekend.