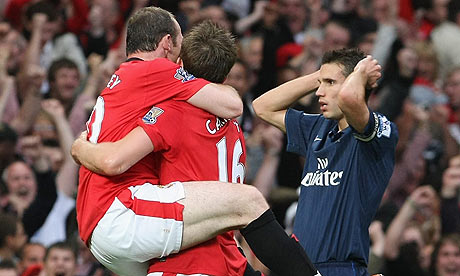 After we brushed aside a rather naive looking Arsenal in the 3-1 victory in January, I honestly thought there would be no way back for Arsenal. Combine that with a 2-0 defeat at the hands of league leaders Chelsea the following week, I smugly presumed that my prediction from the week before was highly accurate. Fast forward a month and Arsenal are two points behind United and three points behind Chelsea, whilst it appears that the Gunners have an easier run in than both United and Chelsea. So I lay it down to you, are Arsenal serious contenders for the title? Or will they fall at the wayside as they have done in the last few seasons?

Firstly, we at Stretford-end.com wish Aaron Ramsey a speedy recovery from his horrific leg break that he sustained at Stoke City the weekend. No fan wants to see a young starlet suffer such an injury and we hope that he is back playing his football next season. He does look a great talent and Arsenal will obviously suffer without his craft and passing range.
People have also suggested that there is similarity with the injury to Eduardo against Birmingham with the injury sustained by Ramsey, the only difference is that Arsenal managed to fight back and win the match 3-1 – where as they were left shell shocked at St Andrew's with William Gallas summing up the Gunners feelings that day. I watched the second half on Saturday and Arsenal were clearly distraught for a good ten minutes after the injury, but went onto win the match through a Fabregas penalty and a late Vermaelen strike. So two years on from Eduardo's horrendous injury, can this Arsenal side now recover from such a set back?
Arsenal have played both Chelsea and United home and away – losing all four games. However, in that time Arsenal have beaten Liverpool at Anfield (United lost 2-0), beaten Fulham at Craven Cottage (United lost 3-0), beaten Aston Villa at the Emirates (United lost 3-0), beaten Everton at Goodison (United lost 3-1) and drew with Burnley at Turf Moor (United lost 1-0). So in the six points that United gain over Arsenal, they have collected thirteen where we have lost. Of course they lost elsewhere, but looking at their run in – you can see them going on a run of wins, which means that our games against Liverpool, Chelsea and City are pivotal. Arsenal's toughest game will be away to Spurs, however they have a great record there over the last couple of seasons. So where do you see them dropping points?
At the start of the season, although we lost Ronaldo to Real Madrid, I still thought that we would be stronger than Arsenal and have proved that over the two games we have played against them. They will of course argue that they deserved something out of the first game, whilst we will also say that there was no way we should have lost against Chelsea at Stamford Bridge a few months later. There is no doubt that this season has been an extraordinary one with no one capitalising on the mistakes of the other. Having said that, I do believe that United will be going into the final hurdle confidently. Regardless of the fact that Nemanja Vidic could well be off in the summer, the availability of the Serbian is a massive boost to Sir Alex Ferguson, who was forced into fielding Fletcher and Carrick as make shift centre halves on multiple occasions earlier in the season. Nani is surprising everyone at Old Trafford with his recent performances, even though slightly tainted by his sending off against Villa earlier in February. United have the experience and quality to win a record fourth league Championship, however there is no doubting now that Arsenal are a major contender to that target – even if we have beaten them home and away this season.