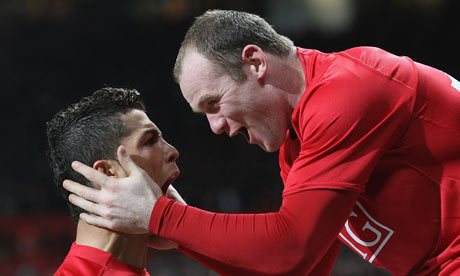 People used to label Cristiano Ronaldo a genius, a phenomenon and our star player – however, I wonder what superlatives are left to throw Wayne Rooney's way, considering our number ten has already scored more Premier League goals than our old number seven last season.  Rooney has notched up 21 goals, so far, this season where as Ronaldo scored eighteen goals in 32 appearances.  It could even be fair to say that Rooney could reach the feat set by Ronaldo in the 2007/08 season.

So far Wayne Rooney has found the net against Arsenal twice, home and away, against Tottenham at White Hart Lane and a fantastic four against Hull City a couple of weekends ago. He even went on a bit of a lean spell, not scoring for a whole month after the 2-0 victory over Blackburn Rovers until netting a brace against Portsmouth at the end of November – but to be fair he did only play in two Premier League games (against Chelsea and Everton).
Rooney has been the furthest man forward this season, which is one of the reason contributing to his impressive return compared to previous seasons. Ronaldo was and still is one of the most talented footballers i've ever seen, however he wouldn't have been able to achieve all he did without the sacrifice put in by Wayne Rooney. Time and time again in big matches Rooney could be found out on the left hand side – either to nullify the attacking threat of the full back – like Maicon or Sagna – whilst Cristiano would be the spearhead of the attack. With Ronaldo scoring goals in Madrid, Rooney has demonstrated the reasons as to why United fans see him as our talisman. Has Rooney changed his approach to the way he plays? No, he still works hard for the team – winning back possession of the football. He still has the ability to score amazing goals, whilst also notch up a number of 'right place, right time' goals – something you can't necessarily teach.
So can Wayne Rooney surpass the goals tally of Ronaldo in the past two season? He only has three more to go (all competitions), so I think it is fair to say that this should be achievable. Reaching 42 goals though? That is something that i'm not too sure about – not because of the quality of Rooney, but because it was such a monumental achievement that I didn't ever think i'd see a return like that again. By my calculations – we would have twenty one games left if we make it to the Bernabeu in May, which means that Rooney would have to notch up eighteen goals. That's a strike rate of 0.85 goals per game. Considering his current strike rate of 0.74 goals per game (23 goals in 31 appearances) – it is achievable. United looked awesome in the game against Arsenal last week, with Rooney – in my opinion – starring and leading the line so well it gave Gallas and Vermaelen nightmares.
Whatever happens this season, Wayne Rooney has performed exceptionally, scoring vital goals in big games in all competitions. AC Milan await in the next round of the Champions League and I can't see why he can't continue his scoring run.