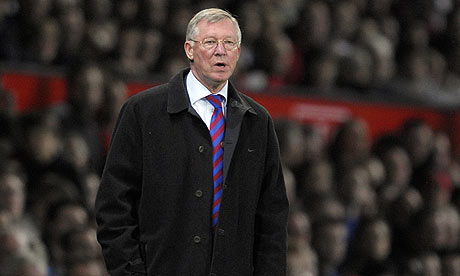 In the wake of a 3-0 hammering away to a good, but unfancied, Fulham side – there is always going to be scapegoat, excuses and ridiculous claims by fickle fans. Yesterday was a bad day for United, as was the 1-0 defeat to Chelsea and as was the recent 1-0 defeat to Aston Villa at home. However, in that time Ferguson's tactics have been blamed, the performances of certain players have been questioned and our quest for a fourth successful title seem to be slipping away. I'm here to tell you know that the position we find ourselves in now isn't Ferguson's fault – not in the slightest.

Last season in the FA Cup at Craven Cottage we beat the Cottagers 4-0 with goals from Tevez (2), Rooney and Park. Looking at our defensive line up that day we had – O'Shea, Ferdinand, Vidic and Evra. Compare that to yesterday – De Laet, Fletcher, Carrick with Evra operating a little further forward. I know its old news, but United had Vidic, Ferdinand, Neville, O'Shea, Evans, Brown and Rafael on the injury list. How on earth can a team be expected to compete at the top level with this type of injury list? Honestly. I outlined some of my earlier thoughts in our forum discussion this morning.
Imagine a Chelsea lineup as follows – Carl Magnay (Youth player), Frank Lampard, Michael Essien, Ashley Cole. Yeah I agree – laughable. How about another one? Arsenal's backline – Rhema Obed (Youth team), Cesc Fabregas, Alex Song, Gael Clichy. Even funnier in my opinion. Lets go a little continental and try every ones favourite dictator inspired club Real Madrid. Daniel Garcia Ortega (does it matter? I could have made the name up for all you know), Xabi Alonso, Lassana Diarra, Marcelo. Again, I hope, point proven. No club could compete at the levels they wish to with this type of injury crisis. Not to mention missing the presence, consistency and ability of those defenders we've mentioned, but we're removing the guile and craft of Carrick from the middle of the park as well the as the industrious running and hounding of Fletcher. Was the performance poor yesterday? Sure it was – but we need to look at the root rather than pointing fat fingers at the greatest manager this world has even seen.
I've never been a fickle football fan. I always try and give an honest opinion and view on the game. If I feel we've been played off the park, I will say so – as our match reports for the Barcelona and Liverpool games suggested. However, if I feel there has been an injustice – as there was against Porto back in 2004 or more recently against Chelsea at Stamford Bridge – I like to think my opinions are of a consistent nature and most of all, honest. Sir Alex Ferguson is the greatest manager we've ever seen. We all know that. But its what he does after these problems that always astounds me. He motivates his side, makes them feel they are better than what they are and I honestly believe United will bounce back over the next few weeks. Having said that we need to get some consistency in defense before we can start to look strong at the back again.
Forget the nonsense of the 'fear factor' and the 'Ronaldo factor'. With the first point – United can beat anyone on their day, as can many top teams, but we haven't had a good run so far this season, which coincides with our injury concerns. Ferdinand is by far the most worrying. Looking out of sorts for England against Holland, his casual scoop, which led to Bellamy's goal, was an embarrassing throwback to his early days where his biggest criticism was his concentration. Personally, I don't think Ferdinand is going backwards or in decline in terms of reading a game. I think that injuries have taken its toll on his large frame and a rest is exactly what he needs. His last game was in the 2-0 defeat to Liverpool at Anfield back in October where he was clearly lacking fitness and being out muscled and paced by an equally unfit Fernando Torres (if you believe the reports).
The Ronaldo factor is a tricky one because expectations need to be managed. Lets look at it from the top. We've lost 68 goals in two season from one player and we've lost the trickery/pace/inspiration of one of the worlds best players. However, its frustrating to hear whenever United lose that its "because of Ronaldo's departure". Nonsense and pretty easy to speculate like that. Take the semi final against Arsenal last season in the European Cup. What I choose to remember about Ronaldo is the beautiful counter attacking goal that he scored at the Emirates. It was quite simply magnificent and my favourite memory from last season. Here we were playing the so called 'most attractive team' on their own turf at their own game! Before the match many Gooners were confident of a victory – however in truth, we hammered them – and it could have been more. But look back a week before in the 1-0 victory over Arsenal – I thought Ronaldo was awful. There were groans around the Stretford End when we saw the familiar figure of Ronaldo smacking the turf in despair having gone to ground a little too easy and got nowt from the ref. Of course there were moment of brilliance (I think he hit the bar from miles out) – but you'd expect that from such a talent, however it is narrow minded to assume that Ronaldo would have made any difference in the 3-0 defeat yesterday.
So to conclude – its embarssing to claim that Ferguson needs to address his tactics when we've been hit by so many injuries. Fickle fans need to look at themselves and try to manage their own expectations. Fulham are a good side under Roy Hodgson – who has done wonders for them. We need to get all of our defenders back to full fitness, get a consistent run going and get behind the team.