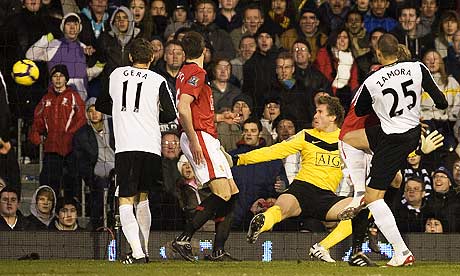 It is a perfect illustration of the crisis Manchester United find themselves in when it is no surprise to say that Fulham unsurprisingly mercilessly battered the Premier League Champions – and while Roy Hodgson's side and supporters should no doubt bask in the glory of a comprehensive 3-0 victory, the damning criticism of United that will be coming from the direction of the media will not reflect the reality of the situation.
Despite a crippling injury list that in van der Sar, O'Shea, Ferdinand and Vidic saw 4 of last season's regular back 5 injured and in Neville, Brown, Evans, Rafael saw their next 4 replacements on the injury list, it hasn't really been United's (or Ferguson's) style to blame their horrendous league form this year on their absentees – indeed, our recent Stretty Debate included my own opinion that concentrated more on the limitations that are on show from the players available without even taking into consideration that on only one occasion this season have the club fielded their regular defence from last season.
I concede that perhaps I was a little unfair to not really recognise this as a major contributory factor, not only in the injuries, but the fact that in defensive replacements such as Fletcher, you are reducing the effectiveness of other areas of the side and also, perhaps as a consequence of the high level United are expected to perform in every game, not even considering the lack of composure or positional sense that comes with the experience in playing in those positions.
And, at a place like Fulham, who under Roy Hodgson in particular have made Craven Cottage a difficult place to go, a result would have been no "gimme" with a full strength side.
Nonetheless, a staggering 5th defeat before Christmas has only been produced once in the Premier League by United, in 2001/02, a season where a three year consecutive haul of the title was ended – and, a season that was dogged by injury, too. Not the best omen.
Sir Alex Ferguson shuffled the team into a 3-5-2 similar to the one deployed at the start against Wolfsburg recently but one he has been loathe to use throughout the best part of 20 years (only a Prunier inspired 4-1 loss at Spurs springs to mind) with Valencia used as a makeshift wing back on the right hand side and Michael Carrick, Darren Fletcher and Richie De Laet constructing a backline that probably wouldn't even have been Ferguson's 20th choice – and that's no exaggeration! The midfield trio of Darron Gibson, Paul Scholes and Anderson was not only lacking in mobility but also any natural intention of protection for the defence.
Scholes was booked in the 7th minute for a trademark late tackle while Gibson and Wayne Rooney both attempted strikes from their own half – confidence in one's ability is something encouraged by Ferguson but such attempts not only bordered on the barrier of over confident and arrogant but also as if they took a very capable Fulham side and an excellent experienced goalkeeper in Schwarzer for granted – not to mention the sheer wastefulness that would later come back to haunt them.
Fulham probably began to sniff out that something special was in the offing against a defence that didn't seem to have any self belief and a midfield that was wasteful and, Anderson aside, largely immobile just after the quarter of an hour mark – Zamora and Gera combined to good effect and only the athletic stretch of Tomasz Kuszczak denied the Hungarian.
Moments later and Damien Duff was played in only to be denied on the stretch by Michael Carrick – however the momentum was with the home side and they went ahead midway through the first period. It seemed only a matter of time anyway and it was hardly as if they needed assistance, however when Paul Scholes was caught daydreaming, Danny Murphy walked the ball off him and his 25 yard shot took an unfavourable bounce in front of the Red Devils Polish stopper, keeping up the ex-Liverpool midfielder's reputation as a "bogey" player against United.
From then on the unfamiliar formation began to clearly take its toll on a United side lacking not only in personnel but also in any real confidence in their ability to defend as a unit without any experience and, perhaps more worringly, despite fielding 3 centre midfielders, never offering anything worth writing about in terms of creativity. Gibson's frustrating tendency to do nothing but shoot was on show, with long range shots just before and after the goal wasted with teammates in good positions.
As the game clicked onto and past the half hour mark it bore all the characteristics of the league defeats against Burnley, Liverpool and Villa.
After the Murphy goal United only managed two periods of sustained pressure in front of the Fulham goal, and you got the impression that this was something afforded by the hosts – particularly as the Champions could still only muster wayward long range efforts at the end of each.
Half time dreams of a famous comeback against all odds were extinguished within 30 seconds of the restart. A cross into the box was met with a mix up in United's defence and the in-form Bobby Zamora pounced to seal all three points.
Despite substitutions and a temporary injection of enthusiasm, the instant fightback that was needed to salvage any kind of result wasn't forthcoming – the home side always looked more likely than their visitors to score goals as United began to resemble the football equivalent of a one armed boxer. Fulham were able to soak up any pressure in complete comfort and at times looked as if they invited it – unconcerned about United's long distance efforts, confident in their ability to clear any crossed ball, and anticipating the always available counter attack.
Damien Duff's 20 yard volley in the 75th minute after good work again by Zamora had an air of inevitability about it and just like against Aston Villa you began to think that the game could have played for another 3 hours and United would not score a single goal. Fulham were clear and deserved victors but you couldn't help thinking they could not believe their luck at the side they were facing.
The Villa defeat prompted a concerning thought that United were entering a 7 game league run where they would need to pick up maximum points – the sobering thought after this crushing result is that the Champions face the very real possibility that with no real light on the horizon as far as their injury list is concerned, by the time the defence begins to resemble something near even a second string thoughts of any title push will be firmly concentrated on next season.
Certainly, if last weekends result meant the club could only afford one defeat for the rest of the season, todays has signalled the death of their title defence, and that's the harsh reality despite the unfortunate circumstances.
Ratings : Kuszczak 6, Fletcher 4, Carrick 5, De Laet 4 (Fabio 6), Valencia 5, Evra 5, Scholes 3, Gibson 4 (Berbatov 5), Anderson 5, *Rooney 6, Owen 4 (Welbeck)