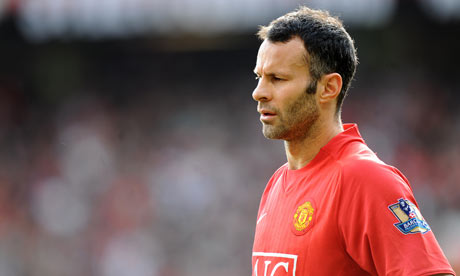 The dust has settled and the over-reactive furore over the Rome disappointment seems to have faded, so what better time to look back at what was, in terms of trophies, the second most successful season in Manchester United's history?
United Statistics (in all competitions)
Top Goalscorer: Cristiano Ronaldo (26 Goals)
Most Assists: Ryan Giggs (18 Assists)
Most Appearances: Nemanja Vidic (55 Appearances)
To see all of these statistics please go to our 2008/09 Manchester United statistics page.

Player of the Season –
Ryan Giggs –
The United legend just pips it in what was a real team effort this season. A year after what the number 11 described as the "best 10 days of his life", and 10 years after his most memorable contribution as a United player, came what Ryan described as "the most enjoyable season of his career". It showed on the pitch – pencilled in at the start of the season to be used sparingly, Giggs quickly showed in the Carling Cup that he was indispensible and was used accordingly by Sir Alex as the man to trust in big games. More often than not he was man of the match in those big games, most notably against Chelsea and Inter Milan at Old Trafford – and he almost rewound the clock with a semi final goal against Arsenal, denied only by a dodgy offside flag! His vital goals at West Ham and Middlesbrough kept him and United on course for an amazing 11th Premier League title in a season where he proved himself to still have as much talent as any of his peers – a fact recognised BY his peers when he was named PFA Players Player of the Year.
Runner up : Nemanja Vidic – but for a dodgy couple of games was the next clear candidate, just edging out Fletcher, Rooney and Ronaldo.
Breakthrough Player of the Season –
Jonny Evans
Some argument here for Darren Fletcher and John O'Shea who unpredictably made first team places their own, but Evans' smooth transition when thrown into the deep end mid-season was remarkable in its lack of newsworthy headlines – the young Irishman did not put a foot wrong, indeed, being a vital part of the defensive unit that went onto break all sorts of domestic clean sheet records. That he was trusted in crunch games at the end of the season is a real testament to the form he showed earlier in it.
Runner Up –
Rafael
Probably only expected to play a few Carling Cup games but such was the impression he left on Fergie that he was straight in the first team. Scored a cracker at Arsenal and showed a fearless approach that defied his age. If not for an injury he would probably have already cemented the right back slot, but for now everyone at United can only be delighted with his progress.
Goal of the Season –
Cristiano Ronaldo (2nd) v Arsenal at the Emirates
For a (supposedly) bad season Ronaldo didn't half run his own goal of the season show – be it a free kick against Stoke, a free kick against Blackburn, a 40 yard drive in Porto and a 41 yard free kick to precede the eventual winner, the number 7 seemed on a mission (late season in particular) to prove he has magic in his locker that a certain Argentinian plying his trade in Spain has yet to prove capable of. The goal that wins this award though was typical of United's season in that it was borne out of stunning team play with Ronaldo starting and ending a move involving Park and Rooney, it was typical of United's history in that it was a devestating break, and in scoring, Cristiano put the rubber stamp on the most magical moment seen in European football all season.
Runner Up – Ryan Giggs (v West Ham)
For all Ronaldo's aforementioned crackers and despite the goal about to mentioned in our next section, Ryan Giggs' solo stunner at Upton Park rolled back the years and was one for the nostalgia collection. A special mention should go to the goal scored by Tevez against Blackburn in the Carling Cup which involved 3 1-2s by Anderson – truly magic.
Moment of the Season –
Federico Macheda scoring against Aston Villa
Was there ever any doubt? There may not have been about the winner of this section but as Federico Macheda received the ball in what seemed like an impossible cul-de-sac, there was plenty of doubt over United's title credentials. Down and out after two consecutive league defeats, on the ropes in the title race and hanging on against a spirited Aston Villa who were breaking with heartbreaking regularity and incision, the Champions needed a moment of inspiration – and it was in Macheda's beautiful curling effort that it arrived, guided by destiny and sucked in by a force of nature previously experienced by the likes of Bruce, Sheringham and Solskjaer, as the 17 year old cocky Italian thoroughly stamped his mark in Red Devils history. The goal started a title blasting sequence of 7 victories which Liverpool had no answer to – certainly with a Gerrard-mocking camera kiss from the young striker, then.
Runner Up : Rooney scoring v Liga De Quito to win the World Championship
Could easily have gone with Macheda's next outing, another title defining flick of his boot at the Stadium of Light, but given that Rooney was sacrificed tactically in the Champions League Final and missed the Carling Cup Final it was fitting that he scored the only goal in the World Club Cup Final – the United number 10 enjoyed a stunning season where his contribution has been recognised more as time has wore on.
Game of the Season :
Manchester United 5-2 Tottenham Hotspur
Despite a relatively "poor" season there were a few choices here – the Villa game at Old Trafford, and the Arsenal away tie in Europe, but the Wayne Rooney Inspired Goal Crazy Second Half Circus against Tottenham in late April shades it for me. 2-0 down at half time and needing a dodgy decision to get back in the game (apparently, so dodgy that it made deluded Scousers and the media in general forget that Palacios should have been sent off in the first few minutes for a shocking challenge), the floodgates opened as Rooney orchestrated the kind of comeback we normally do save for Spurs. A 5 goal blitz in little over 20 minutes (including 3 in 5) secured the win which was extra special in deflating Liverpool, who thought they had gained a precious point with a last minute equaliser that they were given against Arsenal 3 days previous.
Let down of the season
Owen Hargreaves being injured
It would have been too easy to just say "Berbatov or Nani" but they've probably had enough stick, so just edging out the Darren Fletcher suspension is an even greater "what if" lamentation, the Owen Hargreaves injury.
Okay, so even Hargreaves being available may not have made a difference in Rome but most people would concur that Barcelona would not have had it so easy – nor would Liverpool, at Old Trafford. Indeed United's shortfall this season has been the lack of a biting, technically sound midfielder – Anderson is developing and may yet be, but Hargreaves is the finished article and it's no wonder that many United fans can't help but think the "Quintuple" would have been a real possibility if not for Owen's dodgy knee.
Summary
The last section more or less summed it up – for all of our wonderful achievements in 08/09 we have still ended up with a feeling of underwhelming. It's almost easy to forget that we equalled Liverpool's 18 titles record (okay, not that easy =D) – and with Wayne Rooney's goal in December, we now have football's equivalent of 3 Kings and 2 Aces (in terms of European Cups/World Club Cups) to Liverpools 5 Kings. The only reason debate exists about whether Ace is high in this game is down to the fact that Liverpool are yet to win one.
There are plenty of reasons for optimism – it is widely acknowledged that we played most of the season in second gear yet still won the league with a certain degree of comfort after a wobble and came within two games of a season that would have been impossible – yes, IMPOSSIBLE – to surpass.
The frightening thought for the rest of the league is that with a season's settling in Berbatov should be better, the likes of Ronaldo, Rooney and Anderson are still not even at their peak and should improve further still, the probable exit of Tevez will force Fergie into purchasing a true "plan B" striker, that is one who actually likes the penalty area, and even in the event of a Ronaldo departure, the likelihood of a swoop for a name like Ribery would seem all the more possible with a £60m warchest.
And if Hargreaves' knees hold out, who knows..
Source: (Yolkie)