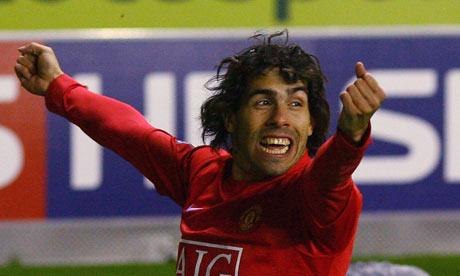 Writing this a few weeks after the 2-0 dressing down from Barcelona it would be easy to over react – media columns have been illuminated with the opinion that United are in decline and message boards across the internet are plagued with deluded Scousers who seem to think they now have a completely better first XI than United, and even some Chelsea fans who believe their midfield of Lampard, Ballack and Essien would easily dominate for victory in a head on clash with United's midfield.
This is of course nonsense – a Chelsea midfield admittedly shorn of Essien were overran by Fletcher and Giggs in January and that is pretty much United's 5th choice midfield.
The crowing of Liverpool fans is all very well but comes after their 3rd consecutive season without a trophy and where early eliminations from all cup competitions enabled Benitez to field a full strength squad for most of the league campaign – even then, they never really managed to get anywhere near a United team that had key defenders missing, Hargreaves and Anderson out for long periods, and all in all played all season almost in 3rd gear while having the distraction of fighting for a quintuple (in doing so, falling a penalty shoot out short of playing one game short of what would have been a maximum season at the very highest level of the game).
And the loss to Barcelona was no disgrace on reflection – where they are strongest they highlighted our greatest deficiency. It was a result waiting to happen upon reflection where in the losses to Arsenal, and Liverpool at Old Trafford the absence of Hargreaves meant a heavy reliance on Anderson to be disciplined – as hugely gifted as our number 8 is, he cannot yet combine the role of puppet master and defensive shield. This is no slight on Anderson – for all of the wizardry of Xavi and Iniesta they would have struggled to dictate if not for the insurance of Busquets. They would have struggled to dictate at all if Hargreaves and/or Fletcher were available and while it is no use lamenting over "what ifs" it is worth noting that their absence posing such a significant question means that it's not ALL bad.
Those who are slightly more level headed have suggested that Barcelona simply took advantage of United's absentees where United couldn't do the same to Barcelona. I tend to think that it's somewhere between the two – Barca's use of the ball was depressingly mesmeric and you cannot hide from the fact that they are deserving European Champions.
However there is no hiding from the fact that there were shortcomings that need addressing and that those shortcomings may not be simply fixed by the return of Hargreaves and a full season from Brown, Ferdinand and Rafael.
Tevez looks to be on his way out and his end of season form only strengthens the popular opinion that he is a better option than Berbatov. In the crunch games at the end of the season where Ferguson demanded a performance from his players, Berbatov has notably been dropped.
A season of reflection tells us a few things – primarily that Berbatov being signed as a "different option" to Tevez hasn't really worked. Yes, Berbatov has a better touch, but at the same time Tevez's work rate is a leveller there – Berbatov, too though, drifts in and out of games and appears in areas where he is not effective. The argument that he was signed to play Rooney as an out and out striker holds no water given the fact that Rooney has played on the wings towards the end of the season. Ironic, given that he was on performance our best player in the last 2 months.
The solution here is unfortunately one that can not be helped much – the investment in Berbatov has already occured and no-one will take a £30m plunge on him (despite maybe City). The dream scenario of maybe writing £10m off Berbatov and spending an extra £5m on securing Tevez maybe something Ferguson may well want to do but it is not prudent and in all fairness writing a player off after one season isn't really Ferguson's style anyway. The only feasible outcome is to either take the plunge and sign Tevez and start with him next season, or sign a REAL alternative. A goal poacher. Benzema has inevitably been mentioned, and here at Stretford-End.com we were also quite partial to taking a punt on Eto'o last summer before Berbatov came and before Eto'o's stock rose considerably again at Barca.
Benzema, as a young, goal hungry, quick reactionary and actually quite decent in the air fits the bill perfectly. The price will however be substantial – despite not winning the league for once, Lyon still qualified for the Champions League. Eto'o, too, seems to be out of the price range so what of the alternatives? Michael Owen, a lazy money grabbing crock whose electrifying attibute in pace was last seen around the same time as David May in a United shirt? Sergio Aguero, likely to cost upwards of £30m, and too similar to Rooney, Tevez and Berbatov?
Anything else will come from left field – Macheda has bags of potential but is he ready? Of his restrictions he does seem pretty slow and up against Wheater at Boro didn't bully his way around like he had started to make a name for himself doing.
In defence, a back up for Evra is sorely needed – perhaps Fabio is the one for this, but he needs to stay fit. As does Wes Brown if Vidic gets any more hiccupy. The rumoured signing of Dodo could be vital but as the kid is 17 I doubt he will be anywhere near physically ready to step up to the mark of replacing either an error prone Vidic or an injury prone Rio.
As for goalkeeping, does van der Sar have another season left? He has the contract but is now the time to take the plunge and risk Foster? Personally I would give the youngster a lot more opportunities than he has been given this season. The defence needs to familiarise with him rather than just being lumped with him when van der Sar retires.
It is midfield, for all our riches, that needs addressing. In Carrick and Fletcher we have the Premier League's most improved midfielders over the last two seasons, in Hargreaves we have a player who has few technical equals and Anderson, as stated, has huge potential but needs a steady partner to find his true rhythm – think Keane and Scholes, Vieira and Petit, Zidane and Davids, these were midfields that were borne out of consistent picking. Where we are lacking however is a Scholes – it sounds ridiculous as he is still on the books but Old Father Time is creeping up on him. He still has the ability – bags of it – but 6 years ago he could play a blind pass, whereas these days he needs too much time. Time that most teams don't give.
How many players are available though that we could get? Sir Alex spoke of his admiration for Lampard recently – would such a move ever materialise? Fabregas may not have the full range of the younger Scholes' abilities but there are few better in the world and he may have grown disillusioned with the lack of success at the Emirates. These are players, though, that we would not only have to break the bank for but also buck a trend of the English top 4 signing from each other. Not just that, but Lampard has said many times he will finish his career at Chelsea while Fabregas' future would be in Spain. Michael Essien, similarly, could be the enforcer that compliments Hargreaves and Anderson perfectly but his is likely to be the shirt which a new Chelsea manager creates his team around.
The fact that a ready made Scholes replacement isn't available makes for depressing thinking, as does the inevitable conclusion that Giggs is nearing the end – there still isn't as effective a natural dribbler in the game (I include Ronaldo and Messi in that), the closest thing after him though is Ribery. A player who could well be available as Bayern may look to cash in, but again, Bayern's qualification for the Champions League means that they hold a position of strength, and like Lyon, they don't tend to let their players go for reasonable prices (and why should they?).
I would want United to sign Ribery anyway, regardless of whether Ronaldo stays or goes, as we need a natural winger. The potential signing of Valencia seems at best overpriced and at worst an unneccessary gamble. It is a crucial season in terms of Nani's development – upper body strength and greater consistency did not come into Ronaldo's game until around his 3rd season at Old Trafford and Nani has shown that he can deliver – for that potential, it is surely worth seeing if he has learned from a difficult second season.
My conclusion? Few changes need to be made, but those that do are significant. Even those that do need to be made will be restricted by circumstance. Of priority is a goalscorer and a winger (maybe two, depending on Ronaldo's future). Hargreaves' fitness may temporarily make everything seem alright but we may still need that imposing or creative midfielder so Anderson can define himself and dovetail. That might yet be with Hargreaves; hopefully next season will give us a positive answer.
So come on Fergie; deliver us the impossible dream of Benzema and Ribery. Persuade Ronaldo to stay and for God's sake get everyone fit!
Source: (Yolkie)